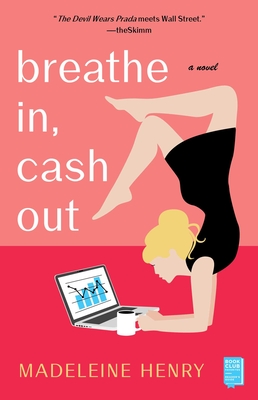 Breathe In, Cash Out
A Novel
Paperback

* Individual store prices may vary.
Other Editions of This Title:
Compact Disc (7/9/2019)
Hardcover (7/9/2019)
Description
"The Devil Wears Prada meets Wall Street" (TheSkimm) in this sizzling debut about a banking analyst who plans to finally pursue her yoga career full-time after her bonus hits, but until then she'll have to keep her sanity intact (and her chakras aligned).

Allegra Cobb's resume: straight-A Princeton grad, second-year analyst at a top-tier bank, one-time American Yoga National Competition Champion. Allegra Cobb's reality: Spending twenty-four hours a day changing the colors on bar charts, overusing the word "team," and daydreaming about quitting the minute her year-end bonus hits her account. She no longer has no interest in the cutthroat banking world—she's determined to launch her very own yoga practice.

But her plan isn't quite as perfect as the beachfront yoga pictures she double-taps on Instagram. On top of the 100 emails an hour and coworkers already suspicious of her escape plan, Allegra's hard-driving single father has always fiercely valued high achievement above all else. That his daughter works on Wall Street means everything to him.

But after a) unknowingly sleeping with the man now leading her banking cohort on one of their biggest deals to date and b) meeting the #blessed yoga guru who might just be her ticket to the life she's always wanted, she realizes her happy-ever-after might be harder to manifest than she thought.

Fast-paced, laugh-out-loud funny, and totally irresistible, Breathe In, Cash Out "is a modern fairytale, a romance that's not about finding the right guy, but finding yourself" (Eliza Kennedy, author of I Take You).
Praise For Breathe In, Cash Out: A Novel…
"As a blessedly former financial analyst at Salomon Brothers, reading Breathe In, Cash Out gave me shudders of PTSD. The untenable lifestyle, the claustrophobia of the job, and the risks to one's personal health are drawn so realistically — this is a portrait of the devil in Big Finance, which promises untold riches in return for serving an inhumane master. Allegra's fictional story is raw, unnerving, and sadly, very true."
—Jodi Picoult, New York Times Bestselling Author of Small Great Things and A Spark of Light

"Madeleine Henry's Breathe In, Cash Out, is a satirical romance, or, perhaps, a romantic satire, that improbably and hilariously juxtaposes the worlds of investment banking and yoga, sparing neither. Her portrait of the ambitious, sleep-deprived, paranoid peons of Wall Street, and their tyrannical masters, is brilliantly observed. This is a very stylish and entertaining debut."
—Jay McInerney, author of Bright Lights, Big City

"Madeleine Henry's new book, Breathe In, Cash Out, is a terrific read. It's a fun and fresh window into the somewhat sadistic, highly competitive worlds of investment banking—and yoga."
—Bethany McLean, New York Times Bestselling Coauthor of The Smartest Guys in the Room

"For when you want the ultimate beach read... Enter Madeleine Henry's, "Breathe In, Cash Out." It's "The Devil Wears Prada," meets Wall Street. All about what happens to a straight-A Ivy League grad who dreams of launching her own yoga practice. The hold up? She has to quit her very high-stress banking job. Get ready for the ohmmmms."
—The Skimm
Atria Books, 9781982114541, 320pp.
Publication Date: July 21, 2020
About the Author
Madeleine Henry is the author of two novels including Breathe In, Cash Out. She has appeared on NBC, WABC, The Jenny McCarthy Show, and Inspire Living. She has been featured in the New York Post, Parade, and Observer Media. Previously, she worked at Goldman Sachs and in investment management after graduating from Yale in 2014. She shares more information about her life on @MadeleineHenryYoga and about her upcoming third novel on @FoodFightBook.