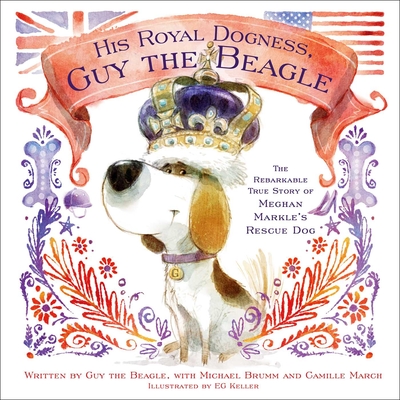 His Royal Dogness, Guy the Beagle (Hardcover)
The Rebarkable True Story of Meghan Markle's Rescue Dog
Simon & Schuster, 9781982114626, 48pp.
Publication Date: November 20, 2018
* Individual store prices may vary.
Description
"Sit...Stay...Enjoy! Good reader!" —Stephen Colbert

The hilarious, heartwarming, and rebarkable true story of Guy the Beagle, Duchess Meghan Markle's rescue dog.

Like all good stories, Guy the Beagle's begins lost in the woods of Kentucky. But his fortunes change when he's rescued by none other than Princess…er, Duchess-to-be Meghan Markle. Practically overnight, Guy goes from wags to riches. But does this backwoods beagle have what it takes to be welcomed into the royal family?

For the first time ever, Guy reveals how he went from pawper to proper, with help from Emmy award-winning writer and producer of The Late Show with Stephen Colbert Mike Brumm and publishing veteran (and devoted Anglophile) Camille March, beautifully illustrated by EG Keller (illustrator of the New York Times bestselling A Day in the Life of Marlon Bundo). Guy's story of finding acceptance in an exceptional family will have readers of all ages barking with laughter.
About the Author
Camille March is a former publishing professional and current Anglophile. She lives in New York City with her husband, two children, and too many animals for an apartment. Her first dog was a beagle named Ralph. She is the coauthor of His Royal Dogness, Guy the Beagle.

Michael Brumm is an Emmy-winning writer/producer for The Late Show with Stephen Colbert. His first dog was a poodle named Spencer. He is the coauthor of His Royal Dogness, Guy the Beagle.

Gerald Kelley received his BFA in studio drawing and worked as an editorial illustrator before focusing solely on children's publishing. Under the pen name, EG Keller, Gerald illustrated the New York Times #1 bestseller, A Day in the Life of Marlon Bundo, and His Royal Dogness, Guy the Beagle. He illustrated documentarian Ken Burns's New York Times bestselling children's book, Grover Cleveland, Again! and The Legend of the Jersey Devil, My Name Is Bob, and M Is for Monster: A Fantastic Creatures Alphabet. Gerald lives in Colorado with his husband.
Praise For His Royal Dogness, Guy the Beagle: The Rebarkable True Story of Meghan Markle's Rescue Dog…
PRAISE FOR HIS ROYAL DOGNESS, GUY THE BEAGLE

"Sit...Stay...Enjoy! Good reader!"—Stephen Colbert

"The Moby Dick of our time, only with a beagle. It's a bona fide good read for all ages."—Amy Sedaris

"A whimsical children's book about the dog's wags-to-riches tale...Everyone loves an underdog story."—New York Post

"The rescue pup is teaming up with Simon & Schuster to write a humorous, all-ages book titled His Royal Dogness, Guy the Beagle: The Rebarkable True Story of Meghan Markle's Rescue Dog...His Royal Dogness, Guy the Beagle will hit bookshelves on November 20."—Purewow

"Even though Guy the Beagle's book isn't parodying any other works, we can all hope that this published writer-dog sees sales worth wagging his tail over...personally, I'm thrilled that this book might raise awareness about rescue dogs and how you can help shelter animals find forever homes." —Bustle