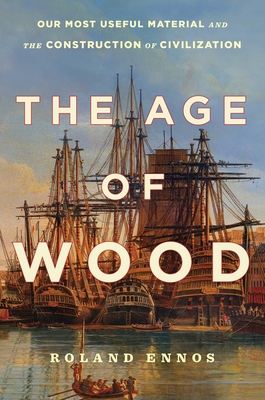 The Age of Wood
Our Most Useful Material and the Construction of Civilization
Hardcover

* Individual store prices may vary.
Other Editions of This Title:
Digital Audiobook (11/30/2020)
Paperback (12/7/2021)
Library Binding, Large Print (3/17/2021)
Compact Disc (12/1/2020)
Description
A groundbreaking examination of the role that wood and trees have played in our global ecosystem—including human evolution and the rise and fall of empires—in the bestselling tradition of Yuval Harari's Sapiens and Mark Kurlansky's Salt.

As the dominant species on Earth, humans have made astonishing progress since our ancestors came down from the trees. But how did the descendants of small primates manage to walk upright, become top predators, and populate the world? How were humans able to develop civilizations and produce a globalized economy? Now, in The Age of Wood, Roland Ennos shows for the first time that the key to our success has been our relationship with wood.

Brilliantly synthesizing recent research with existing knowledge in fields as wide-ranging as primatology, anthropology, archaeology, history, architecture, engineering, and carpentry, Ennos reinterprets human history and shows how our ability to exploit wood's unique properties has profoundly shaped our bodies and minds, societies, and lives. He takes us on a sweeping ten-million-year journey from Southeast Asia and West Africa where great apes swing among the trees, build nests, and fashion tools; to East Africa where hunter gatherers collected their food; to the structural design of wooden temples in China and Japan; and to Northern England, where archaeologists trace how coal enabled humans to build an industrial world. Addressing the effects of industrialization—including the use of fossil fuels and other energy-intensive materials to replace timber—The Age of Wood not only shows the essential role that trees play in the history and evolution of human existence, but also argues that for the benefit of our planet we must return to more traditional ways of growing, using, and understanding trees.

A winning blend of history and science, this is a fascinating and authoritative work for anyone interested in nature, the environment, and the making of the world as we know it.
Praise For The Age of Wood: Our Most Useful Material and the Construction of Civilization…
"Ennos, a professor at the University of Hull in England and a specialist in the mechanical properties of trees, shares his insatiable curiosity with us. He applies his sharp eye for details, and he does so entertainingly." —Washington Post

"Ennos's special love and concern is for things made from trees...The principles of every significant technology, from tree-felling and carpentry to shipbuilding and papermaking, are described with a precise, almost mesmerizing detail." —New York Times Book Review


"[Ennos] takes a fresh look at the familiar substance, wielding it like a wedge to pry open our past, examine our present and even glimpse our future." —Wall Street Journal

"A lively history of biology, mechanics and culture that stretches back 60 million years… A specialist in the mechanics of wood, Ennos has a fierce love for his topic." —Nature

"Nearly the whole of human history deserves a different title: the Age of Wood." —The New Republic

"An excellent, thorough history in an age of our increasingly fraught relationships with natural resources." —Kirkus Reviews, starred review

"This engaging natural history will draw in fans of Mark Kurlansky's Cod and Vince Beiser's The World in a Grain. It does a fantastic job of elevating humble wood to its rightful place alongside stone, bronze, and iron as a key resource in leading humanity to its dazzling achievements." —Library Journal

"This expansive history will give readers a newfound appreciation for one of the world's most ubiquitous yet overlooked materials." —Publishers Weekly

"Smart and surprising, Ennos' inquiry proves that there is much we still need to learn about wood and how it has shaped our past and present." —Booklist

"This fascinating book is an eye-opening history of wood... From how trees, and our interactions with trees, have shaped ecosystems, to how wood itself has been incorporated into societies, to how wood functions as a material, it gives a rundown like no other." —BookMarks
Scribner, 9781982114732, 336pp.
Publication Date: December 1, 2020
About the Author
Roland Ennos is a visiting professor of biological sciences at the University of Hull. He is the author of successful textbooks on plants, biomechanics, and statistics, and his popular book Trees, published by the Natural History Museum, is now in its second edition. He lives in England.