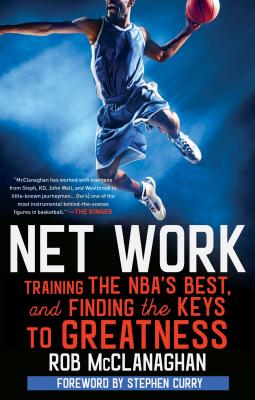 Net Work
Training the NBA's Best and Finding the Keys to Greatness
Hardcover

* Individual store prices may vary.
Other Editions of This Title:
Digital Audiobook (9/30/2019)
Paperback (11/3/2020)
Compact Disc (10/1/2019)
Description
Rob McClanaghan, the NBA's most sought-after trainer, shares a behind-the-scenes look at how superstars like Stephen Curry, Kevin Durant, Derrick Rose, Russell Westbrook, and Kevin Love work to excel at the game.

When Rob McClanaghan failed to make the Syracuse basketball team as a walk-on freshman, he asked the coaches what he needed to do to achieve his goal the following year. They all agreed: get stronger. So that's what he did. For months, Rob traded fraternity parties and hanging out with buddies for hours in the gym lifting weights and shooting baskets. He was single-minded; the only thing that mattered was defying the odds. He returned to Syracuse for his sophomore year thirty pounds heavier and caught the coach's eye.

In Net Work, McClanaghan—referred to by many as "RobMac"—brings to the page what he brings to each of his training sessions: the same grit and spirit that got him into the college game. He calls it "the grind," and he knows that without it, even the most talented players will come up short. McClanaghan pushes his clients hard; he does whatever he can to drive his players to the edge and to simulate fourth quarter, at-the-buzzer adrenaline and fatigue.

An all-access pass to the practice courts of the NBA, Net Work combines McClanaghan's hard-earned wisdom—both on and off the court—with rare glimpses into the dues-paying life of professional athletes determined to stay at the top. McClanaghan shares stories of working one-on-one with some of basketball's greatest names, explaining how each athlete works to shore up his offensive and defensive weaknesses; perfect his nutrition; treat injuries; build mental toughness; and find occasional refuge from the glare of the spotlight. This book is life inside the NBA as you've never seen it, where players differentiate themselves by their willingness to put in relentless "net work."
Praise For Net Work: Training the NBA's Best and Finding the Keys to Greatness…
"A backstage pass to a part of the NBA that most fans never see….For anyone looking to play at the elite level—or just admire those who do—this book delivers the secrets of how to both arrive and thrive."
—Pete Thamel, Senior Writer at Yahoo Sports

"Here's what separates Rob McClanaghan from almost all of the basketball universe: he gets the biggest stars on the planet to trust him. It isn't easy. It's because they know he makes them better, and because they know he cares. In Net Work, Rob pulls back the curtain on the peerless drive and habits of the NBA's stars. A generation of All-Stars, MVPs and champions were sculpted in hot, sweaty gymnasiums across America and Asia, and Rob Mac knows all about it—because he was in the middle of it."
—Adrian Wojnarowski, ESPN Senior NBA Insider and New York Times bestselling author of The Miracle of St. Anthony

"My Syracuse roots go way beyond my more than forty years as head coach of the men's basketball team. I first joined the team as a freshman walk-on, so I've always believed in the ability of a walk-on player to surprise. Since Rob McClanaghan played for me so many years ago, he has gone on to surprise a lot of people, showing a knowledge of the game that exceeds that of many of the best NBA players, and thus inspires many at all levels of the game to learn from him. Rob's training has never been about gimmicks and neither is this book. Rather, it is filled with the elusive truths that can only be gleaned by being a lifelong student of the game."
—Jim Boeheim, Men's Basketball Coach, Syracuse University

"In the basketball world that existed twenty years ago, the position of 24/7 on-call trainer didn't exist, which makes Rob McClanaghan's journey—compellingly told here along with that of his superstar clients—all the more remarkable. He wasn't the first to try working with players in a hyper-focused way, but in doing so he set a new standard. Ultimately, what this book has to say about players applies equally to McClanaghan: only sustained, brutally hard work, and a determination to attack weaknesses, will result in all-world performance."
—Sonny Vaccaro, former sports marketer for Nike, Adidas, and Reebok, and founder of ABCD All-America Camp

"We are all fortunate witnesses to the finished product. We marvel at Steph Curry's deep splashes that betray reality, Russell Westbrook's explosiveness and Kevin Love's nimble post footwork. Their grace in front of cameras cloaks the countless hours of work and training behind the scenes. Rob McClanaghan is often the guiding conscience that drives these NBA players to their peak. In Net Work, McClanaghan lifts the veil to provide humanizing portraits of these superstars trying to maximize their potential, and he inspires with his own uplifting backstory."
—Jonathan Abrams, New York Times bestselling author of Boys Among Men: How the Prep-to-Pro Generation Redefined the NBA and Sparked a Basketball Revolution

"An enjoyable look at how the best players hone their skills, with valuable insights not just for athletes working to improve their game but, also, true fans. Winners win for a reason. Rob McClanaghan does a great job of explaining why."
—Geno Auriemma, coach of the UConn Woman's Basketball Team, and winner of Eleven NCAA Championships

"It's no secret to why Rob has been so continuously successful with such high-level athletes. The trust that he has developed not only on the court, grinding it out with them day in and day out, but off the court with their development as people, speaks for itself. He's authentic in everything he does and this book is a testament to the reputation that he has established during his career."
—Mike Hopkins, Men's Basketball Coach, University of Washington

"It's not the game—it's the game plan. In Net Work, one of the most engaging recent books about what it takes to dominate in the NBA, Rob drives home the point that playing games is hard work and serious business!"
—Brandon Steiner, CEO of Steiner Sports

"Reading this book gave me a unique perspective on the sport of basketball. Rob's experience, knowledge, and keen understanding of the sport jumps off the pages!"
—Robert Iger, Chairman and CEO of the Walt Disney Company

"I was able to witness first-hand the unique way Rob works with elite athletes while we were on tour in China with Steph Curry. Rob encourages his athletes to push even harder and go beyond what even they thought was possible. I loved reading Rob's stories in Net Work and can testify that not only is Rob a trusted partner, but also a genuine friend to his clients."
—Kevin Plank, Founder, Chairman, and CEO of Under Armour
Scribner, 9781982114794, 224pp.
Publication Date: October 1, 2019
About the Author
Rob McClanaghan is the premiere basketball trainer to the stars of the NBA. He lives in Rhode Island and has three children. Net Work is his first book.
or
Not Currently Available for Direct Purchase