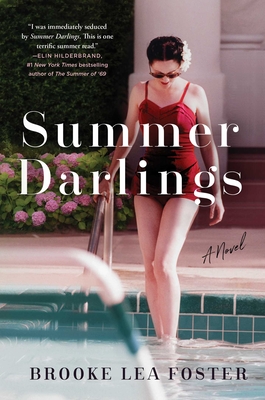 Summer Darlings
Hardcover

* Individual store prices may vary.
Other Editions of This Title:
Digital Audiobook (5/4/2020)
Paperback (4/27/2021)
Compact Disc (5/5/2020)
Library Binding, Large Print (8/5/2020)
Description
Set during the splendid summer days of 1960s Martha's Vineyard, this page-turning debut novel pulls back the curtain on one mysterious and wealthy family as seen through the eyes of their nanny—a college student who, while falling in love on the elegant island, is also forced to reckon with the dark underbelly of privilege.

In 1962, coed Heddy Winsome leaves her hardscrabble Irish Brooklyn neighborhood behind and ferries to glamorous Martha's Vineyard to nanny for one of the wealthiest families on the island. But as she grows enamored with the alluring and seemingly perfect young couple and chases after their two mischievous children, Heddy discovers that her academic scholarship at Wellesley has been revoked, putting her entire future at risk.

Determined to find her place in the couple's wealthy social circles, Heddy nurtures a romance with the hip surfer down the beach while wondering if the better man for her might be a quiet, studious college boy instead. But no one she meets on the summer island—socialite, starlet, or housekeeper—is as picture-perfect as they seem, and she quickly learns that the right last name and a house in a tony zip-code may guarantee privilege, but that rarely equals happiness.

Rich with the sights and sounds of midcentury Martha's Vineyard, Brooke Lea Foster's debut novel Summer Darlings promises entrance to a rarefied world, for readers who enjoyed Tigers in Red Weather or The Summer Wives.
Praise For Summer Darlings…
"I was immediately seduced by Summer Darlings. Foster cleverly conceals her characters' deceits and betrayal beneath a stunning, sun-spangled surface, and Martha's Vineyard (my third favorite island) is portrayed with glamorous period detail. This is one terrific summer read."
— Elin Hilderbrand, New York Times bestselling author of The Summer of '69

"Summer Darlings is a perfect summer book, packed with posh people, glamor, mystery, and one clever, brave, young nanny. This book just might be the most fun you'll have all summer."
— Nancy Thayer, New York Times bestselling author of Surfside Sisters

"Beautifully written and richly detailed--it pulled me in from the very first page. Heddy is an unforgettable heroine, and I'll be recommending this book to everyone I know."
— Sarah Pekkanen, #1 New York Times bestselling author of You Are Not Alone

"Foster has written a compelling coming-of-age story that exposes the sparkling glamour and dark underbelly of the haves and have nots in the 1960s. Summer Darlings is utterly atmospheric and compelling."
— Julia Kelly, author of The Whispers of War and The Light Over London

"A fresh new voice in historical fiction! Brooke Lea Foster spins a delicious tale of a young girl from Brooklyn who spends a summer rubbing elbows with the rich and famous on Martha's Vineyard. Filled with 1960s nostalgia and a host of deftly drawn characters, this is a novel that gives us an intimate look at the world of privilege, proving once again that money does not buy happiness."
— Renée Rosen, bestselling author of Park Avenue Summer

"The enchanting beaches, dazzling parties, and elusive social circles of Brooke Lea Foster's 1962 Martha's Vineyard carry secrets and twists that keep us breathless and guessing until the very last page. As working-class Heddy pierces through the façade of this privileged world, she comes to question everything she believed about money, marriage, and the need to improve her lot in life. A delicious read filled with an acute sense of place and unexpected discoveries about class, status, and ambition."
— Marjan Kamali, author of The Stationery Shop

"Set in the summer of 1962, Brooke Lea Foster's Summer Darlings has all the ingredients of a delightfully fizzy beach cocktail: A spunky, working-class Wellesley student determined to make her mark, the deceptively "perfect" wealthy couple that employs her as a nanny on Martha's Vineyard, two alluring and very different suitors, and a bombshell movie star with a heart of gold. If you like your summer escapism with a nostalgic splash of Mad Men-era glamour, you'll love this surprisingly twisty debut."
— Karen Dukess, author of The Last Book Party

"A delicious romp through mid-century Martha's Vineyard replete with movie stars, sun-drenched beaches, domestic discord, and fancy outings to the club, Foster's evocative debut is like a delightful picnic basket packed with everything readers want in a summer read. As Heddy spends her summer caring for the children of a wealthy couple and navigating her own romantic interests and financial issues, she discovers truths we all need to learn on our path toward adulthood. Summer Darlings is about the human desire to strive toward something more, the reality that things aren't always what they seem, and the strength a woman will find within herself when she listens to her inner voice."
— Susie Orman Schnall, author of We Came Here to Shine and The Subway Girls

"This luminous novel set on Martha's Vineyard feels like the summer you first fell in love, first had your heart broken. Brooke Lea Foster has created an unforgettable character in Heddy, a girl full of yearning and idealism, deep intelligence, grace and contradictions. This compelling, unputdownable novel sparkles with wit and insight, captures the Vineyard's beauty, delves into class distinctions and family secrets, and, most of all, reveals Heddie with truth and tenderness."
— Luanne Rice, New York Times bestselling author of Last Day

"Rendered in evocative historical detail, Summer Darlings is a compelling debut, a taut portrait of money and social status, and of a young woman navigating her place in the world. Foster offers a glittering glimpse into the private lives of New England's elite families, while exposing the dark underbelly of privilege. I couldn't stop turning the pages until I had reached the breathless, satisfying conclusion."
— Meredith Jaeger, author of Boardwalk Summer and The Dressmaker's Dowry

"Engrossing...Foster's musings on money and class, along with her believable depictions of over-the-top behavior, elevate this tale above typical summer fare."
— Publishers Weekly

"The romantic entanglements and the scandalous exploits of the rich and entitled makes this suitable for a quick beach read..."
— Booklist

I was swept away by Summer Darlings and its fiercely unforgettable heroine, Heddy Winsome. This perfect summer read blends it all: intrigue, romance, a gilded atmosphere, and gorgeous writing."
— Entertainment Weekly

"Innocent intrigue segues into a love triangle--and goes out with a blackmail-back-stabbing bang."
— PEOPLE Magazine

"A solid beach read."
— Library Journal
Gallery Books, 9781982115029, 368pp.
Publication Date: May 5, 2020
About the Author
Brooke Lea Foster is an award-winning journalist whose articles have appeared in The New York Times, The Washington Post Magazine, The Atlantic, The Boston Globe Sunday Magazine, and HuffPost, among others. An alumna of The Writing Institute at Sarah Lawrence College, she is the author of three nonfiction books and the novels Summer Darlings and On Gin Lane.