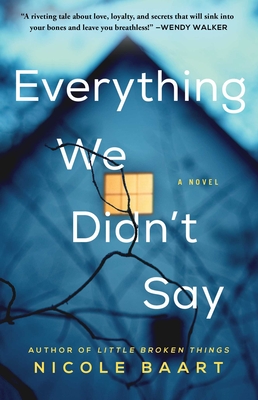 Everything We Didn't Say
A Novel
Paperback

* Individual store prices may vary.
Other Editions of This Title:
Digital Audiobook (11/1/2021)
Library Binding, Large Print (1/1/2022)
Compact Disc (11/2/2021)
Description
From the author of Little Broken Things, a "race-to-the-finish family drama" (People) following a mother who must confront the dark summer that changed her life forever in order to reclaim the daughter she left behind.

Juniper Baker had just graduated from high school and was deep in the throes of a summer romance when Cal and Beth Murphy, a childless couple who lived on a neighboring farm, were brutally murdered. When her younger brother became the prime suspect, June's world collapsed and everything she loved that summer fell away. She left, promising never to return to tiny Jericho, Iowa.

Until now. Officially, she's back in town to help an ill friend manage the local library. But really, she's returned to repair her relationship with her teenage daughter, who's been raised by Juniper's mother and stepfather since birth—and to solve the infamous Murphy murders once and for all. She knows the key to both lies in the darkest secret of that long-ago summer night, one that's haunted her for nearly fifteen years.

As history begins to repeat itself and a dogged local true crime podcaster starts delving into the murders, the race to the truth puts past and present on a dangerous collision course. Juniper lands back in an all-too-familiar place with the answers to everything finally in her sights, but this time it's her daughter's life that hangs in the balance. Will revealing what really happened mean a fresh start? Or will the truth destroy everything Juniper loves for a second time? Baart once again brilliantly weaves mystery into family drama in this expertly-crafted novel for fans of Lisa Jewell and Megan Miranda.
Praise For Everything We Didn't Say: A Novel…
"Nicole Baart skillfully blends suspense and family drama like no one else. Everything We Didn't Say is an atmospheric barn-burner that jumps from past to present in an Iowa farm community rife with secrets, simmering grudges, and an unsolved murder. I was utterly enthralled."—Emily Carpenter, bestselling author of Reviving the Hawthorn Sisters

"Nicole Baart is a master of crafting family dramas around a compelling mystery, and in Everything We Didn't Say she expertly weaves past and present into a journey to the truth of a decades-old murder case. Creepy and atmospheric, with vivid and emotional prose, this slow-burn will have you thinking twice about the people you know." –Kimberly Belle, internationally bestselling author of Dear Wife and Stranger in the Lake

"With finely crafted characters, smooth-as-butter writing, and a breathless plot, Nicole Baart's latest kept me up long into the night, turning pages. The past is alive in this book, and I found myself wholly caught up in Juniper's intricate, surprising story as she returns home to find lost loves, lost causes, and some terrifying truths lying in wait. I'm a long-time fan of Baart, but this may be my favorite yet!" —Joshilyn Jackson, New York Times bestselling author of Never Have I Ever

"In the small town of Jericho, the past is better left alone – even when a double murder remains unsolved, casting shadows on a family that has been torn apart for over fourteen years. Weaving together past and present, Everything We Didn't Say is a poignant, riveting tale about love, loyalty and secrets that will sink into your bones and leave you breathless!" –Wendy Walker, bestselling author of Don't Look for Me

"Everything We Didn't Say brims with Nicole Baart's signature hallmarks–complex characters, tangled family dynamics, and, as always, beautiful writing. A multifaceted page-turner with intricate twists and turns, Baart has delivered a captivating read from first page to last!" —Susan Meissner, USA Today bestselling author of The Nature of Fragile Things

"Combining high wire tension and poetic storytelling, in Everything We Didn't Say Baart has created a haunting family drama that casts a glaring light on small-town hierarchies proving that the past has a long, unrelenting reach. Told in dual timelines, this suspenseful, beautifully rendered novel reveals its secrets in small, tantalizing bites leading to an explosive, highly satisfying conclusion. Everything We Didn't Say is Baart at her best." —Heather Gudenkauf, New York Times bestselling author of The Weight of Silence

"A woman returns to her Iowa hometown to face her past, reclaim her family, and solve the cold-case murders that abruptly ended her childhood. Memory collides with consequence in this perfectly paced mystery and clear-eyed ode to America's heartland. I loved everything about this book. Nicole Baart is a master storyteller." —Mindy Mejia, author of Everything You Want Me To Be and Strike Me Down

"Nicole Baart dazzles once more in this haunting family saga about the danger of uncovering hard truths. Expertly plotted, Everything We Didn't Say delivers a satisfying ending you won't see coming. Add this to your TBR immediately!" —Liz Fenton & Lisa Steinke, authors of How To Save a Life

"Dark family secrets, the spark of never-forgotten romance and an unsolved double murder from the past, pitting landowners against landowners. The elements in Nicole Baart's latest novel combine seamlessly to provide the atmospheric tension of a crime story and the emotional depth of a family drama. Meticulously plotted and beautifully written." —KELLY SIMMONS, international selling author of One More Day and Not My Boy

"Riveting. Filled with secrets upon secrets and sumptuous foreboding, Everything We Didn't Say is the perfect intersection of past and present, mystery and revelation, love, longing, and the weathered ties that bind. Every book of Baart's is a gem. This one sparkles with equal parts menace and beauty. I absolutely loved it." —TOSCA LEE, New York Times bestselling author of The Line Between

"The suspense sneaks up on you as you read this beautifully crafted novel, and seeps into your bones like a chilly winter day in Iowa. Nicole Baart's latest explores memory and loss, as well as the redemptive power of second chances. I loved it." —Kaira Rouda, USA Today Bestselling author of Best Day Ever and The Next Wife

"Packed with intrigue, suspicion, and plot twists, Baart's novel of familial ties, betrayals, and long-overdue confrontations should keep any Paula Hawkins, Mary Kubica, or Janelle Brown fan satisfied." —Booklist (starred review)

"[A] lyrical suspense novel… Baart delivers enough twists not to disappoint as she movingly evokes love and innocence lost. This delayed coming-of-age story will have broad appeal." —Publishers Weekly

"Everything We Didn't Say is an eerie and intriguing page-turner that explores family dynamics, crime, and how hard it is to keep secrets in a small rural town. Highly recommended for readers of Megan Miranda and Lisa Jewell, this is the perfect fall mystery to curl up with by the fire!" —Off the Shelf

"Everything We Didn't Say is suspenseful and smart…unputdownable and heart-stopping." —Mystery and Suspense Magazine

"Baart is an accomplished storyteller. She excels at layering concurrent plot threads, character arcs, and suspense with layer upon layer of storied detail . . . She builds her world character by character and sets them in motion to behave as they will."
—New York Jounral of Books

"Baart is a master storyteller . . . . poignant and bittersweet."
—Library Journal

"This riveting book was gripping from start to finish."
—FIRST for Women
Atria Books, 9781982115081, 368pp.
Publication Date: November 2, 2021
About the Author
Nicole Baart is the author of eleven novels, including Everything We Didn't Say and The Long Way Back. The cofounder of a nonprofit and mother of five, she lives in Iowa with her family. Learn more at NicoleBaart.com.