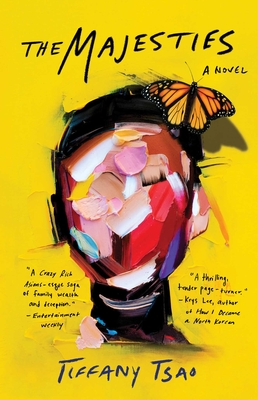 The Majesties
A Novel
Paperback

* Individual store prices may vary.
Other Editions of This Title:
Hardcover (1/21/2020)
Compact Disc (1/21/2020)
Description
In this "bold and dramatic portrayal of characters on the cusp of an impossible choice" (Publishers Weekly), two sisters from a wealthy Chinese-Indonesian family grapple with secrets and betrayal after one of them poisons their entire family.

Gwendolyn and Estella have always been as close as sisters can be. Growing up in a wealthy, eminent, and sometimes deceitful family, they've relied on each other for support and confidence. But now Gwendolyn is lying in a coma, the sole survivor of Estella's poisoning of their whole clan.

As Gwendolyn struggles to regain consciousness, she desperately retraces her memories, trying to uncover the moment that led to this shocking act. Was it their aunt's mysterious death at sea? Estella's unhappy marriage to a dangerously brutish man? Or were the shifting loyalties and unspoken resentments at the heart of their opulent world too much to bear? Can Gwendolyn, at last, confront the carefully buried mysteries in their family's past and the truth about who she and her sister really are?

Traveling from the luxurious world of the rich and powerful in Indonesia to the most spectacular shows at Paris Fashion Week, from the sunny coasts of California to the melting pot of Melbourne's university scene, The Majesties "is a thrilling, tender page-turner" (Krys Lee, author of Drifting House) as well as "a sobering look at the dark side of extreme wealth" (Kirkus Reviews).
Praise For The Majesties: A Novel…
"Tsao manages to make her characters sympathetic even if they are unlikeable — which is difficult for even the most seasoned of authors. . . . Any wealthy family, especially one as incredibly rich as the Sulinados, likely made their fortune through a mix of good business sense and utter ruthlessness, and it's the latter that makes The Majesties so compelling. . . . Tsao excels at delivering biting social commentary while also telling a riveting story. It's dark and often bleak, to be sure, but that never weighs the narrative down. I raced through The Majesties, unsure of how I wanted it to resolve, but knowing I wanted to arrive at some kind of satisfaction, a sense of relief after the darkness had washed over me. But the fact is, a book that grapples with such systemic, ongoing problems could never have ended cleanly, nor did it. . . . It's shocking how enjoyable and delicious this dark, disturbing novel was, and that unease will sit with me for a long time to come." —Swapna Krishna, NPR

"A dark, delicious tale that will creep its way into your brain and leave you examining your own soul for signs of moral rot. I downed it in one greedy shot." —Jade Chang, author of The Wangs vs. the World

"The Majesties is a thrilling, tender page-turner, the darker side of Crazy Rich Asians." —Krys Lee, author of Drifting House and How I Became a North Korean

"Tsao cannily pulls back the gilded surface from a wealthy Indonesian family, revealing a rotten core….the narrative unfolds in a manner that's both suspenseful and creepily claustrophobic. The novel also prompts readers to consider the cultural relativism of stereotypes, contrasting outsider perceptions of those with Chinese heritage in both Indonesia and the U.S. Tsao depicts a family whose fabulous wealth and privilege not only blind them to the needs of others but also engender cruelty and self-destruction. This is a bold and dramatic portrayal of characters on the cusp of an impossible choice between complicit self-preservation and total annihilation." —Publishers Weekly

"A sobering look at the dark side of extreme wealth among Chinese families in Indonesia… Tsao's depiction of domestic abuse is powerful." —Kirkus Reviews

"Tsao deftly juggles a large cast of characters, and her thorough examination of the life of a wealthy Chinese-Indonesian family, as well as her insights into the false assumptions those in the Chinese, Indonesian, and Western communities make about its members, are intelligent and lively." —Booklist

"The Majesties, although it rolls out easily, troubles deeply, haunting and even chilling its reader well beyond the final page." —New York Journal of Books

"Tsao spins a Crazy Rich Asians-esque saga of family wealth and deception as a nasty-fun murder mystery chronicling the events leading up to a woman's poisoning of her extended clan." —Entertainment Weekly

"Tiffany Tsao's visceral debut…reads a bit like Crazy Rich Asians if the book began with familicide instead of romance….Why not start off the new year with the perfect tear-it-all-down read?" —CrimeReads

Select Praise (published as Under Your Wings in Australia)

"Addressing Indonesia's violent history, the 1998 May riots, and discrimination against the country's ethnic Chinese minority, Tiffany Tsao offers an incisive critique of rich and powerful Chinese Indonesians, family bonds, and privilege. The book challenges many assumptions of what "Indonesia" is and provides a nuanced picture of wealthy Asian families in the transnational context. A compelling page-turner, it reveals the intricate dynamics between love, ambition, and fear as we journey through dark family secrets and unlock door after door before reaching the dead end. The Majesties is a chilling novel about what a family is capable of for the sake of maintaining illusions and the desperate, destructive ways that its entrapped members must take in order to escape." —Intan Paramaditha, author of Apple and Knife and The Wandering

"One of the most gripping, original and enlightening novels of the day." —SA Weekend

"Tiffany Tsao's Under Your Wings is a sharply realised page-turner with a brilliant twist, written with an effortless command of pace and suspense." —Sydney Morning Herald

"Tiffany Tsao's novel of sisters Gwendolyn and Estella is haunting, disturbing and vivid. It is one of those novels that has such a strong opening chapter that I questioned if the author would be able to meet my expectations for the rest of the novel. But meet them she did." —Readings
Atria Books, 9781982115517, 272pp.
Publication Date: December 1, 2020
About the Author
Tiffany Tsao was born in San Diego, California, and lived in Singapore and Indonesia during her childhood and young adulthood. She is a graduate of Wellesley College and the University of California, Berkeley, where she earned a PhD in English. In addition to writing, she translates Indonesian fiction and poetry.