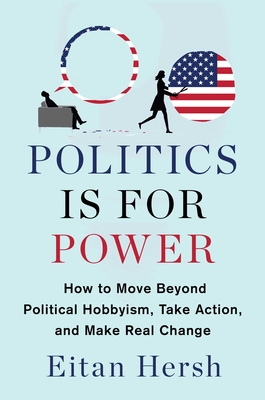 Politics Is for Power
How to Move Beyond Political Hobbyism, Take Action, and Make Real Change
Hardcover

* Individual store prices may vary.
Other Editions of This Title:
Digital Audiobook (1/13/2020)
Paperback (6/30/2020)
Compact Disc (1/14/2020)
Description
A brilliant condemnation of political hobbyism—treating politics like entertainment—and a call to arms for well-meaning, well-informed citizens who consume political news, but do not take political action.

Who is to blame for our broken politics? The uncomfortable answer to this question starts with ordinary citizens with good intentions. We vote (sometimes) and occasionally sign a petition or attend a rally. But we mainly "engage" by consuming politics as if it's a sport or a hobby. We soak in daily political gossip and eat up statistics about who's up and who's down. We tweet and post and share. We crave outrage. The hours we spend on politics are used mainly as pastime.

Instead, we should be spending the same number of hours building political organizations, implementing a long-term vision for our city or town, and getting to know our neighbors, whose votes will be needed for solving hard problems. We could be accumulating power so that when there are opportunities to make a difference—to lobby, to advocate, to mobilize—we will be ready. But most of us who are spending time on politics today are focused inward, choosing roles and activities designed for our short-term pleasure. We are repelled by the slow-and-steady activities that characterize service to the common good.

In Politics Is for Power, pioneering and brilliant data analyst Eitan Hersh shows us a way toward more effective political participation. Aided by political theory, history, cutting-edge social science, as well as remarkable stories of ordinary citizens who got off their couches and took political power seriously, this book shows us how to channel our energy away from political hobbyism and toward empowering our values.
Praise For Politics Is for Power: How to Move Beyond Political Hobbyism, Take Action, and Make Real Change…
"In our age of democratic turmoil, citizens often ask: What can I do? Where can I have an impact? Frustratingly, analysts usually have few answers to these important questions. Eitan Hersh does. His careful analysis and moving stories show us where and how citizens have made a difference and why so many don't. Along the way, he will leave you inspired, and even hopeful, about America's democratic future." —Daniel Ziblatt, professor of government, Harvard University, and coauthor of How Democracies Die

"Politics is not a spectator sport nor a game, in spite of how Twitter can sometimes make it feel. With rigorous research and compelling stories, Hersh lays out exactly how your political participation might not be building the power you wish you had—and what to do to fix it. (Hint: Get involved locally. Consider a run for something!)" —Amanda Litman, cofounder and executive director of Run for Something

"At a moment when most people are wringing their hands over the decline of democracy, Politics Is for Power offers a fresh, evidence-based look at both the problem and the solutions. Instead of looking to the outside for saviors, the book turns the mirror on all of us to show what we might be doing to destroy democracy and what we can be doing instead to renew it. It's a vital read for anyone who feels like there must be something more we can do." —Hahrie Han, inaugural director of the SNF Agora Institute and professor of political science, Johns Hopkins University



"[Hersh] offers specific guidance on how readers can stop being hobbyists and start participating in the political process by performing community service or becoming an elected delegate…this richly detailed account effectively highlights an issue affecting contemporary political discourse." —Publishers Weekly

"Reform-minded readers who want to do more than cast a vote will find essential information in Politics Is for Power…Hersh brings unique expertise to this important book…a fascinating mix of history, statistics, social science, storytelling and personal insight. Making the shift from political bystander to change-maker is easier than you think, and Hersh's book can help you do it." —BookPage
Scribner, 9781982116781, 288pp.
Publication Date: January 14, 2020
About the Author
Eitan Hersh received a PhD from Harvard University in 2011. He served for six years on the faculty of Yale University as assistant professor of political science and resident fellow of the Institution for Social and Policy Studies before becoming a tenured associate professor of political science at Tufts University. His peer-reviewed articles have been published in the major political science journals. Hersh is the author of Hacking the Electorate and Politics Is for Power.