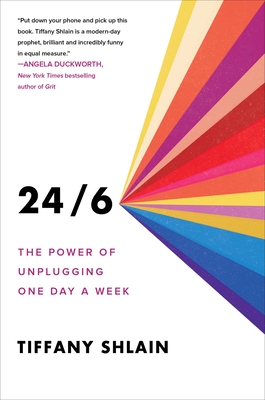 24/6
The Power of Unplugging One Day a Week
Hardcover

* Individual store prices may vary.
Other Editions of This Title:
Digital Audiobook (9/23/2019)
Paperback (10/20/2020)
Compact Disc (9/24/2019)
Description
Winner of the Marshall McLuhan Outstanding Book Award
Entrepreneur's 12 Productivity and Time-Management Books to Read

"I'm won over to a day with people, not screens….I tried Shlain's idea. I highly recommend it." —The New York Times
"Tiffany Shlain is a modern-day prophet, brilliant and incredibly funny in equal measure...24/6 is timeless and timely wisdom." —Angela Duckworth, #1 New York Times bestselling author

This "wise, wonderful work" (Publishers Weekly starred review) demonstrates how turning off screens one day a week can work wonders on your brain, body, and soul.

Do you wish you had more time to do what you love, think deeply, and focus on the people and things that matter most? By giving up screens one day a week for over a decade, Internet pioneer and renowned filmmaker Tiffany Shlain and her family have gained more time, productivity, connection, and presence.

Shlain takes us on a thought-provoking and entertaining journey through time and technology, introducing a strategy for flourishing in our 24/7 world. Drawn from the ancient ritual of Shabbat, living 24/6 can work for anyone from any background. With humor and wisdom, Shlain shares her story, offering the accessible lessons she has learned and providing a blueprint for how to do it yourself.

"Bolstered with fascinating and germane facts about neuroscience, philosophy, psychology, and the history of the concept of a day of rest" (Publishers Weekly), 24/6 makes the case for incorporating this weekly reset into our 24/7 lives, issuing a call to rebalance ourselves and our society.
Praise For 24/6: The Power of Unplugging One Day a Week…
"In this wise, wonderful work, filmmaker Shlain eloquently argues the merits of taking a break from technology, particularly smartphones, one day a week …Bolstered with fascinating and germane facts about neuroscience, philosophy, psychology, and the history of the concept of a day of rest, this excellent cross between instruction and memoir deserves a wide audience."—Publishers Weekly (starred review)

"In her new book, 24/6, Tiffany Shlain, the founder of the Webby Awards, lays out a plan for surviving our 'always on' culture… Even for a digital curmudgeon like me, being 'unproductive' felt like a small revolution—and that's after only one day of it. I can't wait to discover what a decade of tech Shabbats feels like."—Harvard Business Review

"Consider picking one day per week where you just put the phone down. Tiffany Shlain, author of the book "24/6," said her family has been unplugging for the Sabbath for a decade, and she finds the practice even more useful under stay-at-home orders where everyone's daily use of screens has skyrocketed."—The Washington Post

"[A] bright debut... A useful and much-needed guide to turning the clock back to a less frazzled pre-internet and -smartphone day." — Kirkus Reviews

"24/6 is poised to start a movement. Try it, and get your attention span back."— Refinery29

"In 24/6, filmmaker and popular speaker Shlain introduces readers to what she calls a 'Technology Shabbat'—the one day, every week, where she and her family turn off all electronic devices. Beyond detailing the many ways she and her family have benefited, Shlain gives helpful, reassuring advice for embracing your own tech Shabbat and curbing device use." — Real Simple

"Quarantine is magnifying the importance of creating these boundaries between time on vs. time off, online vs. in person, what we do ourselves vs. what we outsource, need vs. want." — USA Today

"An essential guide... There is nothing else like it; here is a place to turn if you feel there's something missing in our modern world." — Jaron Lanier, best-selling author of Dawn of the New Everything and You Are Not a Gadget


"Shlain's well-written and well-reasoned book offers families excellent ideas for taming the digital monsters who have moved into their homes. I recommend it to all parents who have struggled to set limits on screen time." — Mary Pipher, co-author of Reviving Ophelia

"Here is the answer to the greatest collective and personal challenge of our time: reclaiming the essential dignity of being human in a digital age." —Douglas Rushkoff, author of Team Human and Present Shock

"Shlain delivers a moving family story, documenting the need for Shabbat in the first place." — Sherry Turkle, MIT Professor of the Social Studies of Science and Technology, author of Reclaiming Conversation and Alone Together

"I don't know how Tiffany Shlain does it. First the prize-winning movies, now an amazing book outlining a human way to manage our digital lifestyle. Like Tiffany, we all need to go 24/6. It's a great way to seize back control from our digital overlords." —Andrew Keen, Best-selling author of How To Fix The Future

"She convinced me…. that a day of disconnection is a path towards reconnection to the rest of our lives." —Vint Cerf, Vice President and Chief Internet Evangelist for Google and cofounder of the Internet Society

"Tiffany Shlain is a 21st Century Marshall McLuhan, reminding us that having the best of both worlds is not getting consumed by one." — Jean Rogers, M.S.Ed. Director, Children's Screen Time Action Network

"Tiffany Shlain is a digital philosopher for our time, confronting the conundrums presented by a constantly demanding, ever-present information environment. I, as a pediatrician, live it and recommend it as a best parenting and best living practice to the families I serve." — Michael Rich, Harvard Medical School

"In her book, [Shlain] offers suggestions of activities for all ages to engage in while unplugging, but one activity that might be good for the whole family is simply journaling. These days are days that will be inscribed forever into history books. We're living history now. One day we all will be the storytellers and history keepers, and conversations may always drift back to what did you do when." –Scary Mommy blog
Gallery Books, 9781982116866, 256pp.
Publication Date: September 24, 2019
About the Author
Honored by Newsweek as one of the "Women Shaping the 21st Century," Tiffany Shlain is an Emmy-nominated filmmaker, and founder of The Webby Awards. Her films and work have received over eighty awards and distinctions, including being selected for the Albert Einstein Foundation's Genius: 100 Visions of the Future, NPR's list of the best commencement speeches, and the Neil Postman Award for Career Achievement in Public Intellectual Activity. The Museum of Modern Art in New York premiered her live cinematic essay show Dear Human and her solo art exhibition Human Nature was presented by the National Women's History Museum in Washington, DC. Her films have premiered at top festivals including Sundance. . Find out more at TiffanyShlain.com and follow @TiffanyShlain.
or
Not Currently Available for Direct Purchase