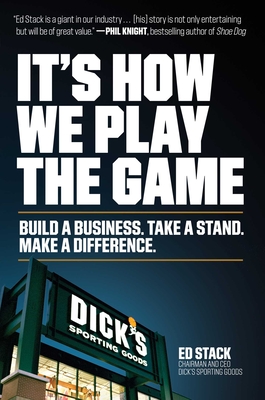 It's How We Play the Game
Build a Business. Take a Stand. Make a Difference.
Hardcover

* Individual store prices may vary.
Other Editions of This Title:
Digital Audiobook (10/7/2019)
Paperback (5/5/2020)
CD-Audio (10/8/2019)
Description
For readers of Phil Knight's Shoe Dog and Howard Schultz's Onward, an inspiring memoir from the CEO of DICK's Sporting Goods about building a multibillion dollar business, coming to the defense of embattled youth sports programs, and taking a principled—and highly controversial—stand against the types of guns that are too often used in mass shootings and other tragedies.

In 1948, Ed Stack's father, Richard, started Dick's Bait and Tackle in Binghamton, New York, with $300 borrowed from his grandmother. A few years later, Dick expanded to a second location. In 1984, Ed bought the two stores from his father. Today DICK's Sporting Goods is the largest sporting goods retailer in the country with over 800 locations and close to $9 billion in sales.

It's How We Play the Game tells the absorbing story of a complicated founder and an ambitious son—one who transformed a business by making it more than a business, conceiving it as a force for good in the communities it serves. The transformation Ed wrought wasn't easy: economic headwinds nearly toppled the chain twice. But DICK's support for embattled youth sports programs earned the stores surprising loyalty, and Ed was vocal in sounding the alarm about schools' underfunding not just of sports but of other extracurriculars, which earned DICK's even more respect.

Ed's toughest business decision came in the wake of yet another school shooting; this one at Marjory Stoneman Douglas High School in Parkland, Florida, in 2018. The senseless loss of life devastated Ed on many levels and he decided to take action. DICK's became the first major retailer to pull all semi-automatic weapons from its shelves and raise the age of gun purchase to twenty-one. Despite being a gun owner himself who'd grown up around firearms, Ed's strategy included destroying the $5 million of assault-style-type rifles then in DICK's inventory.

It was a profit-risking policy that would earn the outrage of some—even threats of harm—but turn Ed into a national hero.

With vital lessons for anyone running a business and eye-opening reflections about what a company owes the people it serves, It's How We Play the Game is the insightful story of a man who built one of America's most successful companies by following his heart.
Praise For It's How We Play the Game: Build a Business. Take a Stand. Make a Difference.…
"Ed Stack is a giant in our industry…[his] story is not only entertaining but will be of great value to any entrepreneur."

—Phil Knight, founder of Nike and New York Times bestselling author of Shoedog

"As this surprisingly inspiring book makes clear, organizations can't grow to a large size unless there's a unifying vision, a common DNA that is present in even the most far-flung outposts. It's an extraordinarily difficult feat, this task of migrating your values outward and making them stick—but against all odds Ed Stack seems to have pulled it off. He's a remarkable leader, and It's How We Play the Game is a remarkable book."

—Indra Nooyi, former Chairman and CEO of PepsiCo

"Leadership is doing the right thing when it isn't popular or easy. Ed Stack, as this powerful book makes clear, has been that kind of leader. We can all learn from his example."

—Mark Kelly, former combat pilot, NASA astronaut, and coauthor, with Gabrielle Giffords, of Enough: Our Fight to Keep America Safe from Gun Violence

"In It's How We Play the Game, Ed Stack makes the compelling case that leading with the values of sports—like hard work, teamwork and selflessness—matters in business, and most of all, society."

—Adam Silver, NBA Commissioner

"Ed Stack's story—told with honesty and a deep sense of corporate responsibility—shows that you can build a great business and stand up for what you believe in."

—Michael Bloomberg, Founder of Bloomberg LP and Three-Term Mayor of New York City

"Ed Stack has created one of the greatest retail emporiums…As this book shows, he is an entrepreneur, corporate steward, and leader of an engaged workforce, but first and foremost, he is always thinking about his customers."

—John Idol, Chairman and CEO of Michael Kors

"Demonstrates the valuable lessons taught by participating in sports….Ed hasn't just made a difference for his employees and customers. He has been an important partner with Little League Baseball and many individual teams throughout the country…In our society, it's not just the people on the field who inspire, it's leaders like Ed Stack—men and women who bend down to lift people up."

—Rob Manfred, Commissioner of Baseball

"An awe-inspiring story of overcoming obstacles…If there were more people like Stack running companies, the world would be a better place."

—Jimmy Dunne, Senior Managing Principal of Sandler O'Neill & Partners

"Paints a fascinating picture of a man who is a fulfilled leader…Stack's name should be on the impressive roll call of men and women whose will to compete, and success in doing so, offers inspiration and wisdom."

—Jay Monahan, Commissioner of the PGA Tour

"In It's How We Play the Game, Stack demonstrates that he's playing a different game than other retailers, moving past all the clichés about 'giving back' and turning his support of local communities into a kind of killer app….Few recent business books are as well-told or as rich in takeaways."

—Jim Rohr, former Chairman of PNC Financial Services Group

"Ed Stack is not just a great entrepreneur running a big, successful business but a courageous American who is willing to stand up for what's right. And he's a talented author."

—Gert Boyle, Chairman of Columbia Sportswear Company and author of One Tough Mother

"[Ed Stack] stood tall after the tragic mass shooting in Parkland, Florida in 2018 and his leadership on firearms forever changed our national dialogue. His authenticity, courage, and perseverance—and Dick's Sporting Goods's journey inspired by the Stack family—is a genuine American Dream success story."

—Ed Herlihy, Senior Partner, Wachtell, Lipton, Rosen & Katz
Scribner, 9781982116910, 320pp.
Publication Date: October 8, 2019
About the Author
Ed Stack is the Chairman and CEO of DICK's Sporting Goods. Born in Binghamton, New York, he now lives in Pittsburgh, Pennsylvania with his wife, Donna. It's How We Play the Game is his first book.
or
Not Currently Available for Direct Purchase