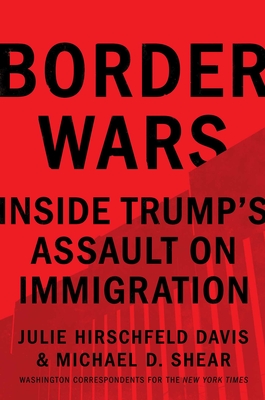 Border Wars
Inside Trump's Assault on Immigration
Hardcover

* Individual store prices may vary.
Other Editions of This Title:
Digital Audiobook (10/7/2019)
Digital Audiobook (10/7/2019)
Paperback (11/3/2020)
Description
Two New York Times Washington correspondents provide a detailed, "fact-based account of what precipitated some of this administration's more brazen assaults on immigration" (The Washington Post) filled with never-before-told stories of this key issue of Donald Trump's presidency.

No issue matters more to Donald Trump and his administration than restricting immigration.

Julie Hirschfeld Davis and Michael D. Shear have covered the Trump administration from its earliest days. In Border Wars, they take us inside the White House to document how Stephen Miller and other anti-immigration officials blocked asylum-seekers and refugees, separated families, threatened deportation, and sought to erode the longstanding bipartisan consensus that immigration and immigrants make positive contributions to America. Their revelation of Trump's desire for a border moat filled with alligators made national news.

As the authors reveal, Trump has used immigration to stoke fears ("the caravan"), attack Democrats and the courts, and distract from negative news and political difficulties. As he seeks reelection in 2020, Trump has elevated immigration in the imaginations of many Americans into a national crisis.

Border Wars identifies the players behind Trump's anti-immigration policies, showing how they planned, stumbled and fought their way toward changes that have further polarized the nation. "[Davis and Shear's] exquisitely reported Border Wars reveals the shattering horror of the moment, [and] the mercurial unreliability and instability of the president" (The New York Times Book Review).
Praise For Border Wars: Inside Trump's Assault on Immigration…
"Essential reading for those searching for the 'beating heart' of the Trump administration. . . . Davis and Shear are scrupulously fair reporters. . . . [They] are right: Immigration demagogy is at the 'heart' of the Trump show — and the Trump show is at the heart of our tragic decline as a civil and humane society."
— Joe Klein

"A stark account of the Trump administration's ongoing attempts to disembowel the nation's immigration policy. . . . Border Wars is more than simply a book about his administration's strategizing and ill-fated efforts to make this happen. The book also reveals the rampant dysfunction within the administration. . . . Border Wars avoids polemics in favor of a fact-based account of what precipitated some of this administration's more brazen assaults on immigration. . . . Hirschfeld Davis and Shear had only to state the facts and allow readers to draw their own conclusions. Trump had already taken care of impaling himself."
— Oscar Cásares

"The book reveals much about how Trump thinks, why he instinctively 'grasped for the solution that looked toughest,' and, in hair-raising insider detail, how he governs from day to day. If journalism is the first draft of history, this volume is a solid second draft."


— Jessica T. Mathews

"A vivid, revelatory account of President Trump's attempts to overhaul the U.S. immigration system. . . . Davis and Shear's fast-paced, richly detailed narrative underscores the chaos surrounding the White House without minimizing the fact that it's now 'more dangerous and costly to be undocumented' in America than it has been in decades. The result is an essential inquiry into Trump's bet that his 'take-no-prisoners' approach to immigration will win him the 2020 election."
— Publishers Weekly
Simon & Schuster, 9781982117399, 480pp.
Publication Date: October 8, 2019
About the Author
Julie Hirschfeld Davis is the congressional editor and deputy Washington editor at The New York Times. She has covered politics from Washington for more than twenty years. She joined the Times in 2014 as a White House correspondent after stints at Bloomberg News, the Associated Press, The Baltimore Sun, and Congressional Quarterly. She won the 2009 Everett McKinley Dirksen Award for Distinguished Reporting of Congress.

Michael D. Shear is a White House correspondent in The New York Times Washington bureau, where he covers President Trump. A veteran political correspondent, before coming to the Times in 2010, he spent eighteen years writing about local, state and national politics at The Washington Post, where he was also part of the Pulitzer Prize–winning team that covered the Virginia Tech shootings in 2007.
or
Not Currently Available for Direct Purchase