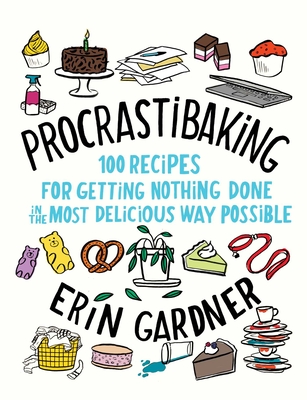 Procrastibaking
100 Recipes for Getting Nothing Done in the Most Delicious Way Possible
Hardcover

* Individual store prices may vary.
Description
"The delicious distraction we need these days." —The New York Times

Whether you need a distraction, a treat, or just a break from your responsibilities, beloved blogger Erin Gardner's enticing collection of 100 recipes is here to provide a delicious diversion.

Sometimes you need to take a mini vacation from the demands of daily life, and the kitchen is the best space for it. How can you return those emails when there's dough on your hands? It would be counterproductive to handle clean laundry after dipping chocolates all afternoon, right? Whether you're avoiding work, the news, or just trying to keep your hands busy, baking offers the perfect escape.

Pastry chef and beloved blogger Erin Gardner provides the ultimate guide to procrastibaking with pride and purpose in this inspired collection of 100 recipes, from easy one-hour projects to weekend affairs. From Case-of-the-Mondays Morning Treats, to Late-for-Everything Loaf Cakes and Fear-of-Success Snack Cakes, this book has a chapter for every procrastibaking need, and recipes to satisfy any craving for distraction. Not feeling that work project? Work on some Peanut Butter S'more Bars instead. Term paper due tomorrow? Making some No-Bake Cookies-n-Cream Pie will get the creative juices flowing. Does your mother-in-law have you channeling Scrooge? This calls for a procrasti-masterpiece, like a Gingerbread House...from scratch.

So don't worry. Put down the cleaning supplies. Ignore the emails. Treat yourself to a happiness break.

It's time to procrastibake.
Praise For Procrastibaking: 100 Recipes for Getting Nothing Done in the Most Delicious Way Possible…
"The delicious distraction we need these days."
— The New York Times

"As I polish off this column a day past my deadline, you can bet that I'm loving a new cookbook with chapter headings like 'Better-Late-Than-Never Brownies and Bars,' 'Late-for-Everything Loaf Cakes,' and 'Sorry-for-the-Delayed-Response Savory Bakes.' This is Erin Gardner's Procrastibaking, and it is giving me life. Never mind that I absolutely want to try every delicious-sounding recipe, of which there are more than 100, and most of which are making a successful appeal to my sweet tooth. I also want to nail the word search, mazes, and other games that are sprinkled throughout the book like finishing sugar. But first I must finish this column . . . or must I?? After all, the majority of these treats can be turned out in under 50 minutes, I'm told."
— BookPage

"Kudos to Erin for cracking the code. She sees us all—especially me! Procrastibaking should be my middle name! Whether I'm avoiding a deadline or refusing to look at my inbox, Erin's got me covered. She makes putting off being an adult much more enjoyable—and delicious!"
— Kristen Tomlan, founder and CEO of DO, Cookie Dough Confections, and author of Hello, Cookie Dough

"Erin Gardner is not only a wildly talented—dare I say—genius cake decorator and baker, but she is also straight-up hilarious and whip-smart, to boot. Procrastibaking is the sweetest and funniest of vehicles in which Erin's baking expertise and humor truly shine."
— Jessie Sheehan, author The Vintage Baker

"Procrastinating is bad, but if you procrastibake, you end up with something wonderful and delicious because you weren't actually 'procrastinating'—you were doing something productive. Thanks to this book, I have a whole bunch of amazing recipes that can help me rationalize my poor decisions. Erin Gardner is nothing short of a hero."
— Allison Robicelli, James Beard Award–nominated food writer and author of Robicelli's: A Love Story, With Cupakes

"We have to cook, but we get to bake. Erin's book illustrates this so beautifully as she celebrates the power of baking to take us out of the chaos in our heads and replace it with the calm that comes with working with your hands. Baking is a welcome escape during life's craziest times, especially when you can use Erin's recipes in the kitchen."
— Shauna Sever, baker and author of Midwest Made
Atria Books, 9781982117740, 224pp.
Publication Date: March 31, 2020
About the Author
Erin Gardner is a baking and cake design instructor, the creator of ErinBakes.com, and author of Erin Bakes Cake. Erin worked as a pastry chef in numerous New England kitchens, including Boston's legendary Locke Ober, before opening Wild Orchid Baking Co. She quickly became the go-to cake designer for premiere events, competing on and winning Food Network's Sweet Genius. Erin was named one of the best wedding cake makers in the country by both Martha Stewart Weddings and Brides. Her work has been featured in media outlets including: Oprah.com, Brides, Martha Stewart Weddings, Town & Country, HuffPost, HGTV's DIY Network, and more. When she's not talking about cake, you can find her exploring the New Hampshire seacoast and lakes regions with her husband and two children.