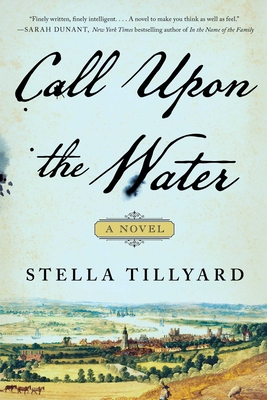 Call Upon the Water
A Novel
Hardcover

* Individual store prices may vary.
Other Editions of This Title:
Paperback (12/8/2020)
Library Binding, Large Print (12/1/2019)
Compact Disc (9/17/2019)
Description
Spanning several decades in seventeenth century Great Britain and America, this "impressive piece of work, rich in historical detail and human insight" (The Sunday Times) is an unforgettable love story exploring the power of nature versus man and man versus woman.

I am an engineer and a measured man of the world. I prefer to weigh everything in the balance, to calculate and to plan. Yet my own heart is going faster than I can now count.

In 1649, Jan Brunt arrives in Great Britain from the Netherlands to work on draining and developing an expanse of marshy wetlands known as the Great Level. It is here in this wild country that he meets Eliza, a local woman whose love overturns his ordered vision. Determined to help her strive beyond her situation, Jan is heedless of her devotion to her home and way of life. When she uses the education Jan has given her to sabotage his work, Eliza is brutally punished, and Jan flees to the New World.

In the American colonies, profiteers on Manatus Eyland are hungry for viable land to develop, and Jan's skills as an engineer are highly prized. His prosperous new life is rattled, however, on a spring morning when a boy delivers a note that prompts him to remember the Great Level, and confront all that was lost there. Eliza has made it to the New World and is once again using the education Jan gave her to bend the landscape—this time to find her own place of freedom.

A "story of passion, possession, and a painful education in love" (Sarah Dunant, author of In the Name of the Family), Call Upon the Water is an adventure, an unusual and intelligent love story, and a powerful comment on the relationship between humans and the environment. "Richly involving…rousing and heroic" (The Guardian), this unforgettable historical novel is perfect for fans of Hilary Mantel, Geraldine Brooks, and Philippa Gregory.

*Note: This book was published in the UK under the title The Great Level.
Praise For Call Upon the Water: A Novel…
Tillyard is a lovely writer....she can take your breath away."
— The New York Times Book Review

"Stella Tillyard has done that magical thing - combined solid historical research with an ethereal sense of the past. Her New Amsterdam in America is as wonderfully realized as the shifting world of the Fens in England. It's a haunting book with characters who stay with the reader as their lives unfold like a sea mist."
— Philippa Gregory, New York Times bestselling author of Tidelands

"The most beautiful historical novel you'll read all year....Extraordinary."
— Simon Schama

"From the waterlogged fen lands of old England to the burgeoning colonies of the New World, a story of passion, possession and a painful education in love - finely written, finely intelligent, Call Upon the Water is a novel to make you think as well as feel."
— Sarah Dunant

Historical fiction that deftly weaves engineering marvels, love, optimism, and tragedy against the backdrop of war and tensions in the mid-17th-century Old and New Worlds....This book is about memories and about love: of place, of person, of things well made, of partners well cherished. It is also about survival. The locations...are so finely wrought by author Tillyard that they will embed themselves in your mind as distant places your thoughts return to wistfully, as if you yourself have traveled there....A dense, delightful read.
— Kirkus Reviews
Atria Books, 9781982120962, 288pp.
Publication Date: September 17, 2019
About the Author
Stella Tillyard is a British novelist and historian. She was educated at Oxford and Harvard Universities and the School of the Museum of Fine Arts in Boston. Her bestselling book Aristocrats was made into a miniseries for BBC1/Masterpiece Theatre, and sold to over twenty countries. Winner of the Meilleur Livre Etranger, the Longman-History Today Prize, and the Fawcett Prize, Tillyard has taught at Harvard University, the University of California, Los Angeles, and the Centre for Editing Lives and Letters at Queen Mary, London. She is currently a Visiting Professor in the Department of History, Classics and Archaeology at Birkbeck, University of London. Her latest novel is Call Upon the Water (published in the UK under the title The Great Level).