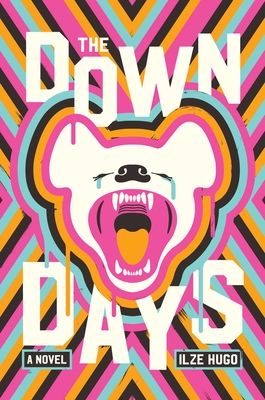 The Down Days
A Novel
Hardcover

* Individual store prices may vary.
Other Editions of This Title:
Digital Audiobook (5/4/2020)
Paperback (6/22/2021)
Compact Disc (5/5/2020)
Description
In the vein of The Book of M comes a fast-paced, character-driven literary apocalyptic novel that explores life, love, and loss in a post-truth society.

In the aftermath of a deadly outbreak—reminiscent of the 1962 event of mass hysteria that was the Tanganyika Laughter Epidemic—a city at the tip of Africa is losing its mind, with residents experiencing hallucinations and paranoia. Is it simply another episode of mass hysteria, or something more sinister? In a quarantined city in which the inexplicable has already occurred, rumors, superstitions, and conspiracy theories abound.

During these strange days, Faith works as a fulltime corpse collector and a freelance "truthologist," putting together disparate pieces of information to solve problems. But after Faith agrees to help an orphaned girl find her abducted baby brother, she begins to wonder whether the boy is even real. Meanwhile, a young man named Sans who trades in illicit goods is so distracted by a glimpse of his dream woman that he lets a bag of money he owes his gang partners go missing-leaving him desperately searching for both and soon questioning his own sanity.

Over the course of a single week, the paths of Faith, Sans, and a cast of other hustlers—including a data dealer, a drug addict, a sin eater, and a hyena man—will cross and intertwine as they move about the city, looking for lost souls, uncertain absolution, and answers that may not exist.
Praise For The Down Days: A Novel…
One of Amazon's Best Books of the Month: Science Fiction & Fantasy

"Science fiction and spirituality intertwine in Hugo's fun, apocalyptic mystery debut… Hugo adeptly juggles multiple points of view... The arresting prose, an effortless blend of Afrikaans slang and invented jargon, peppered with evocative turns of phrase elevates this from run-of-the-mill science fiction thriller. Fans of gritty environmental sci-fi will enjoy this dynamic, fast-paced debut."
— Publishers Weekly

"With a fresh new voice that jumps off the page and an incisive, probing plunge into the double-edged coin of survival and grief, The Down Days brings the tenacious synchronicity of Tom Robbins to science fiction with the pacing and mystery of a thriller."—Delilah S. Dawson, New York Times Bestselling Author

"We're living in strange times. Why not face it head on and read a novel similar to our current reality? The Down Days is a fascinating story about the residents of an African city quarantined after an outbreak of laughter... The similarities will give you hope and change the way you think about holding onto your old way of life."
— HelloGiggles

"The Down Days is one of the most accurate depictions of the strange realities of life during a pandemic… A shaggy dog story and modern noir, The Down Days feels particularly familiar now, due in part to its strange blend of tragedy and absurdity… The result closely resembles Sam J. Miller's Blackfish City, highly literary speculative fiction that blends elements of sci-fi and mysticism but grounds the high concepts with charming characters and a brilliantly realized setting… A surprisingly comforting work... The world may be dramatically changed, but when people are willing to take risks and work together, we can get through anything."
— The A.V. Club
Skybound Books, 9781982121549, 368pp.
Publication Date: May 5, 2020
About the Author
Ilze Hugo is a South African debut author with degrees in fine arts and English studies, along with a Masters in creative writing from the University of Cape Town. Her short stories have appeared in anthologies like The Ghost Eater and Other Stories and My Holiday Shorts. As a freelance writer, she's written for magazines to guidebooks to ad campaigns and even the odd comic. She lives by the ocean in Muizenberg, Cape Town, with her husband and two children.