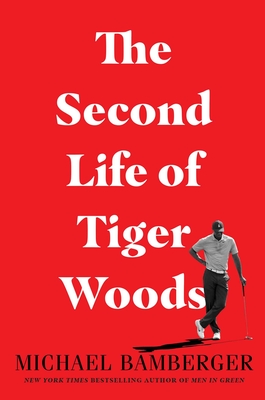 The Second Life of Tiger Woods
Hardcover

* Individual store prices may vary.
Other Editions of This Title:
Paperback (3/23/2021)
Compact Disc (3/31/2020)
Description
"Fascinating...[Bamberger] knows the world of professional golf, and the pressures it exacts, like few others." —The Wall Street Journal

It's one of the greatest comebacks of all time. And for Tiger Woods—his game, his body, and his life in shambles—getting back to the winner's circle was only half the story. Here's the rest of it.

Tiger Woods's long descent into a personal and professional hell reached bottom in the early hours of Memorial Day in 2017. Woods's DUI arrest that night came on the heels of a desperate spinal surgery, just weeks after he told close friends he might never play tournament golf again. His mug shot and alarming arrest video were painful to look at and, for Woods, a deep humiliation. The former paragon of discipline now found himself hopelessly lost and out of control, exposed for all the world to see. That episode could have marked the beginning of Tiger's end. It proved to be the opposite.

Instead of sinking beneath the public disgrace of drug abuse and the private despair of a battered and ailing body, Woods embarked on the long road to redeeming himself. In The Second Life of Tiger Woods, Michael Bamberger, who has covered Woods since the golfer was an amateur, draws upon his deep network of sources inside locker rooms, caddie yards, clubhouses, fitness trailers, and back offices to tell the true and inspiring story of the legend's return. Packed with new information and graced by insight, Bamberger's story reveals how this iconic athlete clawed his way back to the top.

Here you'll meet the people who have shaped and saved Tiger's life. It's a disparate group: a Florida police officer, an old friend from Tiger's boyhood, his girlfriend, his manager, his caddie. You'll go inside the ropes and see Tiger's interactions with fellow pros, with broadcasters and rules officials and Tour executives, with legends young (Rory McIlroy) and old (Jack Nicklaus) and in between (Fred Couples). On the Sunday before Masters Sunday, you'll join Tiger as he takes a long, slow, contemplative walk across Augusta National, and you'll be with him again seven days later in the splendid isolation of the tee at thirteen, in the rain, his right foot slipping while he swings his driver at 120 miles per hour.

This is an intimate portrait of a man who has spent his life in front of the camera but has done his best to make sure he was never really known. Here is Tiger, barefoot, in handcuffs, showing a police officer a witty and self-deprecating side of himself that the public never sees. Here is Tiger on the verge of tears with his children at the British Open. Here is Tiger trying to express his gratitude to his mother at a ceremony at the Rose Garden. In these pages, Tiger is funny, cold, generous, self-absorbed, inspiring—and real.

The Second Life of Tiger Woods is not only the saga of an exceptional man but also a celebration of second chances. Bamberger's bracingly honest book is about what Tiger Woods did, and about what any of us can do, when we face our demons head-on.
Praise For The Second Life of Tiger Woods…
"Thoughtful . . . Readers will find fascinating gems . . . Mr. Bamberger goes out of his way to be fair, clearly distinguishing between what we can know and what we will probably never know. His speculations about the private Woods, always labeled as such, are informed by his more than three decades of golf reporting and five previous books about golf, including one about caddying for a tour pro. He knows the world of professional golf, and the pressures it exacts, like few others."
—John Paul Newport, The Wall Street Journal

"A sensational read . . . [Bamberger is] an outstanding reporter. . . . The number of insights, stories and well-labeled legends of hazy lineage are all presented in Bamberger's inimitable style . . . The ride is filled with plenty of stellar anecdotes for lovers of all things golf. . . . Since we have no 2020 Masters to watch, reliving everything leading up to Tiger's fifth title is well worth the ride, even if the road was bumpier than we'd prefer to recall."
—Geoff Shackelford

"Insightful and entertaining . . . When it comes to golf writing, Michael Bamberger is akin to a feel player. The longtime Sports Illustrated and current Golf Magazine scribe relies on a keen eye for detail, instincts developed over decades around the game and innate writing gifts."
—Edgar Thompson, Orlando Sentinel

"Love Tiger Woods? Loathe him? There's something in this book for everyone. . . . Bamberger is unafraid to look into some of the darker corners of Woods' life, including his rumored PED use. The book ends on a high note, though, with Woods' unforgettable win in last year's Masters Tournament. Bamberger's writing style is easygoing and loose-limbed, as smooth and natural-feeling as Freddie Couples' swing."
—Monte Burke, Forbes

"Reading The Second Life of Tiger Woods is like playing a great golf course without prior knowledge of the holes that lie ahead. You know they're going to be good, and in the end, they add up to something special. To the extent that it's possible to know what's in Tiger's mind, Bamberger delivers. . . . A terrific book."
—Gary D'Amato, Wisconsin Golf

"A fantastic book . . . Bamberger takes a look at Woods' recent years with a discerning but empathetic eye and teaches us new ways to see his most recent journey."
—Dylan Dethier, Golf.com

"This may be the most insightful and evenhanded book written yet about one of the signature athletes of the last twenty-five years."
—Booklist (starred review)

"Gripping . . . Even non-Tiger fans might find this amazing comeback story appealing."
—Kirkus Reviews

"Michael Bamberger is the quiet man of golf journalism. He arrives at scenes, a notebook stuck in his back pocket; he watches, listens, writes and then departs. Players talk to him and he stores it away and the reader should be grateful that he does because there is so much in this book that most people don't know about Woods, about golf, about the pro game in the US, about Woods's victory in last year's Masters. Bamberger has a painter's eye for detail and a journalist's ear for a phrase. The story he tells so elegantly here is packed with detail."
—The Times (London)

"With compassion and honesty, this book enthrallingly illuminates the extraordinary yet enigmatic comeback of Tiger Woods. Bamberger is a wise and resourceful reporter with an unsurpassed knowledge of the professional game, and he moves effortlessly between inside-the-ropes stories and human insight. I raced through this book joyfully, in about the time it takes to play a round of golf."
—Joseph O'Neill, author of Netherland

"The consummate Tour insider . . . Bamberger has written a thoughtful, conscientious, and shrewd assessment of the life of Tiger Woods. . . . Lively, astute, and vigorously reported."
—John Strawn, author of Driving the Green

PRAISE FOR OTHER BOOKS BY MICHAEL BAMBERGER

* Men in Green *

"Maybe the best golf book I've ever read."
—Bill Reynolds, Providence Journal

"I wish Men in Green were about four hundred pages longer than it is."
—Jeffrey Toobin, New York Times Book Review

* The Swinger *

"An entertaining, revealing, thought-provoking, and cautionary tale . . . It provides invaluable insight into the life and times of Woods."
—Bill Pennington, The New York Times

* To The Linksland *

"One of the best golf travel books ever written . . . The book reminds us that the game of golf has many treasures yet to be discovered."
—Michael Murphy, author of Golf in the Kingdom

* This Golfing Life *

"The ultimate insider's view [from] one of the modern game's brightest observers and finest writers."
—Geoff Shackelford, Golf Observer
Avid Reader Press / Simon & Schuster, 9781982122829, 272pp.
Publication Date: March 31, 2020
About the Author
Michael Bamberger was born in Patchogue, New York, in 1960. After graduating from the University of Pennsylvania in 1982, he worked as a newspaper reporter, first for the (Martha's) Vineyard Gazette, later for The Philadelphia Inquirer. After twenty-two years at Sports Illustrated, he is now a senior writer for GOLF magazine and Golf.com. He and his wife, Christine, live in Philadelphia.