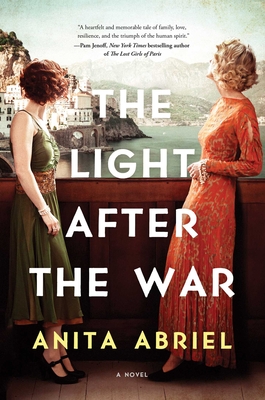 The Light After the War
A Novel
Hardcover

* Individual store prices may vary.
Other Editions of This Title:
Digital Audiobook (2/3/2020)
Paperback (11/3/2020)
Compact Disc (2/4/2020)
Library Binding, Large Print (9/1/2020)
Description
Inspired by an incredible true story of two Jewish friends who survived the Holocaust, this sweeping novel of love and friendship spans World War II from Budapest to Austria and the postwar years from Naples to Caracas, perfect for fans of The German Girl and We Were the Lucky Ones.

It is 1946 when Vera Frankel and her best friend Edith Ban arrive in Naples. Refugees from Hungary, they managed to escape from a train headed for Auschwitz and spent the rest of the war hiding on an Austrian farm. Now, the two young women must start new lives abroad. Armed with a letter of recommendation from an American officer, Vera finds work at the United States embassy where she falls in love with Captain Anton Wight.

But as Vera and Edith grapple with the aftermath of the war, so too does Anton, and when he suddenly disappears, Vera is forced to change course. Their quest for a better life takes Vera and Edith from Naples to Ellis Island to Caracas as they start careers, reunite with old friends, and rebuild their lives after terrible loss.

Moving, evocative, and compelling, this timely tale of true friendship, love, and survival will stay with you long after you turn the final page.
Praise For The Light After the War: A Novel…
"Fans of Georgia Hunter's We Were The Lucky Ones should race to grab Anita Abriel's The Light After The War, spanning continents and set against a vividly drawn canvas of World War II and the post-war period. Based on Abriel's own family history, The Light After The War is a heartfelt and memorable tale of family, love, resilience and the triumph of human spirit."
—Pam Jenoff, New York Times bestselling author of The Lost Girls of Paris

"I was utterly moved and transfixed by The Light After the War, a beautiful novel that spans a decade across four continents in the wake of World War II. You'll be swept away by this fast-paced, heartbreaking, and hopeful tale of friendship, family, second chances, and the enduring power of love, based on the true story of author Anita Abriel's mother and her fascinating journey away from war-torn Europe in the 1940s. A must-read for anyone interested in the emotional toll of the Second World War."
—Kristin Harmel, international bestselling author of The Room on Rue Amelie

"Inspired by her own mother's remarkable life, Anita Abriel takes readers to four continents as she celebrates the power of hope, optimism and female friendship in The Light After the War. If you are a reader who believes in embracing life and love—even after unspeakable loss—you will treasure this book."
— Sally Koslow, author of Another Side of Paradise

"Based on a true, untold story, Anita Abriel's The Light After the War paints a wonderful portrait of two young women, both Holocaust survivors, trying to find love and meaning in the aftermath of WWII. From Italy to New York to South America, Abriel brings the friends and the times to life in real, moving, and unexpected ways."
—Mark Sullivan, bestselling author of Beneath a Scarlet Sky

"Anita Abriel's heartfelt novel of love and friendship in the years after the Second World War is based on her mother's own experience, and her intimate connection to the story and characters infuses every word. The Light After the War charts an unforgettable journey to a world struggling to rebuild after the horrors of war, and a pair of extraordinary women who must discover anew how to love and live. Fans of historical fiction won't want to miss this evocative, heartbreaking story."
—Beatriz Williams, New York Times bestselling author of The Golden Hour

"Set against the vividly drawn backdrops of Naples, Caracas and Sydney in the aftermath of WWII, The Light After the War by Anita Abriel is a beautifully written and heartfelt novel. I was completely swept up in Vera's and Edith's lives, their friendship, their heartbreaks and their triumphs. An unforgettable story of strength, love, and survival."
—Jillian Cantor, USA Today bestselling author of The Lost Letter and In Another Time

"There is so much in The Light After the War that truly shines: Unforgettable love, family, faith—and the courageous resolve of two young women to mend their lives and seek new beginnings in a world tragically changed. Fans of historical fiction are sure to devour this tale of hope, reinvention and the power of friendship to heal the heart's deepest wounds."
—Roxanne Veletzos, author of The Girl They Left Behind

"Anita Abriel sweeps the reader around the world in this true tale of survival, endurance, and triumph. The Light After the War is a feast for the mind and the heart, not soon to be forgotten."
—Lynn Cullen, bestselling author of Mrs. Poe and The Sisters of Summit Avenue

"A finely-woven story of post-war romance, second chances, and resolve that refuses to give in or give up. The setting details are evocative and inviting. Well done!"
—Susan Meissner, bestselling author of The Last Year of the War

"[Abriel] deftly sketches the postwar world from Naples to Venezuela and Australia, with attention paid to the changed architectural and emotional landscapes. The rubble of bombed cities, the blank map of lost relatives, and the uncertainty of day-to-day survival outline the anguish of the lost generation."
—Kirkus Reviews

"Moving and captivating . . . . Fans of Martha Hall Kelly and Kristin Hannah will delight in this powerful tale of strong female friendship and second-chance romance set in picturesque Naples, Venezuela, and Australia."
—Library Journal

"Uplifting and sweeping, with a fast pace and accurate depiction of war-torn realities. . . . a good pick for book clubs clamoring for dramatic historical fiction."
—Booklist
Atria Books, 9781982122973, 320pp.
Publication Date: February 4, 2020
About the Author
Anita Abriel was born in Sydney, Australia. She received a BA in English literature with a minor in creative writing from Bard College. She is the internationally bestselling author of The Light After the War, Lana's War, and A Girl During the War. She lives in California with her family.
or
Not Currently Available for Direct Purchase