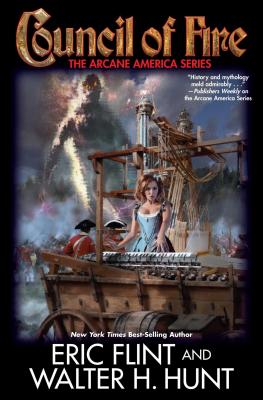 Council of Fire (Hardcover)
Baen, 9781982124151, 480pp.
Publication Date: November 5, 2019
* Individual store prices may vary.
Description
NEW ENTRY IN THE DRAGON AWARD–WINNING ARCANE AMERICA SERIES from New York Times best-selling alternate history master Eric Flint.

The passage of Halley's Comet in 1759 is catastrophic. The comet appears to strike the Earth, sundering the New World from the Old. A chain of mountains rises in the Mid-Atlantic. No ship from the Old World arrives in America. No ship from the New World can find a passage to the Old—and most who try simply disappear.

The comet has also unleashed magic forces, which soon spread everywhere. Slaves begin using powers derived from African witchcraft, bringing monsters from that continent into the New World. The native tribes begin doing the same. Some European settlers devise ways to couple Old World technology with sorcery.

Kraken in the Atlantic, revenants in Jamaica, Dry Hands and Floating Heads in the Hudson valley, African ogres and worse set loose in the streets of New York. Magic of all kinds, emerging everywhere, most of it poorly if at all controlled.

The powerful Iroquois Confederacy disintegrates. The Onondaga Council Fire is extinguished; the Seneca and Cayuga follow their own shaman and war leader, and the Mohawks ally with the English.

For their part, the English and the French in North America, who had been on the brink of war when the Sundering came, now have to contemplate what would once have been unthinkable. They must not simply forge a military alliance against the rising dark powers but may even have to unite politically behind the young English prince Edward, now the only person of royal blood left in the terrifying world created by the Sundering.

About Council of Fire:
"Historical figures such as George Washington and Paul Revere are actively involved in the story, giving this alternate history a sense of what the colonies could have become with a bit of magic involved."—Booklist

About Uncharted:
"History and mythology meld admirably, leading to a satisfying conclusion. This hardy adventure establishes a world ripe for many more rousing stories."—Publishers Weekly

"With a light and brisk narrative that propels its heroes through a number of increasingly dangerous situations, this combination of alternate history and fantasy should appeal to fans of Eric Flint, Harry Turtledove, and historical fantasy in general."—Booklist

"While delivering plenty of action that approximates the best of cinematic fantasy, Hoyt and Anderson also strive for—and achieve—a kind of gravitas that suitably reflects the majesty of an untrammeled continent. Their descriptions of raw nature and its emotional repercussions on the humans are subtly poetic without being overblown. The native tribes are depicted in authentic ways, especially the people of Sacagawea. . . .The characterization of all the cast members is deep and revelatory of human nature. . . . There is also humor amidst the seriousness . . . [Anderson and Hoyt's] prose is a clear-eyed, sturdy naturalism meshed with flights of vivid unreality . . . filled with not only slambang adventures but also a kind of rational optimism that has become rare in genre works these days. . . Hoyt and Anderson, a kind of de Camp and Pratt for the twenty-first century, convey these ideals without lectures or sermons, embodying them in principled people doing exciting things."—Locus

About Eric Flint:

"This alternate history series is … a landmark…"—Booklist

"[Eric] Flint's 1632 universe seems to be inspiring a whole new crop of gifted alternate historians."—Booklist

"…reads like a technothriller set in the age of the Medicis…"—Publishers Weekly

About Walter H. Hunt: "A compelling and immersive novel in which every word feels authentic and every chapter draws the reader deeper into the dark and terrifying power of the mind."—New York Journal of Books
About the Author
Eric Flint is a modern master of alternate history fiction, with three million books in print. He's the author/creator of the multiple New York Times best-selling Ring of Fire series starting with first novel 1632. With David Drake he has written six popular novels in the "Belisarius" alternate Roman history series, and with David Weber collaborated on 1633 and 1634: The Baltic War and two novels in Webers Honorverse series. Flint was for many years a labor union activist. He lives near Chicago, Illinois.

Walter H. Hunt is the creator of the popular Dark Wing space adventure series. He has nearly twenty years experience in high tech as a software engineer and technical writer. His writing reflects an abiding interest in history, his area of college study, but science fiction has been his favorite reading material since he watched Neil Armstrong walk on the moon when he was but a lad. He is an active Freemason and a lifelong baseball fan. He lives in eastern Massachusetts with his wife and daughter.