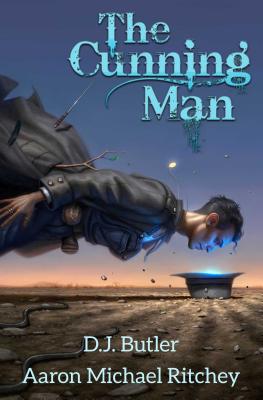 The Cunning Man
Paperback

* Individual store prices may vary.
Other Editions of This Title:
Digital Audiobook (3/1/2021)
Mass Market (9/29/2020)
Compact Disc (3/2/2021)
Description
The demons of the Great Depression are real. The cunning man is here to fight them.

A BREW OF DUST BOWL MAGIC AND GRIT

It's the depths of the Depression, and a mining town in Utah is shut down. Something has awakened underground, and now a monster roams the tunnels. While contentious owners squabble, poor worker families go hungry. Along comes Hiram Woolley. Hiram is a man with mystical abilities derived from the commonsense application of Scots-Irish folk wisdom and German braucher magic. He possesses an arcane Bloodstone that allows him to see a lie the moment it is spoken.

Behind the played-out farms and failed businesses are demons, curses, sorcerers, and unatoned wrongs. Bags of groceries and carpentry won't be enough this time.The job will take a man who has known sorrow. A man who has known war. A man of wisdom. A man of magic.

THE JOB WILL TAKE A CUNNING MAN

About The Cunning Man:
"An attempt at charity during the Great Depression turns into a protracted fight against supernatural forces in this admirable paranormal mystery. . . . the richly imagined magic system and glimpses of Mormon culture create a fully realized world. Historical fantasy fans will delight in the zigzagging plot of this mystery."—Publishers Weekly

"An amazing tale that grabs you by the throat and won't let go! Butler & Ritchey are a literary force to be reckoned with! Hit that download button and grab your copy now! The Cunning Man will never let you go!"—Sherrilyn Kenyon, #1 New York Times Bestselling Author

Praise for D.J. Butler:

"Butler follows Witchy Eye with a satisfying second tale of a magic-filled early America. . . . Deep and old magic influences both places and characters, and the story is tightly focused on the determined Sarah . . . Fans of epic and alternate historical fantasy will savor this tale of witchery and intrigue."—Publishers Weekly

"For readers who love history-based fantasy, steampunk, or urban fantasy. . . this series that gives the genre a new twist."—Booklist

"… you can't stop yourself from taking another bite…and another…and another….I didn't want to stop reading…. Kudos!"—R.A. Salvatore

"Excellent book. I am impressed by the creativity and the depth of the world building. Dave Butler is a great storyteller."—Larry Correia

"Witchy Eye is an intricate and imaginative alternate history with a cast of characters and quirky situations that would make a Dickens novel proud." —Kevin J. Anderson

"Butler's fantasy is by turns sardonic and lighthearted; ghoulish shadows claw into the most remote areas and heroism bursts out of the most unlikely people. Sarah is the epitome of the downtrodden hero who refuses to give up until she gets what she needs, and her story will appeal to fantasy readers of all stripes."—Publishers Weekly

"David's a pro storyteller, and you're in for a great ride."—Larry Dixon

"… a fascinating, grittily-flavored world of living legends. Hurry up and write the next one, Dave."—Cat Rambo

"This is enchanting! I'd love to see more."—Mercedes Lackey

"Goblin Market meets Magical Musketpunk... A great ride that also manages to cover some serious cultural terrain." —Charles E. Gannon

"Witchy Eye is a brilliant blend of historical acumen and imagination, a tour-de-force that is at once full of surprises and ultimately heart-warming. This is your chance to discover one of the finest new stars writing today!"–David Farland

"A gritty, engrossing mash-up of history, fantasy, and magic. Desperate characters careen from plot twist to plot twist until few are left standing."—Mario Acevedo

"Captivating characters. Superb world-building. Awesome magic. Butler fuses fantasy and history effortlessly, creating a fascinating new American epic. Not to be missed!"—Christopher Husberg

"[A] unique alternative-history that is heavily influenced by urban and traditional fantasy and steeped in the folklore of the Appalachians. . . . Fans of urban fantasy looking to take a chance on something with a twist on a historical setting may find this novel worth their time."—Booklist

Praise for Aaron Michael Ritchey:

"…richly drawn, beautifully complex characters…"—Kirkus on Long Live the Suicide King
Baen, 9781982124168, 320pp.
Publication Date: November 5, 2019
About the Author
D.J. ("Dave") Butler grew up in swamps, deserts, and mountains. After messing around for years with the practice of law, he finally got serious and turned to his lifelong passion of storytelling. He now writes adventure stories for readers of all ages, plays guitar, and spends as much time as he can with his family. He is the author of City of the Saints, Rock Band Fights Evil, Space Eldritch, and Crecheling from Wordfire Press, and Witchy Eye, Witchy Winter, Witchy Kingdom, and Serpent Daughter, and The Cunning Man and The Jupiter Knife with coauthor Aaron Michael Ritchey, In the Palace of Shadow and Joy, and Abbott in Darkness, from Baen.

Aaron Michael Ritchey is the author of a bunch of novels and his short fiction has appeared in various anthologies and online magazines. In 2019, Armageddon Girls (The Juniper Wars Book 1) was a Dragon Award Finalist. He's spoken at writing conferences and sci-fi/fantasy conventions across the US, including the Pikes Peak Writers Conference, the RMFW Gold Conference, and the Colorado Teen Lit Conference. He lives in Colorado with his wife and two ancient goddesses posing as his daughters. For more about him, his books, and how to overcome artistic angst, visit www.aaronmritchey.com. He's on Facebook as Aaron Michael Ritchey.
or
Not Currently Available for Direct Purchase