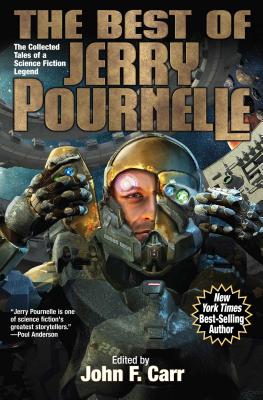 The Best of Jerry Pournelle (Paperback)
Baen, 9781982124175, 576pp.
Publication Date: November 5, 2019
* Individual store prices may vary.
Description
SHORT STORIES BY A MASTER OF SCIENCE FICTION! Includes over a dozen stories by SF legend Jerry Pournelle, and remebrances by Pournelle collaborators and admirers.

For the better part of five decades, Jerry Pournelle's name has been synonymous with hard-hitting science fiction. His Falkenberg's Legion stories and Janissaries series helped define the military sf genre, as did his work as editor on the There Will Be War series of anthologies. With frequent collaborator Larry Niven, he co-wrote the genre-defining first contact novel The Mote in God's Eye, which was praised by Robert A. Heinlein as "possibly the greatest science fiction novel I have ever read."

Now, for the first time, all of Pournelle's best short work has been collected in a single volume. Herein you will find over a dozen short stories, each with a new introduction by editor and longtime Pournelle assistant John F. Carr, as well as essays and remembrances by Pournelle collaborators and admirers.

About The Best of Jerry Pournelle:
". . . showcases a huge swath of [Pournelle's] work, including much that were previously unpublished. . . . Fans of Pournelle will love this collection of stories, essays, and remembrances, and others will be glad to discover him."—Booklist

About Jerry Pournelle:
"Possibly the greatest science fiction novel I have ever read."—Robert A. Heinlein on The Mote in God's Eye by Larry Niven and Jerry Pournelle

"Jerry Pournelle is one of science fiction's greatest storytellers."—Poul Anderson

"Jerry Pournelle's trademark is first-rate action against well-realized backgrounds of hard science and hardball politics."—David Drake

"Rousing ... The Best of the Genre"—The New York Times

"On the cover . . . is the claim 'No. 1 Adventure Novel of the Year.' And well it might be."—Milwaukee Journal on Janissaries
About the Author
Jerry Pournelle was a master of military science fiction, author of the series of novels about John Christian Falkenberg and his legion of interstellar mercenaries, and many other works, such as Janissaries, Exiles to Glory, High Justice, King David's Spaceship, Starswarm, and others. With Larry Niven he collaborated on a string of bestselling novels, including Lucifer's Hammer, The Mote in God's Eye, Footfall, and many more. He held advanced degrees in psychology, statistics, engineering, and political science, and has was actively involved professionally in all these fields.