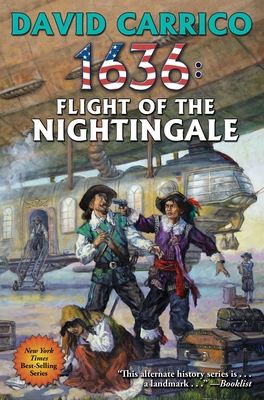 1636
Flight of the Nightingale (Ring of Fire #28)
Paperback

* Individual store prices may vary.
Other Editions of This Title:
Mass Market (11/24/2020)
Description
TWO SHORT NOVELS SET IN ERIC FLINT'S BESTSELLING RING OF FIRE SERIES from David Carrico, co-author of 1636: The Devil's Opera, and The Span of Empire.

ADVENTURE SET TO THE MUSIC OF TIME!

Time waits for no one, but for the residents of 17th-century Europe, the future comes calling—ahead of time! Due to a temporal disturbance known as the Ring of Fire, the 20th-century town of Grantville, West Virginia, finds itself transported through time and space to Central Europe in the year 1632. Massive political and social upheavals take place. But change happens on a smaller, human scale, too.

In "The Flight of the Nightingale" down-timer Francesca Caccini is inspired by the arrival of Grantville to seek a different destiny from what would have been her lot in a future without the up-timer intrusion—that is, to die with a reputation as a brilliant composer and performer, but to later be essentially forgotten by all but the cognoscenti. And in "Bach to the Future" Johann and his brothers commit themselves to preserve, protect, and promote their family's heritage from the future, even if in this future there will be no Johann Sebastian Bach!

Two novels set in Eric Flint's best-selling Ring of Fire series shine a light on the overlooked corners of the Ring of Fire universe, where small actions can have life-altering consequences.

About 1636: The Devil's Opera, by Eric Flint and David Carrico:

"Another engaging alternate history from a master of the genre."—Booklist

". . . an old-style police-procedural mystery, set in 17th century Germany. . . . the threads . . . spin together . . . to weave an addictively entertaining story. . . . a strong addition to a fun series."—The Galveston County Daily News
Baen, 9781982124182, 336pp.
Publication Date: November 5, 2019
About the Author
David Carrico made his first professional SF sale to The Grantville Gazette e-magazine in 2004. His stories have also appeared in the Grantville Gazette and Ring of Fire anthologies from Baen Books and in Jim Baen's Universe e-magazine. Baen Books published Carrico's e-book story collection 1635: Music and Murder, as well as two novels written in collaboration with Eric Flint: 1636: The Devil's Opera and The Span of Empire, which was nominated for the 2017 Dragon Award for Best Military SF or Fantasy novel.
or
Not Currently Available for Direct Purchase