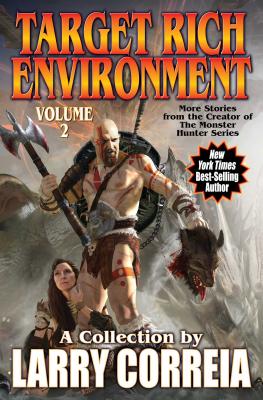 Target Rich Environment, Volume 2
Hardcover

* Individual store prices may vary.
Other Editions of This Title:
Mass Market (9/29/2020)
Description
Hard-hitting Stories from the Creator of Monster Hunter International. The second volume of short stories from nationally best-selling author Larry Correia.

MONSTERS—AND THE CHAMPIONS WHO SLAY THEM!

More stories from the creator of Monster Hunter International, The Grimnoir Chronicles, and the Saga of the Forgotten Warrior. The second volume collecting all of best-selling author Larry Correia's short stories, novelettes, and novellas. Correia's novels are known for their hard-hitting, no-holds-barred action sequences, in-depth worldbuilding, and vivid characterization. Now, Correia turns to the short form to deliver stories that take no prisoner.

"Tokyo Raider" pits giant robots against very big monsters in the Grimnoir Universe. "The Testimony of the Traitor Ratul," set in the Saga of the Forgotten Warrior series, lets a man who has been called a fanatical rebel, despicable murderer, and heretical traitor tell his side of the story. And "Reckoning Day" gives an insider view into the day-to-day life of some of the most popular characters from the Monster Hunter International series.

Plus, stories set in the world of both Aliens and Predator; an Agent Franks /Joe Ledger mash- up cowritten by best-selling author Jonathan Maberry; a V-Wars story; a story set in Michael Z. Williamson's Freehold series—and more.

Finally, Tom Stranger, Interdimensional Insurance Agent, is back in "A Murder of Manatees," appearing in print for the first time!

So strap in for a collection of stories as only the Monster Hunter himself could tell them.

About Larry Correia and the Monster Hunter International series:

"[E]verything I like in fantasy: intense action scenes, evil in horrifying array, good struggling against the darkness, and most of all people—gorgeously flawed human beings faced with horrible moral choices that force them to question and change and grow."—Jim Butcher on Son of the Black Sword

"[A] no-holds-barred all-out page turner that is part science fiction, part horror, and an absolute blast to read."—Bookreporter.com

"If you love monsters and action, you'll love this book. If you love guns, you'll love this book. If you love fantasy, and especially horror fantasy, you'll love this book."—Knotclan.com

"A gun person who likes science fiction—or, heck, anyone who likes science fiction—will enjoy [these books] . . . The plotting is excellent, and Correia makes you care about the characters . . . I read both books without putting them down except for work . . . so whaddaya waitin' for? Go and buy some . . . for yourself and for stocking stuffers."—Massad Ayoob

"This lighthearted, testosterone-soaked sequel to 2009's Monster Hunter International will delight fans of action horror with elaborate weaponry, hand-to-hand combat, disgusting monsters, and an endless stream of blood and body parts."—Publishers Weekly on Monster Hunter Vendetta
Baen, 9781982124229, 352pp.
Publication Date: December 3, 2019
About the Author
Larry Correia is the creator of the Wall Street Journal and New York Times best-selling Monster Hunter International series, with first entry Monster Hunter International, as well as urban fantasy hardboiled adventure saga the Grimnoir Chronicles, with first entry Hard Magic, and epic fantasy series The Saga of the Forgotten Warrior, with first entry Son of the Black Sword. He is an avid gun user and advocate who shot on a competitive level for many years. Before becoming a full-time writer, he was a military contract accountant, and a small business accountant and manager. Correia lives in Utah with his wife and family.