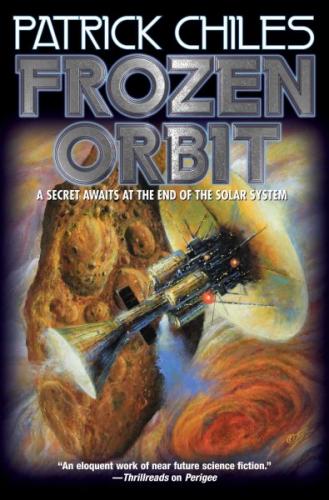 Frozen Orbit
Paperback

* Individual store prices may vary.
Other Editions of This Title:
Mass Market (12/29/2020)
Description
THE BEGINNING OF LIFE AWAITS AT THE END OF THE SOLAR SYSTEM.

A FROZEN ANSWER AT THE EDGE OF PLANETARY SPACE

Set to embark on NASA's first expedition to the outer planets, the crew of the spacecraft Magellan learns someone else has beaten them by a few decades: a top-secret Soviet project codenamed Arkangel.

Now during their long race to the Kuiper Belt, astronauts Jack Templeton and Traci Keene must unwind a decades-old mystery buried in the pages of a dead cosmonaut's journal. The solution will challenge their beliefs about the nature of humanity, and will force the astronauts to confront the question of existence itself. And the final answer lies at the edge of the Solar System, waiting to change everything.

About Frozen Orbit:
". . . hard science fiction and an entertaining and gripping plot. . . . Chiles nails the atmosphere of a NASA-run human spaceflight mission in the 21st century, the jargon of the mission controllers and astronauts, and the bureaucratic infighting characterizing today's NASA. . . . The scenario and background . . . are the scaffolding on which a gripping tale is formed. Readers experience the wonder the astronauts feel on a remarkable voyage, groan as the Earth goes crazy as the expedition progresses, and thrill to a powerful conclusion . . . science fiction at its best."—The Galveston County Daily News

"The story moves quickly with elements of both a spy thriller and a space race...Frozen Orbit could make for an impressive movie, one that would stand with greats such as Contact or Interstellar."—Booklist

About Farside by Patrick Chiles:

"The situations are realistic, the characters interesting, the perils harrowing, and the stakes could not be higher...The story is one of problem solving, adventure, survival, improvisation, and includes one of the most unusual episodes of space combat in all of science fiction. It would make a terrific movie."— John Walker, Ricochet.com

"...a fast-paced and exciting story which bounces between the borders of technological thriller and science fiction...Farside is an impressive effort."—Mark Lardas, The Galveston County Daily News
Baen, 9781982124304, 336pp.
Publication Date: January 7, 2020
About the Author
Patrick Chiles has been fascinated by rockets and spaceflight ever since he watched the Apollo missions as a kid in South Carolina. How he ended up as an English major in college is still a mystery, though he eventually overcame this self-inflicted handicap to pursue a career in aviation. He is a graduate of The Citadel, a Marine Corps veteran, and a licensed pilot. He currently resides in Tennessee with his wife and sons, two lethargic dachshunds, and a bovine cat.