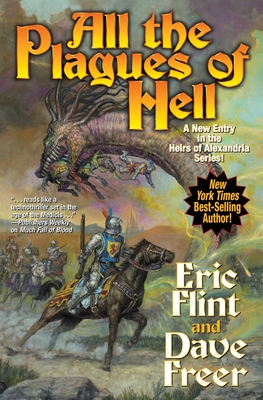 All the Plagues of Hell (Heirs of Alexandria #6) (Mass Market)
Baen, 9781982124311, 608pp.
Publication Date: December 31, 2019
Other Editions of This Title:
Hardcover (12/4/2018)
* Individual store prices may vary.
Description
FANTASY BY NEW YORK TIMES BEST-SELLING AUTHOR ERIC FLINT.

MAGIC IS AFOOT

Orkise is loose. The snake-god of plague has been awakened by Lucia del Maino. With the venomous magic of Orkise at her command, Lucia plots to marry and then murder the usurper who now rules Milan, the condottiere Carlo Sforza—known to friend and foe alike as the Wolf of the North. On his side, Sforza has only the skill and cunning of his physician, Francisco Turner. But will that be enough to save the Wolf of the North? For out there in the countryside of northern Italy, in a Renaissance transformed by arcane magical knowledge, Orkise is uncoiling all the plagues of hell.

About All the Plagues of Hell:
". . . a compelling tale of political, military, and magical conflict . . ."—Booklist

About Eric Flint:

"Another engaging alternate history from a master of the genre."—Booklist

". . . an old-style police-procedural mystery, set in 17th century Germany. . . . The threads . . . spin together . . . to weave an addictively entertaining story. . . . A strong addition to a fun series."—The Galveston County Daily News

"This alternate history series is . . . a landmark. . ."—Booklist

"[Eric] Flint's 1632 universe seems to be inspiring a whole new crop of gifted alternate historians."—Booklist

". . . reads like a technothriller set in the age of the Medicis. . ."—Publishers Weekly

About Dave Freer:
"Dave Freer always delivers compelling, fast-moving and addictive fantasy adventures."—Garth Nix, New York Times best-selling author of The Keys to the Kingdom series

"Dave Freer's stories are always well-plotted, fast-paced and—most of all—a lot of fun to read."—Eric Flint, New York Times best-selling creator of the Ring of Fire series

About A Mankind Witch, by Dave Freer:
"Good characterization, ripsnorting action and an ingenious plot make this a feast . . ."
—Publishers Weekly, starred review
About the Author
Eric Flint is a modern master of alternate history fiction, with over three million books in print. He's the author/creator of the multiple New York Times best-selling Ring of Fire series starting with first novel 1632. With David Drake he has written six popular novels in the "Belisarius" alternate Roman history series, and with David Weber collaborated on 1633 and 1634: The Baltic War and latest Honorverse series entry Cauldron of Ghosts. Flint's latest Ring of Fire novel is 1636: The Ottoman Onslaught. Flint was for many years a labor union activist. He lives near Chicago, Illinois.