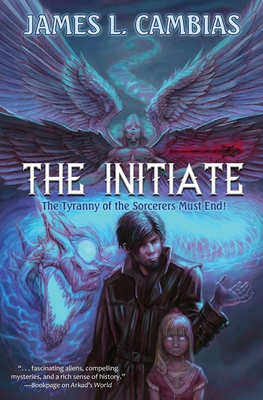 The Initiate (Hardcover)
Baen, 9781982124359, 288pp.
Publication Date: February 4, 2020
Other Editions of This Title:
Mass Market (3/30/2021)
* Individual store prices may vary.
Description
A SECRET ORDER OF SORCERERS RULES THE WORLD. ONE MAN HAS VOWED TO DESTROY THEM.

THE SORCERERS WHO RULE THE WORLD ARE GOING DOWN!

If people who can work magic are so powerful, why don't they rule the world? Well, as it happens, they do. One man wants to change that.

The Apkallu are masters of magic. They rule the world from the shadows, using mind control and deadly monsters to eliminate any threat to their power. Sam Arquero lost his family to a demon sent by an Apkallu. He knew that nobody would believe the truth, but now an old man offers Sam the chance to find out who is responsible and bring down the Apkallu forever.

Under a new identity, Sam must learn the secrets of magic, infiltrate the Apkallu, and walk a razor's edge of daring as he attempts to destroy the Apkallu leaders and avoid the supernatural detectives on his trail. But Sam's greatest challenge perhaps lies within—to avoid becoming like the hated Apkallu himself!

Praise for Arkad's World:
"Far-flung adventure . . . Cambias offers up an entertaining coming-of-age novel filled with action and surprises. His aliens are suitably non-human in mannerisms, attitudes, and objectives, and his worldbuilding suggests a vast universe ready for further exploration. Readers . . . will find this hits the spot."—Publishers Weekly

". . . a classic quest story, a well-paced series of encounters with different folk along the way, building momentum toward a final confrontation with Arkad's past. . . [with] a delicious twist to the end."—ALA Booklist

"Cambias has achieved a feat of world-building: an expansive, believable setting with fascinating aliens, compelling mysteries, and a rich sense of history."—Bookpage

"Drop a teenage boy into a distant planet chock full of colorful aliens—with troubles all their own. Stir, flavor, apply heat. A tour de force in the field, and great, quick fun."—Gregory Benford

Praise for the work of James L. Cambias:

"Beautifully written, with a story that captures the imagination the way SF should."—Booklist, starred review

"An engaging nail-biter that is exciting, fun and a satisfying read." —The Qwillery

''An impressive debut by a gifted writer.''—Publishers Weekly, starred review

''An exceptionally thoughtful, searching and intriguing debut.''—Kirkus, starred review

"James Cambias will be one of the century's major names in hard science fiction.''—Robert J. Sawyer, Hugo Award–winning author of Red Planet Blues

"Fast-paced, pure quill hard science fiction. . . . Cambias delivers adroit plot pivots that keep the suspense coming.''—Gregory Benford, Nebula Award-winning author of Timescape
About the Author
James L. Cambias is a writer, game designer, and cofounder of Zygote Games. He has been nominated for the James Tiptree Jr. Award and the 2001 John W. Campbell Award for Best New Writer. He lives in western Massachusetts.
or
Not Currently Available for Direct Purchase