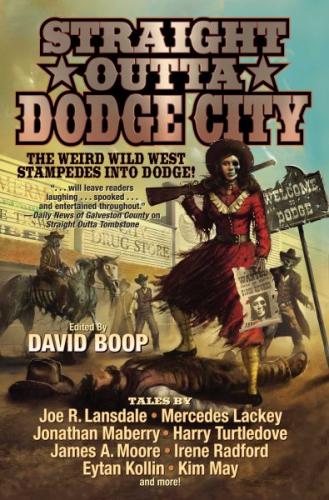 Straight Outta Dodge City
Paperback

* Individual store prices may vary.
Other Editions of This Title:
Mass Market (1/26/2021)
Description
Baen's Weird Western Fantasy and Horror Anthology Series Becomes a Trilogy!

THE WEIRD WILD WEST
IN ALL ITS GLORY. . . AND GORY!

It's the final showdown between heroes and darkness in the Old West. Humans versus monsters. Supernatural beings versus greater evils—with a dinosaur or two thrown in for fun. Come explore the untold myths of the West—but no dying on the trail!

Joe R. Lansdale takes us on a train ride of the damned in hopes of rescuing one innocent soul. Mercedes Lackey's duty-bound man races to claim sacred land. Jonathan Maberry introduces us to a half-Comanche hired gun running out of time against some murderous ghosts. And James A. Moore pits skinwalker against kachina in a Western anthology any historian would love!

GHOST RIDERS IN THE SKY—
AND ON THE PRAIRIES AND PLAINS, TOO!

These and a whole passel of other great tales of Western weirdness by Joe R. Lansdale, Mercedes Lackey, Jonathan Maberry, James A. Moore, Harry Turtledove, James Van Pelt, Ava Morgan, Sam Stone, Eytan Kollin, Julie Frost, Kim May, Irene Radford, David Boop, and Tex Thompson!

About prequel Straight Outta Tombstone:

"The authors were having fun. Even when they are not playing the stories for laughs, they are taking an opportunity to enjoy an opportunity to tell a story with a fresh twist, and expand out of their expected boundaries. Straight Outta Tombstone is a change-up pitch, which will leave readers laughing on occasion, spooked at times, and entertained throughout."—The Galveston County Daily News
Baen, 9781982124366, 272pp.
Publication Date: February 4, 2020
About the Author
David Boop is an award-winning essayist, recent Summa Cum Laude in creative writing (earned for a weird western piece) and former acquisition editor for both Flying Pen Press and Lifevest Publishing. David has been a journalist, actor, disc jockey and stand-up comedian. He's published across several genres, but specializes in weird westerns. Additionally, David has done media tie-in work for the Green Hornet, Veronica Mars and the pulp hero the Black Bat (heavily disputed inspiration for Batman). He's collaborated with Kevin J. Anderson, the late C.J. Henderson, Peter J. Wacks and Josh Vogt. He is a member of the Western Writers of America, the International Association of Media Tie-in Writers, the Horror Writers Association and the Society of Children's Book Writers and Illustrators.