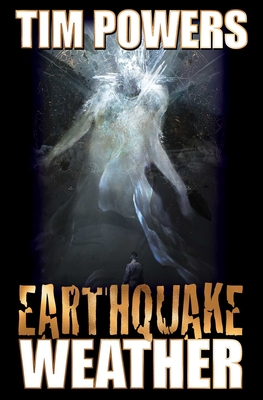 Earthquake Weather (Mass Market)
Baen, 9781982124397, 832pp.
Publication Date: January 28, 2020
Other Editions of This Title:
Paperback (10/2/2018)
Hardcover (9/1/2008)
Paperback (10/30/2007)
Hardcover (10/30/2007)
* Individual store prices may vary.
Description
SUPERNATURAL ADVENTURE FROM A MASTER OF MODERN FANTASY

RESURRECT THE DEAD KING OF THE WEST!

The magical King of the West has been killed in California, and his assassin is one of the multiple personalities in the head of Janis Cordelia Plumtree—but which one? Sid Cochran is a one-time winemaker who blames his wife's suicide on the wine god Dionysus, and believes that Dionysus is now pursuing him.

Janis and Sid escape together from a mental hospital in Los Angeles and—pursued by ghosts, gangsters, and a crazy psychiatrist—set out for San Francisco and the wine country to try to restore the dead King of the West to life. The god Dionysus himself is a player in this perilous game—and not on their side. But when the spirits flow and even the gods lose all inhibition, you have to save the world just to survive!

About Tim Powers:

"Powers writes in a clean, elegant style that illuminates without slowing down the tale. . . . [He] promises marvels and horrors, and delivers them all."—Orson Scott Card

"Other writers tell tales of magic in the twentieth century, but no one does it like Powers."—The Orlando Sentinel

". . . immensely clever stuff. . . . Powers' prose is often vivid and arresting . . . All in all, Powers' unique voice in science fiction continues to grow stronger."—Washington Post Book World

"Powers is at heart a storyteller, and ruthlessly shapes his material into narrative form."—The Encyclopedia of Science Fiction

"On Stranger Tides . . . immediately hooks you and drags you along in sympathy with one central character's appalling misfortunes on the Spanish Main, [and] escalates from there to closing mega-thrills so determinedly spiced that your palate is left almost jaded."—David Langford

"On Stranger Tides . . . was the inspiration for Monkey Island. If you read this book you can really see where Guybrush and LeChuck were -plagiarized- derived from, plus the heavy influence of voodoo in the game. . . . [The book] had a lot of what made fantasy interesting . . ."—legendary game designer Ron Gilbert

"Powers's strengths [are] his originality, his action-crammed plots, and his ventures into the mysterious, dark, and supernatural."—Los Angeles Times Book Review

"[Powers' work delivers] an intense and intimate sense of period or realization of milieu; taut plotting, with human development and destiny . . . and, looming above all, an awareness of history itself as a merciless turning of supernatural wheels. . . . Powers' descriptions . . . are breathtaking, sublimely precise . . . his status as one of fantasy's major stylists can no longer be in doubt."—SF Site

"Powers creates a mystical, magical otherworld superimposed on our own and takes us on a marvelous, guided tour of his vision."—Science Fiction Chronicle

"The fantasy novels of Tim Powers are nothing if not ambitious. . . . Meticulously researched and intellectually adventurous, his novels rarely fail to be strange and wholly original."—San Francisco Chronicle
About the Author
Tim Powers won the World Fantasy Award twice for his critically acclaimed novels Last Call and Declare. Declare also received the International Horror Guild Award. His novel On Stranger Tides inspired the Monkey Island video game series and was sold to Disney for the movie franchise installment Pirates of the Caribbean: On Stranger Tides. His book The Anubis Gates won the Philip K. Dick award and is considered a modern science fiction classic and a progenitor of the Steampunk genre. Powers won the Dick award again for straight science fiction post-apocalypse novel Dinner at Deviant's Palace. Many of his novels, such as Last Call, and Alternate Routes, upcoming from Baen Books, are so-called "secret histories," which use real historical events in which supernatural and metaphysical elements influence the story in weird and compelling manners. Powers grew up in Southern California and studied English at Cal State Fullerton, where he met frequent collaborators James Blaylock and K. W. Jeter, as well as renowned science fiction author Philip K. Dick, who became a close friend and mentor. Powers is a practicing Catholic who claims "stories are more effective, and more truly represent the writer's actual convictions, when they manifest themselves without the writer's conscious assistance. I concern myself with my plots, but I let my subconscious worry about my themes." Powers still resides in Southern California with his wife, Serena.