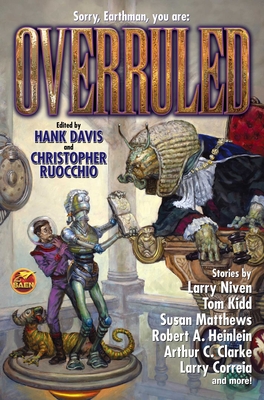 Overruled! (Paperback)
Baen, 9781982124502, 400pp.
Publication Date: April 7, 2020
* Individual store prices may vary.
Description
ORDER IN THE COURT! A new anthology of science fiction stories that explores what the future of jurisprudence might well be like, with thrilling, hilarious, and downright entertaining results! So much fun, it oughta be illegal! Stories by Robert A. Heinlein, Clifford D. Simak, Sarah A. Hoyt, and more.

Lawyers—pardon me, attorneys—may be portrayed in fiction as the good guys (and gals) or as greedy conniving shysters.

In mundane fiction, the former are represented ably by Earle Stanley Gardner's Perry Mason and by Harper Lee's Atticus Finch in To Kill a Mockingbird (we'll pass over her other novel, Go Set a Watchman, with a less inspiring portrait — consider it obviously set in a parallel world). The less favorable view was expressed by Edgar Rice Burroughs in his SF classic, A Princess of Mars, in which his doubly immortal John Carter observes that the Martians are very fortunate in that, while they may behave with savage cruelty, and are constantly at war, at least they have no lawyers.

Both views of the legal profession have been explored in science fiction and fantasy since John Carter set foot on the Red Planet, as well as looking into possible ways that future punishment for crimes may change, not necessarily for the better. Some of science fiction's greatest talents are included in this book, including classics by Robert A. Heinlein, Larry Niven, Clifford D. Simak, Robert Silverberg, and more, and newer stories by Sarah A. Hoyt, Alex Shvartsman, and Alvaro Zinos-Amaros, and still other stellar talents bringing down the judge's gavel with a verdict of excellent entertainment.

Praise for the contributors:

Robert A. Heinlein: "[Stories] as sleekly engineered as a starship." –Publishers Weekly

Larry Niven: "[A] writer of supreme talent . . ." –Tom Clancy

Clifford D. Simak: "[W]armth, imaginative detail . . . finely rendered . . ." –John Cllute, The Encyclopedia of Science Fiction

Robert Silverberg: ". . . when Silverberg is at the top of his form, no one is better." –George R. R. Martin

Sarah A. Hoyt: ". . . fanciful and charming." –Library Journal

Praise for previous anthologies edited by Hank Davis:

In Space No One Can Hear You Scream:

". . . the 13 tales in this collection blend sf with horror to demonstrate the resiliency of both genres . . . offers strong tales by the genre's best storytellers." —Library Journal

". . . first-rate science fiction, demonstrating how short stories can still entertain." —Galveston County Daily News

A Cosmic Christmas 2 You:

"This creative and sprightly Christmas science fiction anthology spins in some surprising directions. . . . A satisfying read for cold winter evenings . . . a great stocking stuffer for SF fans." —Publishers Weekly

As Time Goes By:

"As Time Goes By . . . does an excellent job of exploring not only romance through time travel—relationships enabled or imperiled by voyaging through time—but the intrinsic romance of time travel itself. . . . The range of styles and approaches is as wide as the authors' sensibilities and periods might suggest . . . full of entertaining and poignant stories . . ." —Alvaro Zinos-Amaro, IntergalacticMedicineShow.com

About Star Destroyers, coedited by Christopher Ruocchio:

". . . spectacular space battles and alien contacts . . . themes of military ethics, the uses of artificial intelligence, and the limits of the capacity of the human mind. . . . It is the human interactions and decisions that ultimately drive the stories. . . . Will appeal to fans of military and hard science fiction and any readers fascinated by the possibilities of space travel."—Booklist

". . . stories of giant spaceships at war, at peace, and in the often-gray areas between. . . . A worthy addition to a long tradition of ship-based fiction, and its authors portray captains, arcane astrogators, and civilian child passengers with equal depth. It's recommended for fans of military SF and space adventure."—Publishers Weekly

". . . you'd probably expect some tight, action-filled space opera stories of giant space battles . . . and there's some of that. But there are also espionage stories, rescue missions, political conflicts, alternate histories, even a few humorous tales. . . . Each author took the premise in a different direction . . . if I had to identify one common feature to all the stories, it would be that they're all fun. . . . Like it says, big ships blowing things up. What's not to like?"—Analog
About the Author
Hank Davis is Senior Editor at Baen Books. He served in Vietnam in the Army and has had stories in Analog Science Fiction, The Magazine of Fantasy and Science Fiction, and anthologies If and Orbit, as well as Harlan Ellison's The Last Dangerous Visions.

Christopher Ruocchio is the author of the Sun Eater Chronicle, a space opera series from DAW Books, the first novel of which, Empire of Silence, is available now. He is also the Assistant Editor at Baen Books and a graduate of North Carolina State University. He lives in Raleigh, North Carolina.