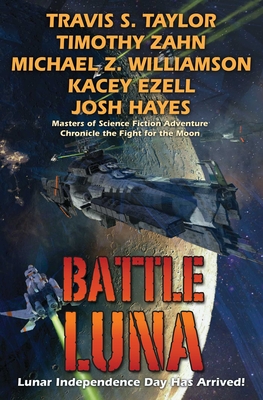 Battle Luna (Hardcover)
Baen, 9781982124687, 288pp.
Publication Date: July 7, 2020
* Individual store prices may vary.
Description
THE EPIC FIGHT FOR INDEPENDENCE ON OUR MOON HAS BEGUN!

The Lunar colony is a mining colony with only internal security capabilities. Nobody had even considered that there might soon arise a need to defend the colony from the Earth! But that day has come. Something has been uncovered on teh Moon. Something important. Something . . . alien.

The Lunar colonists perceive this great discovery as their own. Finders keepers and possession being nine-tenths of the law is how things are on the Moon. But as far as the governments of the Earth are concerned—they paid for everything on the Moon, so it belongs to them.

There is only one solution: turn Luna into a battlefield!

About Travis S. Taylor:
"[E]xplodes with inventive action."—Publishers Weekly on Travis S. Taylor's The Quantum Connection

"[Warp Speed] reads like Doc Smith writing Robert Ludlum. . .You won't want to put it down."—John Ringo

About Timothy Zahn:

"Zahn keeps the story moving at a breakneck pace, maintaining excitement."—Publishers Weekly

"[Y]ou can count on Timothy Zahn for three things: clean, sparse prose; good pacing; and great action scenes. The first book in the Cobra War series hits all those marks in admirable style and makes for a quick, entertaining sci-fi novel."—Blogcritics

"[Conqueror's Heritage] is another finely wrought space adventure . . . [with] social, political and emotional complications, all of which Zahn treats with his usual skill."—Booklist

"Zahn paints every detail [in Angelmass] with gleamy realism . . . scientific dialogue that streams with starship hardware and military trooper talk . . . immensely appealing."—Kirkus Review

About Michael Z. Williamson:

"A fast-paced, compulsive read . . . will appeal to fans of John Ringo, David Drake, Lois McMaster Bujold, and David Weber."—Kliatt

"Williamson's military expertise is impressive."—SF Reviews
About the Author
Dr. Travis S. Taylor has worked on various programs for the Department of Defense and NASA for the past twenty years. His expertise includes advanced propulsion concepts, very large space telescopes, space-based beamed-energy systems, future combat technologies, and next-generation space launch concepts. Taylor is also the author of pulse-pounding, cutting-edge science fiction novels, including the highly-popular One Day on Mars, Tau Ceti Agenda, and his ground-breaking Warp Speed series, and a regular on the History Channel's Life After People and The Universe series.