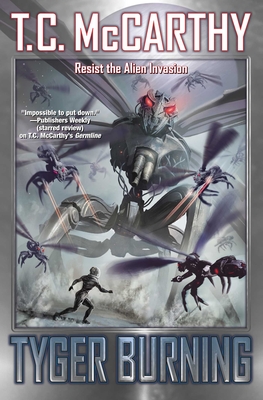 Tyger Burning
Mass Market

* Individual store prices may vary.
Other Editions of This Title:
Digital Audiobook (7/28/2019)
Paperback (7/2/2019)
Description
WAR WILL COME. WILL EARTH BE READY? Humanity had just begun its first tentative steps towards conquering the Solar System when the aliens came and took it all away. Then they disappeared, leaving only wreckage in their wake. They have given us 100 years to get ready for the next phase of their invasion. They expect us to fight fair. But if one man can learn to control his combat implants, humanity might just have a hope for a free future . . .

Maung is used to being hunted. As the last "dream warrior," a Burmese military unit whose brains are more machine than grey matter, everyone wants him dead—punished for the multiple atrocities his unit committed during war.

But when an alien race makes its presence known on Earth and threatens to annihilate mankind, it gives Maung a chance to escape. Maung abandons his family on Earth to hide in the farthest reaches of the Solar System. There he finds love, his fellow Burmese countrymen exiled to labor on a prison asteroid, and the horrors of a war long since finished.

Maung also discovers a secret weapon system - one lost for almost a generation and which may help his people redeem themselves while at the same time saving the human race. War will come. But with Maung's discoveries and 100 years to prepare, maybe the Earth can be ready . . .

About Tyger Burning:

"Fans of space opera will enjoy this first book of what promises to be an epic series, as Maung battles human enemies on Earth and alien invaders from the stars."—Arlan Andrews

About T.C. McCarthy:

"McCarthy perfectly catches the attitudes of veterans among themselves and toward civilians—laymen, better—when they get back to the World."—David Drake

''Compelling . . . Recalling the work of Remarque, Willi Heinrich, and especially Michael Herr, McCarthy's delirious narrative avoids cliche and raises intriguing questions about what it means to be human.''—Publishers Weekly (starred review) on Germline

"It's not just good . . .it's the mil-sf book I wish I could send back in time to beat out Forever War for a Hugo. I never would have guessed McCarthy was an analyst . . . I was sure he'd been on the pointy end for a long time."—Ernest Lilley, SF Revu

''The highly detailed, brutal depiction of futuristic warfare brilliantly complements the intimate narrative, which examines the insanity of war and those personally affected by it. Breathtaking and heartrending, this is the future of military science fiction.''—Publishers Weekly (starred review)

"A well written novel that makes you consider the costs of war in very personal terms."—SF Signal
Baen, 9781982124809, 464pp.
Publication Date: July 28, 2020
About the Author
T.C. McCarthy is an award winning and critically acclaimed Southern author whose short fiction has appeared in Per Contra: The International Journal of the Arts, Literature and Ideas, in Story Quarterly and in Nature. His debut science fiction trilogy, Germline, Exogene and Chimera were released in 2011 and 2012 to critical acclaim. In addition to being an author, T.C. is a PhD scientist, a Fulbright Fellow, and a Howard Hughes Biomedical Research Scholar, who served as a weapons expert in the CIA during Operations Enduring Freedom and Iraqi Freedom. He has never been fired on, nor fired a shot in anger, but is a recognized expert in future warfare and has been invited multiple times by USSOCOM to speak on the topic of future warfare.