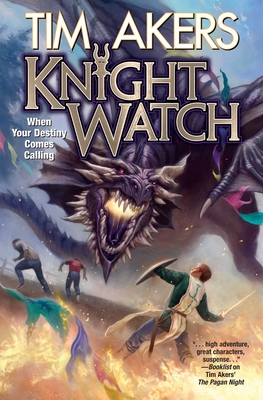 Knight Watch (Paperback)
Baen, 9781982124854, 320pp.
Publication Date: September 1, 2020
* Individual store prices may vary.
Description
MEN IN BLACK AT THE REN FAIRE!

John Rast went to the Ren Faire looking for a fight. Well, a simulated fight, with blunt swords and safety equipment. But when his final opponent turns into a living, fire-breathing dragon, John finds himself in the fight of his life. It's John or nothing stopping a disaster in its tracks—and the only real weapon at hand is his mom's Volvo. So John decides to let it roll . . .

And that's when destiny comes to call. John is spirited away to the well-hidden base of Knight Watch, the organization that stands between humanity and the real nasties the rest of the world doesn't know about.

Knight Watch would be John's dream job—except for the storm goddess that destroys his parents' house, the abandoned mall replete with too much dead, and the Fetch that aims to make John's domain a final resting place. All this has John's putative allies in the Knight Watch worried that John is the one bringing bad things into multiple worlds. John and his reluctant teammates have to figure out who, or what, is pulling the strings before all of Knight Watch falls prey to a well-concealed puppetmaster and far worse things enter this world.

About Tim Akers:

"A must for all epic fantasy fans."—Starburst

"Full of strong world building, cinematic and frequent battle scenes, high adventure, great characters, suspense, and dramatic plot shifts, this is an engaging, fast-paced entry in a popular subgenre."—Booklist (starred review)

"Take a bit of fantasy, mix in the horror of the demonic, and put in some top-notch writing and you'll have Akers' latest novel."—Hellnotes

"Fast-paced . . . an epic fantasy story with action, intrigue and a good story." —RPG

"Delivers enough twists and surprises to keep readers fascinated...contains action, grittiness, magic, intrigue and well created characters."—Rising Shadow

"An extremely well-developed secondary world."—SF Signal
About the Author
Tim Akers grew up in rural North Carolina, the last in a long line of Scottish bankers, newspaper editors, and tourist trap barons. He moved to Chicago to pursue his passion for apocalyptic winters, tornadic summers, and traffic. He stayed for the hot dogs.