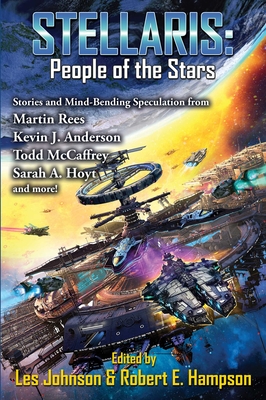 Stellaris (Mass Market)
People of the Stars
Baen, 9781982124892, 448pp.
Publication Date: August 25, 2020
* Individual store prices may vary.
Description
THE STARS WILL CHANGE US. STORIES AND ESSAYS FROM TOP AUTHORS AND EXPERT SCIENTISTS. Explorations of how interstellar travel may affect humanity by best-selling authors and scientists.

BECOMING THE PEOPLE OF THE STARS

Fundamental transformation. That is what it may take to reach our final destination. And we may not have a choice as dangers from without and pressure from within human civilization force us to adapt to a new star-traveling heritage. We may find that Homo sapiens is on its way to becoming a new and unique species—Homo stellaris: people of the stars.

A BOUNDLESS SENSE OF WHAT'S POSSIBLE

Inspired by a gathering of scientists, science fiction authors, and futurists at a series of annual meetings held by the Tennessee Valley Interstellar Workshop, here are original science fiction stories and accessible speculative pieces by top scientists that will take you to that future! Enjoy stories from award-winning authors such as Kevin J. Anderson, William Ledbetter, Todd McCaffrey, and Sarah A. Hoyt, plus essays on the science behind the fiction from Martin Rees, Astronomer Royal of the United Kingdom, Mark Shelhamer, Chief Scientist for NASA's Human Research Program, and more!

About Stellaris: People of the Stars:

"[A] thought-provoking look at a selection of real-world challenges and speculative fiction solutions. . . . Readers will enjoy this collection that is as educational as it is entertaining."—Booklist

"This was an enjoyable collection of science fiction dealing with colonizing the stars. In the collection were several gems and the overall quality was high."—Tangent

About Mission to Methone, by Les Johnson:

"The spirit of Arthur C. Clarke and his contemporaries is alive and well in Johnson's old-fashioned first-contact novel, set in 2068. . . . includes plenty of realistic detail and puts fun new spins on familiar alien concepts. . . . There's a great deal here for fans of early hard SF."—Publishers Weekly

"With equal parts science fiction and international intrigue. . . . an exciting, fast-paced read that you will not want to put down."—Booklist

About Rescue Mode, by Ben Bova and Les Johnson:
". . . a suspenseful and compelling narrative of the first human spaceflight to Mars."—Booklist
About the Author
Les Johnson is a physicist and author. He is the author of Rescue Mode, coauthored with Ben Bova, as well as Back to the Moon and On to the Asteroid, both coauthored with Travis S. Taylor. He is the coeditor of the science/science fiction collection Going Interstellar. His first solo novel was Mission to Methone. He was technical consultant for the movies Europa Report and Lost in Space and has appeared on the Discovery Channel series Physics of the Impossible in the "How to Build a Starship" episode. He has also appeared in three episodes of the Science Channel series Exodus Earth. By day, he serves as Solar Sail Principal Investigator of NASA's first interplanetary solar sail mission and leads research on various other advanced space propulsion technologies at the George C. Marshall Space Flight Center in Huntsville, Alabama.

Robert E. Hampson, Ph.D., turns science fiction into science in his day job, and puts the science into science fiction in his spare time. He has consulted for more than a dozen SF writers, assisting in the (fictional) creation of future medicine, brain computer interfaces, unusual diseases, alien intelligence, novel brain diseases (and the medical nanites to cure them), exotic toxins, and brain effects of a zombie virus. His science writing ranges from fictional depiction of real science and the mysteries of the brain to surviving the apocalypse or living in space. His recent forays into short fiction have appeared in the US Army Small Wars Journal (TRADOC Mad Science Writing Contest), Science Fiction by Scientists (Springer), Black Tide Rising anthologies (Baen), and Four Horsemen Universe (Chris Kennedy Publishing). Some of his prior fiction and nonfiction appeared under the pseudonym Tedd Roberts. Dr. Hampson is a professor of physiology/pharmacology and neurology with more than thirty-five years' experience in animal neuroscience and human neurology. His professional work includes more than 100 peer-reviewed research articles ranging from the pharmacology of memory to the effects of radiation on the brain—and most recently, the first report of a "neural prosthetic" to restore human memory using the brain's own neural codes. He is a member of the SIGMA Forum and the Science and Entertainment Exchange—a service of the National Academy of Sciences. He is married with two grown sons and lives outside Winston-Salem, North Carolina.