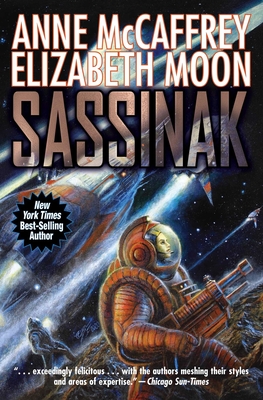 Sassinak
Paperback

* Individual store prices may vary.
Other Editions of This Title:
Compact Disc (9/1/2020)
MP3 CD (9/1/2020)
Description
A TRUE WARRIOR WILL NEVER BE BROKEN. BOOK ONE IN THE PLANET PIRATES SERIES.

Old Enough to be Used. Young Enough to be Broken.

Sassinak was twelve when the raiders came. That made her just the right age: old enough to be used, young enough to be broken. Or so the slavers thought. But Sassy turned out to be a little different from your typical slave girl. Maybe it was her unusual physical strength. Maybe it was her friendship with the captured Fleet crewman. Maybe it was her spirit. Whatever it was, it wouldn't let her resign herself to the life of a slave. She bided her time and watched for her moment. When it finally came, she escaped.

But that was only the beginning for Sassinak. Now she's a fleet captain with a pirate-chasing ship of her own, and only one regret in her life: not enough pirates.

About Elizabeth Moon:

"Excellent plotting and characters support the utterly realistic action sequences: swift, jolting, confusing, and merciless. It's a corker!"—Kirkus Reviews

"Moon has created a richly imagined universe of different cultures, replete with intriguing characters and the sense of unlimited possibility that characterizes the most appealing science fiction."—School Library Journal

"Rip-roaring action and intriguing science and tactics . . . [a] grand space opera tour de force."—Publishers Weekly

". . . the first work of high heroic fantasy I've seen that has taken the work of Tolkien, assimilated it totally and deeply and absolutely, and produced something altogether new and yet incontestably based on the master . . . [Moon's] military knowledge is impressive, her picture of life in a mercenary company most convincing. I'm deeply impressed."—Judith Tarr
Baen, 9781982124922, 304pp.
Publication Date: October 6, 2020
About the Author
Anne McCaffrey was the Hugo Award-winning author of the bestselling Dragonriders of Pern® novels, the Brainship series, and many others. She remains one of the most popular science fiction authors of all time.

New York Times best-selling author and former Marine, Elizabeth Moon has written many novels, including the Paksenarrion fantasy trilogy (available from Baen as The Deed of Paksenarrion and also as separate books), the Heris Serrano space adventure series (the first three novels of which have been combined as Heris Serrano), and Remnant Population, which was a Hugo Award finalist. For Del Rey, she has written Command Decision, Engaging the Enemy, Marque and Reprisal, Trading in Danger, and the Nebula Award winner The Speed of Dark. After earning a degree in history from Rice University, Moon went on to obtain a degree in biology from the University of Texas, Austin. She lives in Florence, Texas with her husband and son.