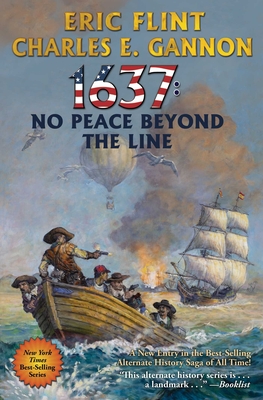 1637 (Hardcover)
No Peace Beyond the Line (Ring of Fire #29)
Baen, 9781982124960, 688pp.
Publication Date: November 3, 2020
* Individual store prices may vary.
Description
THE BATTLE FOR THE NEW WORLD IS A FIGHT TO THE FINISH! A NEW RING OF FIRE NOVEL BY BEST-SELLING WRITING TEAM ERIC FLINT AND CHARLES E. GANNON

A New Day in the New World

It's 1637 in the Caribbean. Commander Eddie Cantrell and his ally and friend Admiral Martin Tromp start it off with some nasty surprises for Spain, whose centuries-long exploitation and rapine of the New World has run unchecked. Until now.

Yet life goes on in the Caribbean. Relationships among the allied Dutch, Swedes, Germans, up-timers, and even Irish mercenaries continue to evolve and deepen. New friendships must be forged with the native peoples, who will not only shape the colonists' future in the Caribbean, but will also decide whether they will be given access to a Louisiana oilfield that could change the balance of power.

But for now, the only oil Imperial Spain knows about is the crude pouring out of the Allies' pumps on Trinidad—which threatens its interests in both the New and the Old Worlds. So, following in the footsteps of the conquistadors, the empire's commanders are resolved to show that they do not take threats lightly or lying down. Indeed, their historical reaction is to respond with overwhelming—and often genocidal—force.

The battle for the New World has not merely begun; it is a fight to the finish.

About 1635: A Parcel of Rogues:

"The 20th volume in this popular, fast-paced alternative history series follows close on the heels of the events in The Baltic War, picking up with the protagonists in London, including sharpshooter Julie Sims. This time the 20th-century transplants are determined to prevent the rise of Oliver Cromwell and even have the support of King Charles."—Library Journal

About 1634: The Galileo Affair:

"A rich, complex alternate history with great characters and vivid action. A great read and an excellent book."—David Drake

"Gripping . . . depicted with power!"—Publishers Weekly

About Eric Flint's Ring of Fire series:

"This alternate history series is . . . a landmark . . ."—Booklist

"[Eric] Flint's 1632 universe seems to be inspiring a whole new crop of gifted alternate historians."—Booklist

" . . . reads like a technothriller set in the age of the Medicis . . . "—Publishers Weekly
About the Author
Eric Flint is a modern master of alternate history fiction, with more than three million books in print. He's the author/creator of the multiple New York Times best-selling Ring of Fire series, starting with first novel 1632. With David Drake, he has written six popular novels in the "Belisarius" alternate Roman history series, and with David Weber, he has collaborated on 1633 and 1634: The Baltic War and latest Honorverse series entry Cauldron of Ghosts. Flint's latest Ring of Fire novel is 1637: The Polish Maelstrom. Flint was for many years a labor union activist. He lives near Chicago, Illinois.