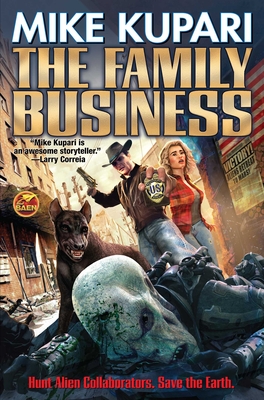 The Family Business
Paperback

* Individual store prices may vary.
Other Editions of This Title:
Mass Market (6/28/2022)
Description
NEW STAND-ALONE NOVEL BY DRAGON AWARD NOMINEE MIKE KUPARI

IN THE AFTERMATH OF THE INVASION

Decades ago, the Visitors descended on Earth. They claimed to bring peace and prosperity. Their real goal was the total subjugation of humankind. But humanity did not give up its only home without a fight. After a devastating war, the Visitors were driven back to Mars. Their willing human collaborators were left behind. The task of hunting down these former alien collaborators and bringing them to justice falls to Federal Recovery Agents like Nathan Foster.

Emmogene Anderson was taken to the Visitors as a teenager and was experimented upon by the alien invaders. She carries within her body a semi-functional alien device that allows her to control other people. Until recently, she was serving a prison sentence for aiding and abetting the enemy. That is, until she was broken out by her obsessive ex-lover, Anthony Krieg, a former commando for the Visitors' forces, physically enhanced but mentally unstable.

Now, Nathan Foster and his 14-year-old nephew, Ben, are tasked with bringing the pair to justice. Krieg must be killed, Emmogene captured and returned to the proper authorities. An easy enough job—but Emmogene has been implanted with something else, something much more important . . .

Nathan and Ben must decide what is right in a largely lawless world—and the fate of the planet hangs in the balance.

Praise for Mike Kupari:
"After co-writing Dead Six and Swords of Exodus with Larry Correia, Kupari makes his solo debut with this space opera that is bound to attract fans of Mike Shepherd's Kris Longknife series or Elizabeth Moon's Vatta's War books. An excellent choice for both teen and adult sf readers." —Library Journal on Her Brother's Keeper

"A big, sweeping space adventure, with heroic characters you care about. Mike Kupari is an awesome storyteller."—Larry Correia on Sins of Her Father
Baen, 9781982125028, 336pp.
Publication Date: July 6, 2021
About the Author
Mike Kupari is the author of debut science fiction novel Her Brother's Keeper, as well as coauthor, with Larry Correia, of the best-selling Dead Six military adventure series including Dead Six, Swords of Exodus, and Alliance of Shadows. He grew up in Michigan's Upper Peninsula and enlisted at the age of seventeen. Kupari recently returned from his second active duty overseas with the U.S. Air Force, where he was an explosive ordnance disposal technician. He also served six years in the Army National Guard. Kupari has worked as a security contractor with several firms, did a tour in Southwest Asia with a private military company, and is an NRA-certified firearms instructor.