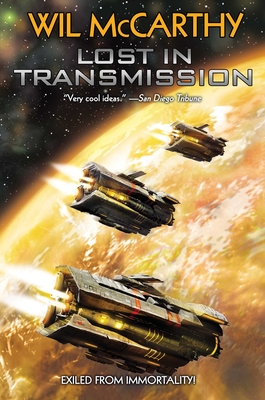 Lost in Transmission
Paperback

* Individual store prices may vary.
Other Editions of This Title:
Digital Audiobook (8/9/2021)
Mass Market (3/2/2004)
Description
EXILED FROM IMMORTALITY! The third entry in McCarthy's groundbreaking, mind-bending Queendom of Sol series back in print.

Brash and idealistic, they were rebels without a cause in a world governed by science, reason . . . and immortality. Banished for their troubles to the starship Newhope, they now face a bold future: to settle the worlds of Barnard's Star. Now King Bascal Edward de Towaji Lutui, former prince of the Queendom of Sol, together with Captain Xiomara "Xmary" Li Weng and her lover, first mate Conrad Mursk, face a perilous voyage with thousands of their fellow exiles. The journey will last a century, but with Queendom technology it's no problem to step into a fax machine and "print" a fresh, youthful version of yourself. But what this crew of rebels will find is far from the paradise they seek. Before long, their optimistic young colony has started to show signs of strain. And worst of all, death itself has returned with a vengeance.

About Wil McCarthy:
"McCarthy is an entertaining, intelligent, amusing writer, with Heinlein's knack for breakneck plotting and, at the same time, Clarke's thoughtfulness."—Booklist

"'Imagination really is the only limit.'"—The New York Times

"The future as McCarthy sees it is a wondrous place."—Publishers Weekly

"A bright light on the SF horizon."—David Brin

"Wil McCarthy demonstrates that he has a sharp intelligence, a galaxy-spanning imagination, and the solid scientific background to make it all work."—Connie Willis

"In nearly every passage, we get another slice of the science of McCarthy's construction, and a deeper sense of danger and foreboding . . . McCarthy develops considerable tension."—San Diego Union-Tribune

"An ingenious yarn with challenging ideas, well-handled technical details, and plenty of twists and turns."—Kirkus
Baen, 9781982125035, 368pp.
Publication Date: December 1, 2020
About the Author
Engineer/novelist/journalist/entrepreneur Wil McCarthy is an award-winning author whose short fiction has graced the pages of magazines including Analog, Asimov's, WIRED, and SF Age. His novels include the New York Times notable Bloom, national bestseller The Collapsium, and To Crush the Moon.
or
Not Currently Available for Direct Purchase