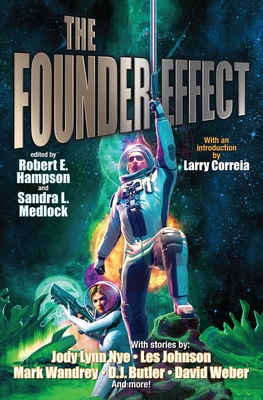 The Founder Effect (Paperback)
Baen, 9781982125097, 400pp.
Publication Date: December 1, 2020
* Individual store prices may vary.
Description
AWARD-WINNING AND BEST-SELLING AUTHORS CONTRIBUTE NEW STORIES: All-new fiction from Dragon Award winner and New York Times best-selling author David Weber, Dragon Award nominee D.J. Butler, best seller Jody Lynn Nye, indie best sellers Chris Kennedy and Mark Wandrey, and more. Also featuring an introduction by multi-award-winning and New York Times best-selling author Larry Correia.

It is 2185 CE. Humans now live throughout the Solar System, but their most ambitious adventure is about to begin. The starship Victoria will carry over 10,000 colonists to a new world outside the Solar System. The larger-than-life exploits of those colonists will become legendary. The colonists will build a new civilization, and the actions of a few individuals will become famous—and infamous—forever marking their new colony with the Founder Effect.

Contributors:
Larry Correia
Mark H. Wandrey
Les Johnson
Christopher L. Smith
David Weber
Daniel M. Hoyt
Brad R. Torgersen
Monalisa Foster
Sarah A. Hoyt
Chris Kennedy
Vivienne Raper
Jody Lynn Nye
Brent M. Roeder
Catherine L. Smith
Philip Wohlrab
D.J. Butler

About Stellaris: People of the Stars, co-edited by Robert E. Hampson:

[A] thought-provoking look at a selection of real-world challenges and speculative fiction solutions. . . . Readers will enjoy this collection that is as educational as it is entertaining."—Booklist

"This was an enjoyable collection of science fiction dealing with colonizing the stars. In the collection were several gems and the overall quality was high."—Tangent
About the Author
Robert E. Hampson, Ph.D., turns science fiction into science in his day job, and puts the science into science fiction in his spare time. He has consulted for more than a dozen SF writers, assisting in the (fictional) creation of future medicine, brain computer interfaces, unusual diseases, alien intelligence, novel brain diseases (and the medical nanites to cure them), exotic toxins, and brain effects of a zombie virus. His science writing ranges from fictional depiction of real science and the mysteries of the brain to surviving the Apocalypse or living in space. His recent forays into short fiction have appeared in the US Army Small Wars Journal (TRADOC Mad Science Writing Contest), Science Fiction by Scientists (Springer), Black Tide Rising anthologies (Baen), and Four Horsemen Universe (Chris Kennedy Publishing). Some of his prior fiction and nonfiction appeared under the pseudonym: Tedd Roberts.

Dr. Hampson is a professor of physiology / pharmacology and neurology with over 35 years' experience in animal neuroscience and human neurology. His professional work includes more than 100 peer-reviewed research articles ranging from the pharmacology of memory to the effects of radiation on the brain—and most recently, the first report of a "neural prosthetic" to restore human memory using the brain's own neural codes. He is a member of the SIGMA Forum and the Science and Entertainment Exchange —a service of the National Academy of Sciences.

He is married with two grown sons and lives outside Winston-Salem, North Carolina.

Sandra Medlock started her career as an editor and writer by reviewing environmental impact studies for the U.S. Air Force. She transitioned to editing for a private publisher and, over time, worked in the legal department for an oil company reviewing briefs and filings. Sandra moved to corporate writing and editing procedural and policy manuals. Her interest in computers and software led to a shift in her career as director and corporate trainer for two independent training companies and the IT department of a global manufacturer, where she wrote training curricula as well as company newsletters.

As a freelance journalist, Sandra wrote a weekly music column, a weekly technology column, and a monthly lifestyles column for three regional newspapers, including the San Antonio Express-News. She wrote free-lance computer technology magazine articles, created and edited newsletters for several organizations, and was the producer of two computer shows on local radio.

Currently, Sandra tutors in math and English to students, provides an editing service, teaches music, and writes fiction. She lives outside San Antonio, Texas with her husband, two very demanding small dogs, and a senior cat who has perfected Chewbacca's wail. You can find her on social media and blogging at sandramedlock.com.