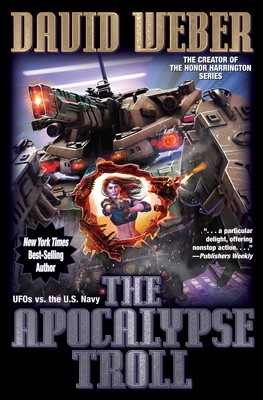 The Apocalypse Troll
Paperback

* Individual store prices may vary.
Other Editions of This Title:
Hardcover (12/1/1998)
Mass Market Paperbound (1/1/2000)
Description
A CLASSIC OF MILITARY SF FROM THE NEW YORK TIMES BEST-SELLING AUTHOR OF THE HONOR HARRINGTON SERIES

RINGSIDE FOR THE APOCALYPSE

There he was in his sailboat in the middle of the Atlantic, all alone and loving it. Well, there was a US Navy carrier group on his southern horizon, but Richard Ashton was a Navy guy himself, so he didn't mind. Then came the UFOs, hurtling in from the Outer Black to overfly the carriers at Mach 17. Their impossible aerobatics were bad enough—but then they started shooting at each other. And at the Navy. With nukes. Little ones at first, but winding up with a 500 megatonner at 90 miles that fried every piece of electronics within line of sight.

Ashton thought he was just a ringside observer to these now over-the-horizon events. But when a crippled alien lifeboat came drifting down and homed in on his sailboat, he suddenly found his hands full of an unconscious, critically wounded, and impossibly human alien warrior who also happened to be a gorgeous female.

That's when things got interesting.

About The Apocalypse Troll:
". . . a particular delight, offering nonstop action that's both well-executed and emotionally satisfying." —Publishers Weekly

"It's a rollicking fun tale that's impossible to put down." —Philadelphia Weekly Press

". . . the best work [Weber] has done . . . the rewards are ample . . . recommended. . . ." —Starlog

About David Weber:
"[A] balanced mix of interstellar intrigue, counterespionage, and epic fleet action . . . with all the hard- and software details and tactical proficiency that Weber delivers like no one else; along with a large cast of well-developed, believable characters, giving each clash of fleets emotional weight." —Booklist

"[M]oves . . . as inexorably as the Star Kingdom's Grand Fleet, commanded by series protagonist Honor Harrington. . . . Weber is the Tom Clancy of science fiction. . . . His fans will relish this latest installment. . . ." —Publishers Weekly

"This entry is just as exciting as Weber's initial offering. . . . The result is a fast-paced and action-packed story that follows [our characters] as they move from reaction to command of the situation. Weber builds Shadow of Freedom to an exciting and unexpected climax." —The Galveston County Daily News

"Weber combines realistic, engaging characters with intelligent technological projection and a deep understanding of military bureaucracy in this long-awaited Honor Harrington novel. . . . Fans of this venerable space opera will rejoice to see Honor back in action." —Publishers Weekly

"This latest Honor Harrington novel brings the saga to another crucial turning point. . . . Readers may feel confident that they will be Honored many more times and enjoy it every time." —Booklist

"[E]verything you could want in a heroine. . . . Excellent . . . plenty of action." —Science Fiction Age

"Brilliant! Brilliant! Brilliant!" —Anne McCaffrey

"Compelling combat combined with engaging characters for a great space opera adventure." —Locus

"Weber combines realistic, engaging characters with intelligent technological projection. . . . Fans of this venerable space opera will rejoice . . ." —Publishers Weekly
Baen, 9781982125127, 352pp.
Publication Date: January 5, 2021
About the Author
With more than eight million copies of his books in print and 30 titles on the New York Times bestseller list, David Weber is a science fiction powerhouse. In the vastly popular Honor Harrington series, the spirit of C.S. Forester's Horatio Hornblower and Patrick O'Brian's Master and Commander lives on—into the galactic future. Books in the Honor Harrington and Honorverse series have appeared on 21 bestseller lists, including The Wall Street Journal, The New York Times, and USA Today. Additional Honorverse collaborations include the spin-off miniseries Manticore Ascendant with New York Times best-selling author, Timothy Zahn; and with Eric Flint, Crown of Slaves and Cauldron of Ghosts contribute to his illustrious list of New York Times and international bestseller lists.

Best known for his spirited, modern-minded space operas, Weber is also the creator of the Oath of Swords fantasy series and the Dahak saga, a science fiction and fantasy hybrid. Weber has also engaged in a steady stream of best-selling collaborations: the Starfire Series with Steve White; The Empire of Man Series with John Ringo; the Multiverse Series with Linda Evans and Joelle Presby; and the Ring of Fire Series with Eric Flint.

David Weber makes his home in South Carolina with his wife and children.