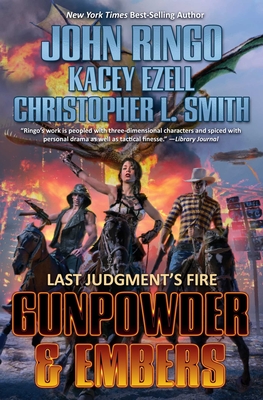 Gunpowder & Embers (Last Judgement's Fire)
Mass Market

* Individual store prices may vary.
Description
IN THE SMOKING RUINS OF OUR WORLD, WILL THE STRUGGLE FOR YESTERDAY'S TECHNOLOGY SPARK TOMORROW'S GLOBAL WAR?

WAR IN THE SMOKING RUINS OF TOMORROW!

Thirty years ago, the world ended. Giant electrovoric ants and pterodons came through a rift in space-time, millions of humans died, and that was that.Human ingenuity has provided some creative workarounds to life without electricity and with giant homicidal ants, but most people merely get by at subsistence level.

For Chuck Gibson, the simple life of a rancher was enough. But then he met a mysterious dying stranger, and now he's on the road of destiny across America accompanied by a warrior monk, a beautiful dragon tamer, a runaway cultist, and a mystic drunken lecher—all searching for the key to reclaiming humanity's past—and future.

About Gunpowder and Embers:
". . . a post-dystopian romp across an America both degenerating and crushed. . . . There are dragons both wild and tame, betrayals of great magnitude, heart-stopping action. Great fun."—The Seattle Book Review

About The Valley of Shadows by John Ringo:
". . . fast-paced . . . building to an exciting climax . . . Ringo and Massa have written an end-of-the-world novel that is unconventional and entertaining."—Daily News of Galveston County

About Black Tide Rising, coedited by John Ringo (featuring stories by Kacey Ezell and Christopher L. Smith):
". . . an entertaining batch of . . . action-packed tales. Certainly, fans of Ringo's particular brand of action-adventure will be pleased."—Booklist

"This anthology broadens Ringo's Black Tide world, serving up doses of humanity amid the ravenous afflicted. Comedy has a place in this harsh reality, and these stories stir adventure and emotion at a frantic clip throughout. Zombie fiction fans will be thrilled."—Library Journal

About the Black Tide Rising Series:
"Not only has Ringo found a mostly unexplored corner of the zombie landscape, he's using the zombie frame to tackle a broader theme: the collapse and rebirth of civilization. The zombie scenes are exciting, sure, but its the human story that keeps us involved. A fine series."—Booklist

About John Ringo:
"[Ringo's work is] peopled with three-dimensional characters and spiced with personal drama as well as tactical finesse."—Library Journal

". . . Explosive. . . . Fans . . . will appreciate Ringo's lively narrative and flavorful characters."—Publishers Weekly

". . . practically impossible not to read in one sitting . . . exceedingly impressive . . . executed with skill, verve, and wit."—Booklist

"Crackerjack storytelling."—Starlog

About the work of Kacey Ezell:
"Gritty, dark and damp. Much like the war itself."—Michael Z. Williamson, best-selling author of A Long Time Until Now

"I loved Minds of Men."—D.J. Butler, best-selling author of Witchy Eye
Baen, 9781982125134, 496pp.
Publication Date: December 29, 2020
About the Author
John Ringo brings fighting to life. He is the creator of the Posleen Wars series, which has become a New York Times best-selling series with over one million copies in print. The series contains A Hymn Before Battle, Gust Front, When the Devil Dances, Hell's Faire, andEye of the Storm. In addition, Ringo has penned the Council War series. Adding another dimension to his skills, Ringo created nationally best-selling techno-thriller novels about Mike Harmon (Ghost, Kildar, Choosers of the Slain, Unto the Breach, A Deeper Blue, and, with Ryan Sear, Tiger by the Tail). His techno-thriller The Last Centurion was also a national bestseller. A more playful twist on the future is found in novels of the Looking-Glass series: Into the Looking Glass, Vorpal Blade, Manxome Foe, and Claws That Catch, the last three in collaboration with Travis S. Taylor. His audience was further enhanced with four collaborations with fellow New York Times best-selling author David Weber: March Upcountry, March to the Sea, March to the Stars and We Few. There are an additional seven collaborations from the Posleen series: The Hero, written with Michael Z. Williamson, Watch on the Rhine, Yellow Eyes and The Tuloriad, all written with Tom Kratman, and the New York Times best seller Cally's War and its sequels Sister Time and Honor of the Clan, all with Julie Cochrane. His science-based zombie apocalypse Black Tide Rising series includes Under a Graveyard Sky, To Sail a Darkling Sea, Islands of Rage and Hope and Strands of Sorrow. A veteran of the 82nd Airborne, Ringo brings first-hand knowledge of military operations to his fiction.

Kacey Ezell is an active-duty USAF helicopter pilot who also writes sci-fi/fantasy/alt history/horror fiction. Her first novel was a Dragon Award finalist in 2018, and her stories have been featured in Baen's Year's Best Military and Adventure Science Fiction compilation in 2017 and 2018. In 2018, her story "Family over Blood" won the 2018 Year's Best Military and Adventure Science Fiction Reader's Choice Award. She writes for Baen and Chris Kennedy Publishing.

A native Texan by birth (if not geography), Christopher L. Smith moved "home" as soon as he could. While there, he also met a wonderful lady who somehow found him to be funny, charming, and worth marrying. Chris began writing fiction in 2012. His short stories can be found in the anthologies Black Tide Rising, Forged in Blood, and The Good, The Bad, and The Merc, among others. He has co-written two novels, Kraken Mare, with Jason Cordova, and Gunpowder & Embers with John Ringo and Kacey Ezell. A solo urban fantasy novel is currently under construction. His cats allow his family and three dogs to reside with them outside of San Antonio.