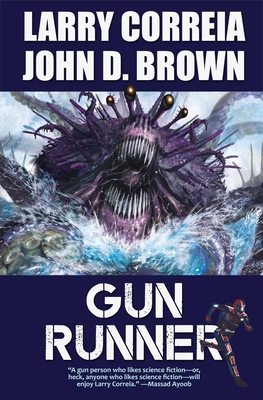 Gun Runner
Hardcover

* Individual store prices may vary.
Other Editions of This Title:
Mass Market (2/1/2022)
MP3 CD (4/13/2021)
Description
THRILLING SCIENCE FICTION ADVENTURE FROM BEST-SELLING AUTHORS LARRY CORREIA AND JOHN BROWN

The Heart of a Warrior

Once, Jackson Rook was a war hero. Raised from boyhood to pilot an exosuit mech, he'd fought gallantly for the rebellion against the Collectivists. But that was a long time ago, on a world very far away.

Now, Jackson Rook is a criminal, a smuggler on board the Multipurpose Supply Vehicle Tar Heel. His latest mission: steal a top-of-the-line mech called the Citadel and deliver it to the far-flung planet Swindle, a world so hostile even the air will kill you. The client: a man known only as the Warlord. Rook has been in the smuggling business long enough to know that it's best to take the money and not ask questions. But Rook cannot stand by and watch as the Warlord runs roughshod over the citizens of Swindle, the way the Collectivists did on his homeworld. For all his mercenary ways, Rook is not a pirate. And deep within the smuggler, the heart of a warrior still beats.

About Larry Correia:

"Correia piles on the intrigue, action, and cliffhangers in the invigorating second Saga of the Forgotten Warrior epic fantasy. . . . Correia also weaves in elements that question the value of belief and the cost of giving authority to those who find more profit in preying on the weak. . . . Brisk fight scenes, lively characters, and plenty of black humor continue to make this series a real pleasure." —Publishers Weekly

"This book has everything I like in fantasy: intense action scenes, evil in horrifying array, good struggling against the darkness, and most of all people—gorgeously flawed human beings faced with horrible moral choices that force them to question and change and grow." —Jim Butcher, creator of the New York Times best-selling Dresden Files

"Best-selling fantasy author Correia casts a compelling spell with this India-influenced series opener. . . . Correia skillfully sets in motion this story of plots within plots, revealing complex, sympathetic characters and black-hearted villains with equal detail and insight. Full of action, intrigue, and wry humor, this exciting series launch promises many more thrills to come." —Publishers Weekly, starred review

"Fans who like Correia's fast-moving style will be pleased with the plethora of action scenes, and epic fantasy readers interested in delving into a new universe should be equally satisfied. A solid choice for admirers of Brent Weeks and Brandon Sanderson's Mistborn series." —Library Journal

"Correia is, above all, a storyteller, and he weaves a unique and entertaining tale. Without question, his action sequences pop on the page, his magic system has a nice wrinkle, and he has the foundations laid out for some excellent character growth as the series continues. . . . [A] definite hit." —Bookreporter

"The lore here is fascinating and well told. I enjoyed learning the history of the world and the legend of Ramrowan. The politics are just complicated enough to feel real without being too difficult to follow. Where the book truly shines, however, is in the characters. All are well drawn and distinctively voiced." —SFcrowsnest

"I loved the book, it was great, fast paced, with wonderful characters, and also a lot of wonderful scenes that screamed to be painted." —Larry Elmore, legendary award-winning artist and cover artist for Son of the Black Sword.

"Son of the Black Sword: Saga of the Forgotten Warrior tells of what happens after the war with the gods, when demons were cast out and fell to the world to nearly destroy these unstoppable beasts until the gods sent a hero to save them. Centuries have passed since this event and the people have regulated these events to legend. One Ashok has been chosen to be a protector with a powerful weapon in hand, uncovering those who still practice old ways and are potential dangers to the order—but when he discovers all his efforts have been based on a lie, everything's about to change. A powerful epic fantasy evolves into a solid, compelling read." —Midwest Book Review

"[A] no-holds-barred all-out page-turner that is part science fiction, part horror, and an absolute blast to read." —Bookreporter.com

"A gun person who likes science fiction—or, heck, anyone who likes science fiction—will enjoy [these books] . . . The plotting is excellent, and Correia makes you care about the characters . . . I read both books without putting them down except for work . . . so whaddaya waitin' for? Go and buy some . . . for yourself and for . . . stocking stuffers." —Massad Ayoob

"This lighthearted, testosterone-soaked sequel to 2009's Monster Hunter International will delight fans of action horror with elaborate weaponry, hand-to-hand combat, disgusting monsters, and an endless stream of blood and body parts." —Publishers Weekly on Monster Hunter Vendetta

About John D. Brown:

"Servant delivers solid pacing, a great setting, and a smart story that breaks away from genre conventions."—Brandon Sanderson

"A provocative, suspenseful beginning of a new series." —Booklist

"A welcome addition to large-scale fantasy." —Library Journal, starred review

"A book that copies nothing I have read before and which goes its own way brilliantly." —David Drake

"I will say, in utter candor, that Servant is a work that truly stands out from other fantasy books on the market. What makes this book work so well is that it's a story about family first, and a fantasy adventure second." —Orson Scott Card's Intergalactic Medicine Show
Baen, 9781982125165, 384pp.
Publication Date: February 2, 2021
About the Author
Larry Correia is the creator of the Wall Street Journal and New York Times best-selling Monster Hunter International series, with first entry Monster Hunter International, as well as urban fantasy hardboiled adventure saga The Grimnoir Chronicles, with first entry Hard Magic, and epic fantasy series The Saga of the Forgotten Warrior, with first entry Son of the Black Sword. He is an avid gun user and advocate who shot on a competitive level for many years. Before becoming a full-time writer, he was a military contract accountant, and a small business accountant and manager. Correia lives in Utah with his wife and family.

John D. Brown writes action-packed thrillers and epic fantasies with characters you want to cheer for. He currently lives with his wife and four daughters in the hinterlands of Utah where one encounters much fresh air, many good-hearted ranchers, and the occasional wolf.
or
Not Currently Available for Direct Purchase