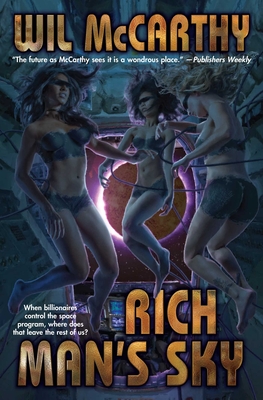 Rich Man's Sky
Hardcover

* Individual store prices may vary.
Other Editions of This Title:
Digital Audiobook (4/5/2021)
Mass Market (3/29/2022)
Description
A NEW NOVEL OF REAL SF FROM WIL McCARTHY

When billionaires control the space program, where does that leave the rest of us?

Space: a tycoon's playground. From a space station full of women to a monastery on the Moon, from a Martian reality-TV contest to a solar shade large enough to cool the Earth, the dreams of a handful of trillionaires dictate the future of humanity. Outside the reach of Earthly law and with the vast resources of the inner solar system at their disposal, the "Four Horsemen" do exactly as they please.

The governments of Earth are not amused; an international team of elite military women, masquerading as space colonists, are set to infiltrate and neutralize the largest and most dangerous project in human history. But nothing is that simple when rich men control the sky, as everyone involved is about to discover.

About Rich Man's Sky:

"Action SF built on a hard foundation of cutting-edge science."—Walter Jon Williams

"An action-crammed story that darts at hyper-speed from Burning Man, Nevada to Suriname to a convent on the Moon to an orbiting colony that's clearly up to something. A jam-packed adventure fizzing with mind-blowing concepts, and a great read!"—Connie Willis

"A hard science fiction tour de force, populated by memorable characters in a tale of intrigue, adventure, and irresistible market forces."—Linda Nagata

About Antediluvian:
". . . gripping and . . . grounded in archaeology."—Publishers Weekly

". . . plenty of verisimilitude . . . superbly intriguing and captivating . . . bravura historical recreations, full of conjectural material. . . . Presenting us with a colorful cast of characters from across the millennia who have thick and rich existences, and affirming that the cosmic stream of life flows forcefully despite all small blockades, McCarthy has written a novel that looks both forwards and backwards, thus making a stellar return to the field."—Locus

About Wil McCarthy:
"McCarthy is an entertaining, intelligent, amusing writer, with Heinlein's knack for breakneck plotting and, at the same time, Clarke's thoughtfulness."—Booklist

"Imagination really is the only limit."—The New York Times

"The future as McCarthy sees it is a wondrous place."—Publishers Weekly

"A bright light on the SF horizon."—David Brin

"Wil McCarthy demonstrates that he has a sharp intelligence, a galaxy-spanning imagination, and the solid scientific background to make it all work."—Connie Willis

"In nearly every passage, we get another slice of the science of McCarthy's construction, and a deeper sense of danger and foreboding . . . McCarthy develops considerable tension."—San Diego Union-Tribune

"An ingenious yarn with challenging ideas, well-handled technical details, and plenty of twists and turns."—Kirkus
Baen, 9781982125295, 320pp.
Publication Date: April 6, 2021
About the Author
Engineer/novelist/journalist/entrepreneur Wil McCarthy is an award-winning author whose short fiction has graced the pages of magazines including Analog, Asimov's, WIRED, and SF Age. His novels include the New York Times notable Bloom, national bestseller The Collapsium, and To Crush the Moon.