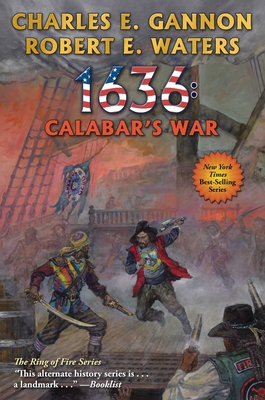 1636
Calabar's War (Ring of Fire #30)
Paperback

* Individual store prices may vary.
Other Editions of This Title:
Mass Market (3/29/2022)
Description
NEW ENTRY IN THE BEST-SELLING RING OF FIRE SERIES FROM NEBULA AND DRAGON AWARD NOMINEE CHARLES E. GANNON AND ROBERT WATERS

Domingos Fernandes Calabar started out as a military advisor for the Portuguese in Brazil. But to his superiors, he was still nothing more than a mameluco, a man of mixed blood. Until, that is, the Dutch arrived and he switched sides. Then the Portuguese had a new label for him: "traitorous dog."

But when Dutch admiral Maarten Tromp arrives, having barely survived the disastrous Battle of Dunkirk, Calabar's job changes again. Now he has to help engineer a swift Dutch exodus to a safer place before word of Tromp's defeat reaches Spanish ears. Partnered with the Sephardic pirate Moses Cohen Henriques Eanes, the two aid the battered Dutch fleet by striking at the Portuguese and Spanish, both on land and sea. Until, that is, Calabar learns that bitter personal enemies have grabbed his family, put them in chains, and sold them to a slaveship bound for the Spanish Main.

Calabar must now choose: continue to help the Dutch, or save his wife and children? Tromp and other strong allies want to put an end to slavery, too, but their strategies and timetable are measured in months and years. Calabar doesn't have that kind of time and can't rely on their methods. The struggle to recover his family, and to free the millions more suffering in shackles, is one he must win in his own way and on his own terms. Because ultimately, this is not just Calabar's fight.

This is Calabar's war.

About 1635: A Parcel of Rogues:
"The 20th volume in this popular, fast-paced alternative history series follows close on the heels of the events in The Baltic War, picking up with the protagonists in London, including sharpshooter Julie Sims. This time the 20th-century transplants are determined to prevent the rise of Oliver Cromwell and even have the support of King Charles."—Library Journal

About 1634: The Galileo Affair:
"A rich, complex alternate history with great characters and vivid action. A great read and an excellent book."—David Drake

"Gripping . . . depicted with power!"—Publishers Weekly

About Eric Flint's Ring of Fire series:
"This alternate history series is . . . a landmark . . ."—Booklist

"[Eric] Flint's 1632 universe seems to be inspiring a whole new crop of gifted alternate historians."—Booklist

" . . . reads like a technothriller set in the age of the Medicis . . . "—Publishers Weekly
Baen, 9781982125301, 320pp.
Publication Date: April 6, 2021
About the Author
Charles E. Gannon is the author of the Compton Crook Award-winning, Nebula-nominated Caine Riordan series, as well as two novels in John Ringo's Black Tide Rising series. With best seller Steve White, Gannon is the coauthor of several entries in the Starfire series. With Eric Flint, he has written several novels in the best-selling Ring of Fire series.

Robert E. Waters is a science fiction and fantasy writer. Since 1994, he has worked in the computer and board gaming industry as technical writer, editor, designer, and producer. A member of the Science Fiction and Fantasy Writers of America, his first professional fiction publication came in 2003 with the story "The Assassin's Retirement Party," Weird Tales, Issue #332. Since then, he has sold stories to Nth Degree,Nth Zine, Black Library Publishing (Games Workshop), Dark Quest Books, Padwolf Publishing, Mundania Press, Dragon Moon Press, Rogue Blades Entertainment, and the Grantville Gazette. Between the years of 1998–2006, he also served as an assistant editor to Weird Tales, and is still a frequent contributor to Tangent Online, a short fiction review site. Robert currently lives in Baltimore, Maryland, with his wife, Beth, their son, Jason, and their cat, Buzz.