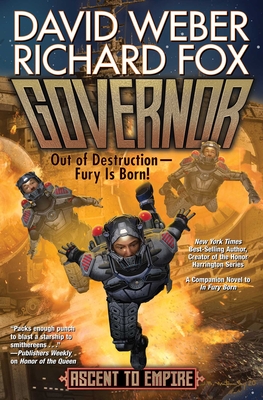 Governor (Ascent to Empire #1)
Hardcover

* Individual store prices may vary.
Other Editions of This Title:
Mass Market (4/26/2022)
Description
A NEW MILITARY SCIENCE FICTION SERIES FROM NEW YORK TIMES BEST-SELLING AUTHOR AND CREATOR OF THE HONOR HARRINGTON SERIES DAVID WEBER AND BEST-SELLING AUTHOR RICHARD FOX

Six Billion Dead—And One Man Intent on Putting a Stop to the Killing

For more than fifty years, the Terran Federation and the Terran League have been killing one another. The death toll has climbed ever higher, year after year, with no end in sight. But the members of the Five Hundred, the social elite of the Republic's Heart Worlds, don't care.

Their star systems are light-years from any threat of attack. Their children are sheltered from the "mandatory service" that falls so heavily on the Fringe Worlds' backs. Their trade connections with the Rishathan Sphere bring them wealth and influence. And their contracts to build ships, fighters, missiles, and all the other sinews of war have made them the wealthiest human beings in the history of the galaxy.

Rear Admiral Terrence Murphy is a Heart Worlder. His family is part of the Five Hundred. His wife is the daughter of one of the Five Hundred's wealthiest, most powerful industrialists. His sons and his daughter can easily avoid military service, and political power is his for the taking. There is no end to how high he can rise in the Republic's power structure.

All he has to do is successfully complete a risk-free military "governorship" in the backwater Fringe System of New Dublin without rocking the boat. Without dredging up any lunatic Fringe conspiracy theories. Without undercutting the Five Hundred's stranglehold on wealth and power.

But the people sending him to New Dublin have miscalculated, because Terrence Murphy is a man who believes in honor. Who believes in duty—in common decency and responsibility. Who believes there are dark and dangerous secrets behind the façade of what "everyone knows."

Terrence Murphy intends to meet those responsibilities and unearth those secrets, and he doesn't much care what the Five Hundred want.

He intends to put a stop to the killing.

Wherever that takes him, he will go. Whatever that costs him, he will pay. And whatever that requires, he will do.

Terrence Murphy is coming for whoever has orchestrated fifty-six years of bloodshed and slaughter, and Hell itself is coming with him.

A new novel in the world of In Fury Born, one of David Weber's most celebrated novels.

About The Gordian Protocol:

"Tom Clancy-esque exposition of technical details . . . absurd humor and bloody action. Echoes of Robert Heinlein . . . lots of exploding temporal spaceships and bodies . . . action-packed . . ." —Booklist

"[A] fun and thrilling standalone from Weber and Holo. . . . Time travel enthusiasts will enjoy the moral dilemmas, nonstop action, and crisp writing."—Publishers Weekly

About David Weber:
"[A] balanced mix of interstellar intrigue, counterespionage, and epic fleet action . . . with all the hard- and software details and tactical proficiency that Weber delivers like no one else; along with a large cast of well-developed, believable characters, giving each clash of fleets emotional weight."—Booklist

"[M]oves . . . as inexorably as the Star Kingdom's Grand Fleet, commanded by series protagonist Honor Harrington. . . . Weber is the Tom Clancy of science fiction. . . . His fans will relish this latest installment. . . ."—Publishers Weekly

"This entry is just as exciting as Weber's initial offering. . . . The result is a fast-paced and action-packed story that follows [our characters] as they move from reaction to command of the situation. Weber builds Shadow of Freedom to an exciting and unexpected climax."—The Galveston County Daily News

"Weber combines realistic, engaging characters with intelligent technological projection and a deep understanding of military bureaucracy in this long-awaited Honor Harrington novel. . . . Fans of this venerable space opera will rejoice to see Honor back in action."—Publishers Weekly

"This latest Honor Harrington novel brings the saga to another crucial turning point. . . . Readers may feel confident that they will be Honored many more times and enjoy it every time."—Booklist

"[E]verything you could want in a heroine. . . . Excellent . . . plenty of action."—Science Fiction Age

"Brilliant! Brilliant! Brilliant!"—Anne McCaffrey

"Compelling combat combined with engaging characters for a great space opera adventure."—Locus

"Weber combines realistic, engaging characters with intelligent technological projection. . . . Fans of this venerable space opera will rejoice . . ."—Publishers Weekly
Baen, 9781982125400, 496pp.
Publication Date: June 1, 2021
About the Author
With more than eight million copies of his books in print and 33 titles on the New York Times bestseller list, David Weber is a science fiction powerhouse. In the vastly popular Honor Harrington series, the spirit of C.S. Forester's Horatio Hornblower and Patrick O'Brian's Master and Commander live on—into the galactic future. Books in the Honor Harrington and Honorverse series have appeared on 21 bestseller lists, including The Wall Street Journal, The New York Times, and USA Today. Additional Honorverse collaborations include the spin-off miniseries Manticore Ascendant with New York Time best-selling author Timothy Zahn, and with Eric Flint, Crown of Slaves and Cauldron of Ghosts contribute to Weber's illustrious list of New York Times and international bestsellers.

Best known for his spirited, modern-minded space operas, Weber is also the creator of the Oath of Swords fantasy series and the Dahak Saga, a science fiction and fantasy hybrid. Weber has also engaged in a steady stream of best-selling collaborations: the Starfire series with Steve White; the Empire of Man series with John Ringo; the Multiverse series with Linda Evans and Joelle Presby; and the Ring of Fire series with Eric Flint.

Richard Fox is the winner of the 2017 Dragon Award for Best Military Science Fiction or Fantasy novel. He's best known for The Ember War Saga, a military science fiction and space opera series.

His writing draws extensively from his experiences in the United States Army, where he served two combat tours in Iraq and was awarded the Bronze Star, Combat Action Badge and Presidential Unit Citation.

He lives in fabulous Las Vegas with his incredible wife and three boys, amazing children bent on anarchy.

Subscribe to Richard's spam free email list and get free short stories set during the Ember War Saga (and more as they become available) at:

http://eepurl.com/bLj1gf