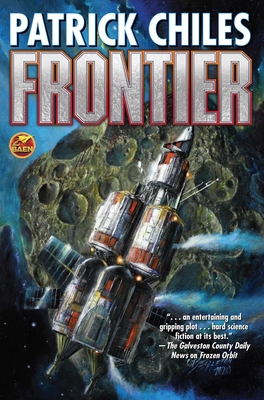 Frontier
Paperback

* Individual store prices may vary.
Other Editions of This Title:
Mass Market (5/31/2022)
Description
Near-future military adventure and political intrigue set against the backdrop of our majestic Solar System

THE FUTURE BELONGS TO THE STRONG OF HEART

Marshall Hunter only wanted to fly: the faster, the higher, the better. But the Space Force has other plans that will take its newest officer beyond anything he imagined.

Assigned to the cislunar cruiser U.S.S. Borman as a search-and-rescue officer, Ensign Hunter is resigned to a life of rescuing wayward spacefarers and derelict satellites. The novelty of Earth orbit soon wears off after a series of arduous spacewalks, confirming his suspicion that the new space economy has attracted too many people with more money than sense.

His fortunes appear to change when a billionaire couple goes missing on their way to survey a near-Earth asteroid. Out of contact and on a course that will eventually send them crashing into Mars, the nuclear-powered Borman is dispatched on an audacious, high-speed interplanetary run to find the couple's wayward spacecraft and bring them home. As they approach the asteroid, the Borman itself becomes hopelessly disabled, its only chance of rescue coming from a surprising source.

With the Borman suddenly out of commission and far beyond reach, cislunar space begins falling into chaos as critical satellites fail and valuable lunar mineral shipments begin disappearing in transit. Nothing is as it seems, and the crew suspects none of it is by coincidence.

Facing an impossible choice between salvation and sacrifice, Marshall Hunter will have to find a way to save both his crewmates and their civilian charges.

About Frozen Orbit:
". . . hard science fiction and an entertaining and gripping plot. . . . Chiles nails the atmosphere of a NASA-run human spaceflight mission in the 21st century, the jargon of the mission controllers and astronauts, and the bureaucratic infighting characterizing today's NASA. . . . The scenario and background . . . are the scaffolding on which a gripping tale is formed. Readers experience the wonder the astronauts feel on a remarkable voyage, groan as the Earth goes crazy as the expedition progresses, and thrill to a powerful conclusion . . . science fiction at its best."—The Galveston County Daily News

About Farside by Patrick Chiles:
"The situations are realistic, the characters interesting, the perils harrowing, and the stakes could not be higher."— John Walker, Ricochet.com

". . . a fast-paced and exciting story that bounces between the borders of technological thriller and science fiction. . . . an impressive effort."—The Galveston County Daily News
Baen, 9781982125417, 384pp.
Publication Date: June 1, 2021
About the Author
Patrick Chiles is a graduate of The Citadel, a Marine Corps veteran, and a private pilot. In addition to his novels, he has written for magazines including Smithsonian's Air & Space.
or
Not Currently Available for Direct Purchase