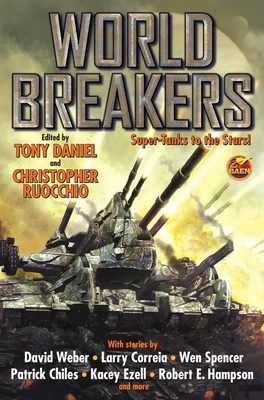 World Breakers
Paperback

* Individual store prices may vary.
Description
NEW AWESOME STORIES OF MILITARY SF FROM TOP AUTHORS David Weber, Larry Correia, Wen Spencer, Tony Daniel, Christopher Ruocchio, and many more!

Brute force. Intransigent defiance. Adamantine will.

These are the hallmarks of the AI tank. Formed from cold steel and superpowered computing brains, these gigantic tanks with the firepower of an entire army have been the decisive factors in interplanetary battle. But are humans worthy of the extraordinary instruments of war that they have created? Are the World Breakers the greatest protector of human liberty, or its worst threat? For, while these World Breakers very definitely have minds of their own, the question remains: within their iron and superluminal quantum breasts, does there lie a faithful heart? Stories of world breakers and world makers in the great tradition of Keith Laumer's Bolos from David Weber, Larry Correia, Wen Spencer, and more!

With stories by

David Weber
Larry Correia
Wen Spencer
Kevin Ikenberry
Patrick Chiles
Tony Daniel
Hank Davis
Kacey Ezell
Christopher Ruocchio
Monalisa Foster
Robert E. Hampson
Lou J Berger

About Star Destroyers, edited by Tony Daniel & Christopher Ruocchio:
". . . spectacular space battles and alien contacts . . . themes of military ethics, the uses of artificial intelligence, and the limits of the capacity of the human mind. . . . it is the human interactions and decisions that ultimately drive the stories. . . . will appeal to fans of military and hard science fiction and any readers fascinated by the possibilities of space travel."—Booklist

". . . stories of giant spaceships at war, at peace, and in the often-gray areas between. . . . a worthy addition to a long tradition of ship-based fiction, and its authors portray captains, arcane astrogators, and civilian child passengers with equal depth. It's recommended for fans of military SF and space adventure."—Publishers Weekly

". . . you'd probably expect some tight, action-filled space opera stories of giant space battles . . . and there's some of that. But there are also espionage stories, rescue missions, political conflicts, alternate histories, even a few humorous tales. . . . each author took the premise in a different direction . . . if I had to identify one common feature to all the stories, it would be that they're all fun. . . . Like it says, big ships blowing things up. What's not to like?"—Analog
Baen, 9781982125516, 368pp.
Publication Date: August 3, 2021
About the Author
Tony Daniel is a senior editor at Baen Books. He is also the author of ten science fiction novels, the latest of which is Guardian of Night, as well as an award-winning short story collection, The Robot's Twilight Companion. He's a Hugo finalist and a winner of the Asimov's Reader's Choice Award for short story. Daniel is also the author of young adult high fantasy Wulf's Saga series including entries The Dragon Hammer and its sequel, The Amber Arrow. Other Daniel novels include the groundbreaking Metaplanetary and Superluminal, as well at Warpath, an adaptation of the novelette "Candle," which appeared in Asimov's magazine. His second novel, Earthling, also started life as "The Robot's Twilight Companion," appearing in Asimov's. Daniel is the coauthor of two books with David Drake in the long-running General series, The Heretic and The Savior. He is also the author of original series Star Trek novels Devil's Bargain and Savage Trade. Daniel's short stories have been collected in multiple year's-best compilations. In the late 1990s, he founded and directed the Automatic Vaudeville dramatic group in New York City, with multiple appearances doing audio drama on WBAI. He's also cowritten the screenplays for several horror movies that have appeared on the SyFy and Chiller channel, including the Larry Fesenden-directed Beneath. During the early 2000s, Daniel was the writer, story editor, and sometimes director of numerous radio plays and audio dramas with actors such as Peter Gallagher, Oliver Platt, Stanley Tucci, Gina Gershon, Luke Perry, Tim Robbins, Tim Curry, and Kyra Sedgewick appearing in them for SCI-FI.COM's groundbreaking Seeing Ear Theatre. He's the founder of Baen Books Audio Drama and has written, produced, and directed a series of adaptations of the works of Baen Books authors such as Eric Flint and Larry Correia. Daniel has a B.A. from Birmingham-Southern College, where he majored in philosophy. He has a master's degree in English from Washington University in St. Louis. He attended the USC Film School graduate program and Clarion West. Born in Alabama, Daniel has lived in St. Louis, Los Angeles, Seattle, Prague, New York City, Dallas, and Raleigh, North Carolina, where he currently resides with his wife Rika, and children Cokie and Hans.

Christopher Ruocchio is the author of The Sun Eater, a space opera fantasy series from DAW Books, as well as the assistant editor at Baen Books, where he coedited the military SF anthology Star Destroyers, as well as Space Pioneers, a collection of Golden Age reprints showcasing tales of human exploration. He is a graduate of North Carolina State University, where a penchant for self-destructive decision-making caused him to pursue a bachelor's degree in English Rhetoric with a minor in Classics. An avid student of history, philosophy, and religion, Christopher has been writing since he was eight years old and sold his first book—Empire of Silence—at twenty-two. The Sun Eater series in available from Gollancz in the UK, and has been translated into French and German.

Christopher lives in Raleigh, North Carolina, where he spends most of his time hunched over a keyboard writing. When not writing, he splits his time between his family, procrastinating with video games, and his friend's boxing gym. He may be found on both Facebook and Twitter at @TheRuocchio.