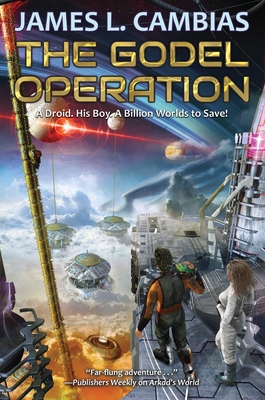 The Godel Operation
Paperback

* Individual store prices may vary.
Description
Science fiction at its sense-of-wonder best. A wild chase through the billion worlds of the Tenth Millennium in search of a mythical weapon that could save civilization—or doom it!

A DROID AND HIS BOY, ON A SEARCH FOR A LEGENDARY WEAPON

Daslakh is an AI with a problem. Its favorite human, a young man named Zee, is in love with a woman who never existed — and he will scour the Solar System to find her. But in the Tenth Millennium a billion worlds circle the Sun—everything from terraformed planets to artificial habitats, home to a quadrillion beings.

Daslakh's nicely settled life gets more complicated when Zee helps a woman named Adya escape a gang of crooks. This gets the pair caught up in the hunt for the Godel Trigger, a legendary weapon left over from an ancient war between humans and machines—which could spell the end of civilization.

In their search, they face a criminal cat and her henchmen, a paranoid supermind with a giant laser, the greatest thief in history, and a woman who might actually be Zee's lost love.

It's up to Daslakh to save civilization, keep Zee's love life on the right track—and make sure that nobody discovers the real secret of the Godel Trigger.

Praise for Arkad's World:
"Far-flung adventure . . . Cambias offers up an entertaining coming-of-age novel filled with action and surprises. His aliens are suitably non-human in mannerisms, attitudes, and objectives, and his worldbuilding suggests a vast universe ready for further exploration. Readers . . . will find this hits the spot."—Publishers Weekly

". . . a classic quest story, a well-paced series of encounters with different folk along the way, building momentum toward a final confrontation with Arkad's past . . . [with] a delicious twist to the end."—ALA Booklist

"Cambias has achieved a feat of world-building: an expansive, believable setting with fascinating aliens, compelling mysteries, and a rich sense of history."—Bookpage

"Drop a teenage boy into a distant planet chock full of colorful aliens—with troubles all their own. Stir, flavor, apply heat. A tour de force in the field, and great, quick fun."—Gregory Benford

Praise for the work of James L. Cambias:

"Beautifully written, with a story that captures the imagination the way SF should."—Booklist, starred review

"An engaging nail-biter that is exciting, fun and a satisfying read."—The Qwillery

'"An impressive debut by a gifted writer."—Publishers Weekly, starred review

"An exceptionally thoughtful, searching and intriguing debut."—Kirkus, starred review

"James Cambias will be one of the century's major names in hard science fiction."—Robert J. Sawyer, Hugo Award–winning author of Red Planet Blues

"Fast-paced, pure quill hard science fiction. . . . Cambias delivers adroit plot pivots that keep the suspense coming."—Gregory Benford, Nebula Award-winning author of Timescape
Baen, 9781982125561, 288pp.
Publication Date: May 4, 2021
About the Author
James L. Cambias is a writer and game designer, and the cofounder of Zygote Games. He has been nominated for the James Tiptree Jr. Award and the 2001 John W. Campbell Award for Best New Writer. He lives in western Massachusetts.