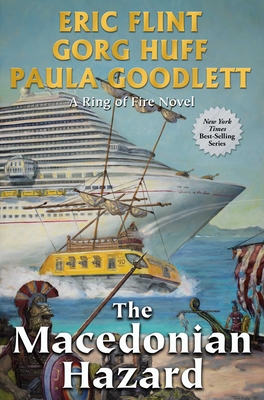 The Macedonian Hazard
Mass Market

* Individual store prices may vary.
Other Editions of This Title:
Digital Audiobook (4/12/2021)
Hardcover (1/5/2021)
Description
TIME TRAVEL ALTERNATE HISTORY FROM A MASTER. A new tale of time-displaced persons fighting for their lives in the ancient world, from Ring of Fire and Boundary series creator Eric Flint.

It's been more than a year since the cruise ship Queen of the Sea was transported in time and space to the ancient Mediterranean not long after the death of Alexander the Great.

Captain Lars Floden and the other "Ship People" are trying to plant the seeds of modern civilization. It's not an easy task, to put it mildly, even if they have a tacit alliance with the co-regents of Alexander's empire.

For the regents have plenty of enemies, too. Cassander is using every foul means available to turn Macedonia and Greece into his own empire. The brutal general Antigonus One-Eye is doing the same in Mesopotamia. And Ptolemy, the cleverest of them all, is expanding his Egyptian realm to the Red Sea.

Things aren't any easier in the colony that passengers from the cruise ship founded on the Caribbean island of Trinidad. President Allen Wiley is trying to build a twenty-first-century democratic nation.

War, religious strife, assassinations, espionage, poisonings, and other murders—and a fair amount of love, too—all mix together with the Ship People's knowledge from the twenty-first century to form a new weaving of the fates. Hopefully, that will lead to a bright new future. If it doesn't kill everyone first.

About Eric Flint's Ring of Fire Series:
"This alternate history series is . . . a landmark . . ." —Booklist

"[Eric] Flint's 1632 universe seems to be inspiring a whole new crop of gifted alternate historians." —Booklist

". . . reads like a technothriller set in the age of the Medicis . . ." —Publishers Weekly
Baen, 9781982125868, 496pp.
Publication Date: December 28, 2021
About the Author
Eric Flint is a modern master of alternate history fiction, with 3 million books in print. He's the author/creator of the multiple New York Times best-selling Ring of Fire series, starting with first novel 1632. With David Drake he has written six popular novels in the "Belisarius" alternate Roman history series, and with David Weber, he has collaborated on 1633 and 1634: The Baltic War, as well as four novels in Weber's Honorverse series. Flint was for many years a labor union activist. He lives near Chicago, Illinois.

Paula Goodlett retired from the military as a non-commissioned officer in the early nineties. She broke her leg in 2003, which led to her browsing Baen's Bar lest she become bored during her enforced inactivity. Captivated by the 1632 universe concept, she began as a special assistant to Eric Flint. She eventually wrote a large important sequence of the storyline in 1634: The Ram Rebellion. She is editor of the Grantville Gazettes and chairs the 1632 Editorial Board. Additionally, Paula is assistant editor of the e-zine Jim Baen's Universe. Paula mainly writes in tandem with Gorg Huff.

Gorg Huff is a Texas citizen who has enthusiastically helped in researching the 1632 series background, written numerous stories for the Grantville Gazettes, and contributed both maps and drawings to 1634: The Bavarian Crisis. Gorg began as a solo writer, but now principally teams with Paula Goodlett.