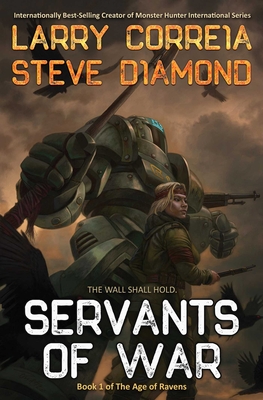 Servants of War
Hardcover

* Individual store prices may vary.
Description
NEW MILITARY FANTASY FROM THE CREATOR OF MONSTER HUNTER INTERNATIONAL LARRY CORREIA AND MASTER OF HORROR STEVE DIAMOND

HORROR IN THE TRENCHES

The war between Almacia and the Empire of Kolakolvia is in its hundredth year. Casualties heap even higher on both sides as the conflict leaves no corner of the world untouched.

Illarion Glaskov's quiet life on the fringes of the empire is thrown into chaos when tragedy strikes his village. When he is conscripted into the Tsarist military, he is sent to serve in The Wall—an elite regiment that pilots suits of armor made from the husks of dead golems.

But the great war is not the only—or even the worst—danger facing Illarion, as he is caught in a millennia-old conflict between two goddesses. In order to triumph, he must survive the ravages of trench warfare, horrific monsters from another world, and the treacherous internal politics of the country he serves.

About Larry Correia:
"Correia piles on the intrigue, action, and cliffhangers in the invigorating second Saga of the Forgotten Warrior epic fantasy. . . . Correia also weaves in elements that question the value of belief and the cost of giving authority to those who find more profit in preying on the weak. . . . Brisk fight scenes, lively characters, and plenty of black humor continue to make this series a real pleasure." —Publishers Weekly

"This book has everything I like in fantasy: intense action scenes, evil in horrifying array, good struggling against the darkness, and most of all people—gorgeously flawed human beings faced with horrible moral choices that force them to question and change and grow." —Jim Butcher, creator of the New York Times best-selling Dresden Files

"Best-selling fantasy author Correia casts a compelling spell with this India-influenced series opener. . . . Correia skillfully sets in motion this story of plots within plots, revealing complex, sympathetic characters and black-hearted villains with equal detail and insight. Full of action, intrigue, and wry humor, this exciting series launch promises many more thrills to come." —Publishers Weekly, starred review

"Fans who like Correia's fast-moving style will be pleased with the plethora of action scenes, and epic fantasy readers interested in delving into a new universe should be equally satisfied. A solid choice for admirers of Brent Weeks and Brandon Sanderson's Mistborn series." —Library Journal

"Correia is, above all, a storyteller, and he weaves a unique and entertaining tale. Without question, his action sequences pop on the page, his magic system has a nice wrinkle, and he has the foundations laid out for some excellent character growth as the series continues. . . . [A] definite hit." —Bookreporter

"The lore here is fascinating and well told. I enjoyed learning the history of the world and the legend of Ramrowan. The politics are just complicated enough to feel real without being too difficult to follow. Where the book truly shines, however, is in the characters. All are well drawn and distinctively voiced." —SFcrowsnest

"I loved the book, it was great, fast paced, with wonderful characters, and also a lot of wonderful scenes that screamed to be painted." —Larry Elmore, legendary award-winning artist and cover artist for Son of the Black Sword

"Son of the Black Sword: Saga of the Forgotten Warrior tells of what happens after the war with the gods, when demons were cast out and fell to the world to nearly destroy these unstoppable beasts until the gods sent a hero to save them. Centuries have passed since this event and the people have regulated these events to legend. One Ashok has been chosen to be a protector with a powerful weapon in hand, uncovering those who still practice old ways and are potential dangers to the order—but when he discovers all his efforts have been based on a lie, everything's about to change. A powerful epic fantasy evolves into a solid, compelling read." —Midwest Book Review

"[A] no-holds-barred all-out page-turner that is part science fiction, part horror, and an absolute blast to read." —Bookreporter.com

"A gun person who likes science fiction—or, heck, anyone who likes science fiction—will enjoy [these books] . . . The plotting is excellent, and Correia makes you care about the characters . . . I read both books without putting them down except for work . . . so whaddaya waitin' for? Go and buy some . . . for yourself and for . . . stocking stuffers." —Massad Ayoob

"This lighthearted, testosterone-soaked sequel to 2009's Monster Hunter International will delight fans of action horror with elaborate weaponry, hand-to-hand combat, disgusting monsters, and an endless stream of blood and body parts." —Publishers Weekly on Monster Hunter Vendetta

About Steve Diamond:
"Residue will scare you—that's its primary goal—but along the way it will touch you, shock you, make you laugh, make you cheer, and make you think. Horror has been waiting for Steve Diamond." — Dan Wells
Baen, 9781982125943, 432pp.
Publication Date: March 1, 2022
About the Author
Larry Correia is the Dragon Award-winning, best-selling author of the Monster Hunter International series, the Saga of the Forgotten Warrior series, the Grimnoir Chronicles, and the Dead Six series of military thrillers.

Steve Diamond founded and runs the review site Elitist Book Reviews (www.elitistbookreviews.com), which was nominated for the Hugo Award in 2013, 2014, and 2015. He writes for Ragnarok, Baen, Privateer Press, and numerous small publications. He is also the editor of the horror anthology Shared Nightmares.