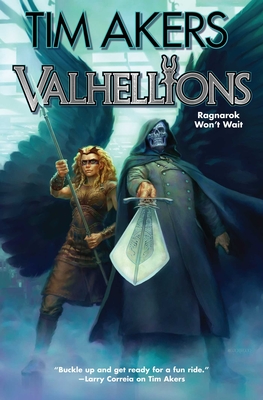 Valhellions
Paperback

* Individual store prices may vary.
Other Editions of This Title:
Mass Market (3/28/2023)
Description
AN AGENT OF KNIGHT WATCH, TASKED TO PROTECT HUMANITY FROM SUPERNATURAL ENEMIES, MUST GO TO HELL AND BACK TO CLEAR HIS NAME AND SAVE THE WORLD

When John Rast signed up for Knight Watch, he expected it to be all fighting dragons and rescuing maidens. You know, hero stuff. But instead he's stuck patrolling game conventions and cosplayer competitions, looking for dangerous anachronisms and the villains who may be trying to exploit them. Fortunately, all that changes when an honest-to-goodness necromancer shows up wielding a weapon created by Nazi occultists and accompanied by some badass evil Valkyries, hell-bent on kicking off the end of the world.

John and the team will go to great lengths—even Minnesota—to find out who's responsible for all this and foil their plans. Also, there's a giant dog who thinks the moon is a ball. It's epic.

About Valhellions:
"Akers' novel puts the fantasy in urban fantasy, with real-world-dwelling fantastical characters similar to Jim Butcher and ridiculous set pieces reminiscent of Terry Pratchett." --Booklist (starred review)

About Knight's Watch:
"Buckle up and get ready for a fun ride. Tim Akers delivers an epic story about weekend ren faire warriors versus actual monsters. Best fictional use of a Volvo station wagon ever." —Larry Correia

About Tim Akers:
"A must for all epic fantasy fans." —Starburst

"Full of strong world building, cinematic and frequent battle scenes, high adventure, great characters, suspense, and dramatic plot shifts, this is an engaging, fast-paced entry in a popular subgenre." —Booklist (starred review)

"Take a bit of fantasy, mix in the horror of the demonic, and put in some top-notch writing and you'll have Akers' latest novel." —Hellnotes

"Fast-paced . . . an epic fantasy story with action, intrigue and a good story." —RPG

"Delivers enough twists and surprises to keep readers fascinated . . . contains action, grittiness, magic, intrigue and well created characters." —Rising Shadow

"An extremely well-developed secondary world." —SF Signal
Baen, 9781982125950, 288pp.
Publication Date: March 1, 2022
About the Author
Tim Akers grew up in rural North Carolina, the last in a long line of Scottish bankers, newspaper editors, and tourist-trap barons. He moved to Chicago to pursue his passion for apocalyptic winters, tornadic summers, and traffic. He stayed for the hot dogs.