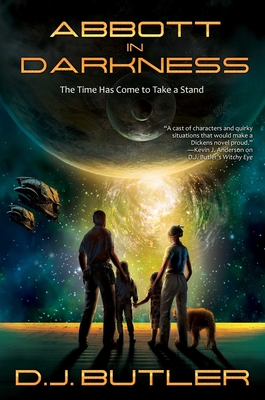 Abbott in Darkness
Paperback

* Individual store prices may vary.
Other Editions of This Title:
Mass Market (5/30/2023)
Description
A MAN AT THE END OF HIS ROPE MUST UNRAVEL A MYSTERY IN A FAR-FLUNG SECTOR OF THE GALAXY. THE WEB OF CONSPIRACY IS TIGHTLY WOVEN, AND JOHN ABBOTT IS BUT ONE MAN FIGHTING THE DARKNESS

John Abbott is all in.

He's up to his eyeballs in debt to pay for school, and he just moved his small family forty light-years from Earth for a plum job with the wealthy interstellar corporation The Sarovar Company. John's first assignment is to discreetly investigate possible corruption at the remote Arrowhawk Station, where Company traders buy the famous Sarovari Weave from the three-sided, crablike Weavers.

John finds evidence of theft and worse, but when the guilty parties realize he's getting close, they come after him and his family. Can John catch the thieves and end their corrupt trade? Can he head off a war between the Company and the Weavers? Can he make a life for his family in this remote wilderness without corrupting himself?

With no way back to Earth, the only direction for John Abbott and his family to go is forward—into danger.

Praise for Abbott in Darkness:

"...a dangerous alien species; economic intrigue...complex commerce and interplanetary trade; and a setting that mixes advanced tech with the unpredictable terrors of the wilderness...with murder, ambush, treachery, and war."—Library Journal

"...detailed worldbuilding...the elaborate setting pulls together, and Butler's development of an extensive pidgin language adds depth to the world." —Publishers Weekly

"Butler succeeds superbly in bringing this future to life; faster-than-light travel aside, this feels like an all too plausible development of contemporary economics, which is of course one that is rather bleak. It's a future that's not unlike the Old West, and in a way that very much remembers the role of corporations in this bloody expansion."—Warped Factor

Praise for D.J. Butler:
"It's like Jim Butcher crossed with Grapes of Wrath!"—Larry Correia

"Butler and Ritchey return to Depression-era Utah for a second thrilling tale of murder and folk magic (after The Cunning Man). . . . The play between Hiram's earnest Mormonism and the more secular Michael's growing unease with folk magic adds depth to the father-son dynamic, and the false leads and eccentric side characters make for a delightful mystery. This well-crafted historical fantasy is sure to please."—Publishers Weekly

"I have come to appreciate the work of D. J. Butler; He is a recent writer in a tradition of science fiction and fantasy I associate with Harry Turtledove, S. M. Stirling, Eric Flint, and Jerry Pournelle, with a sort of grittiness and focus on societal dynamics that I very much enjoy."—Warped Factor

"An attempt at charity during the Great Depression turns into a protracted fight against supernatural forces in this admirable paranormal mystery. . . . the richly imagined magic system and glimpses of Mormon culture create a fully realized world. Historical fantasy fans will delight in the zigzagging plot of this mystery."—Publishers Weekly

"An amazing tale that grabs you by the throat and won't let go! Butler & Ritchey are a literary force to be reckoned with! Hit that download button and grab your copy now! The Cunning Man will never let you go!"—Sherrilyn Kenyon, #1 New York Times best-selling author

". . . a brisk and engaging narrative . . . folk and religious based magic . . . for fans of urban or historical fantasy . . . a satisfying read."—Booklist

"Butler follows Witchy Eye with a satisfying second tale of a magic-filled early America. . . . Deep and old magic influences both places and characters, and the story is tightly focused on the determined Sarah . . . Fans of epic and alternate historical fantasy will savor this tale of witchery and intrigue."—Publishers Weekly

"For readers who love history-based fantasy, steampunk, or urban fantasy . . . this series . . . gives the genre a new twist."—Booklist

". . . you can't stop yourself from taking another bite . . . and another . . . and another. . . . I didn't want to stop reading. . . . Kudos!"—R.A. Salvatore

"Excellent book. I am impressed by the creativity and the depth of the worldbuilding. Dave Butler is a great storyteller."—Larry Correia

"Witchy Eye is an intricate and imaginative alternate history with a cast of characters and quirky situations that would make a Dickens novel proud."—Kevin J. Anderson

"Butler's fantasy is by turns sardonic and lighthearted; ghoulish shadows claw into the most remote areas and heroism bursts out of the most unlikely people. Sarah is the epitome of the downtrodden hero who refuses to give up until she gets what she needs, and her story will appeal to fantasy readers of all stripes."—Publishers Weekly

"David's a pro storyteller, and you're in for a great ride."—Larry Dixon

". . . a fascinating, grittily flavored world of living legends. Hurry up and write the next one, Dave."—Cat Rambo

"This is enchanting! I'd love to see more."—Mercedes Lackey

"Goblin Market meets Magical Musketpunk . . . A great ride that also manages to cover some serious cultural terrain."—Charles E. Gannon

"Witchy Eye is a brilliant blend of historical acumen and imagination, a tour-de-force that is at once full of surprises and ultimately heart-warming. This is your chance to discover one of the finest new stars writing today!"—David Farland

"A gritty, engrossing mash-up of history, fantasy, and magic. Desperate characters careen from plot twist to plot twist until few are left standing."—Mario Acevedo

"Captivating characters. Superb world-building. Awesome magic. Butler fuses fantasy and history effortlessly, creating a fascinating new American epic. Not to be missed!"—Christopher Husberg

"[A] unique alternative-history that is heavily influenced by urban and traditional fantasy and steeped in the folklore of the Appalachians. . . . Fans of urban fantasy looking to take a chance on something with a twist on a historical setting may find this novel worth their time."—Booklist
Baen, 9781982126094, 352pp.
Publication Date: May 3, 2022
About the Author
D.J. ("Dave") Butler grew up in swamps, deserts, and mountains. After messing around for years with the practice of law, he finally got serious and turned to his lifelong passion of storytelling. He now writes adventure stories for readers of all ages, plays guitar, and spends as much time as he can with his family. He is the author of City of the Saints, Rock Band Fights Evil, Space Eldritch, and Crecheling from Wordfire Press, and Witchy Eye, Witchy Winter, Witchy Kingdom, and Serpent Daughter, and The Cunning Man and The Jupiter Knife with coauthor Aaron Michael Ritchey, In the Palace of Shadow and Joy, and Abbott in Darkness, from Baen.