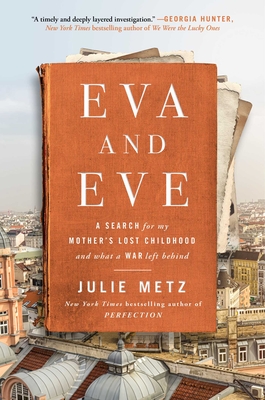 Eva and Eve
A Search for My Mother's Lost Childhood and What a War Left Behind
Hardcover

* Individual store prices may vary.
Other Editions of This Title:
Digital Audiobook (4/5/2021)
Paperback (5/3/2022)
Compact Disc (4/6/2021)
Description
In this unforgettable and "essential feminist memoir of women's lives" (Sarah Wildman, author of Paper Love) the author of the New York Times bestselling memoir Perfection unearths her mother's hidden past in in Nazi-occupied Austria.

To Julie Metz, her mother, Eve, was the quintessential New Yorker. Eve rarely spoke about her childhood and it was difficult to imagine her living anywhere else except Manhattan, where she could be found attending Carnegie Hall and the Metropolitan Opera or inspecting a round of French triple crème at Zabar's.

After her mother passed, Julie discovered a keepsake book filled with farewell notes from friends and relatives addressed to a ten-year-old girl named Eva. This long-hidden memento was the first clue to the secret pain that Julie's mother had carried as a refugee and immigrant from Nazi-occupied Vienna, shining a light on "a story of political repression, terror, and dissolution...full of astonishing and unlikely twists of fate showing again that individual destiny may be the greatest mystery of all" (Dani Shapiro, author of Inheritance).

"A gripping and intimate wartime account with piercing contemporary relevance" (Kirkus Reviews), Eva and Eve lyrically traces one woman's search for her mother's lost childhood while revealing the resilience of our forebears and the sacrifices that ordinary people are called to make during history's darkest hours.
Praise For Eva and Eve: A Search for My Mother's Lost Childhood and What a War Left Behind…
"One of the most engrossing, educational, and emotional and yet effortless reads of the year....impossible to forget." "Good Morning America"

"A gripping and intimate wartime account with piercing contemporary relevance." —Kirkus

"Intriguing....Metz is a compelling narrator who offers thoughtful reflections on how her family's situation parallels today's world." Bookpage

"The story of this moving passion project resonates today, especially in light of the newest wave of American anti-immigrant sentiment and the COVID-19 pandemic. At its heart is a daughter seeking to understand her mother, forever shaped by those terrible years." Booklist

"Inspired by a collection of keepsakes, Metz unearths a chapter of her mother's hidden past, deftly navigating between two spheres: her family's harrowing escape from the Nazis, and her own present-day world—one steeped in research and introspection, and replete with political red flags weighed against those of the Third Reich. A timely and deeply layered investigation." — Georgia Hunter, author of We Were the Lucky Ones

"Three generations of women—grandmother, mother, daughter—illuminate how history is lived and worlds overlap, filtered through families and passed down from one era to the next. Metz writes, with great insight, about how her mother's escape from Nazi-occupied Vienna to New York City—full of unexpected twists and turns—has echoed through her own life and her daughter's, down to the present moment. This journey of discovery and reclamation could hardly be more timely and resonant." —Adrienne Brodeur, bestselling author of Wild Game: My Mother, Her Lover, and Me

"Julie Metz's Eva and Eve is a beautifully written ode to her mother who escaped the Nazis as a child in Vienna in 1940. With an artist's eye for detail and a detective's tenacity, Metz brings to life four generations of her family with great sensitivity and intelligence, and offers a timely meditation on political power gone awry." —Helen Fremont, national bestselling author of After Long Silence and The Escape Artist

"Interweaving past and present, blending research and imagination, Julie Metz's memoir crafts a portrait of an elusive mother with a bifurcated life. In her search for the threads of half-told stories and hidden treasures, Metz discovers an absorbingly complex family legacy. An illuminating and textured book." —Elizabeth Rosner, author of Survivor Café: The Legacy of Trauma and the Labyrinth of Memory

"Upon her mother Eve's death in New York, Julie Metz embarks on a journey to the Vienna of the child Eva, who faced the terror of Nazism. We learn of the emotional connections of this middle-class family to its home and of Julie's complicated relationships with her mother and her own daughter. Using intrepid detective work and inspired imagination, Metz immerses the reader in interwar Jewish life and culture as it intertwined with Viennese society. She skillfully weaves a poignant family history of loss, escape, and refugee life as she evokes the sights, smells, and tastes of her mother's lost childhood." —Marion Kaplan, author of Hitler's Jewish Refugees: Hope and Anxiety in Portugal

"Weaving together a lyrical exploration of her maternal family history—first as persecuted Jews in Austria, then as struggling immigrants in America—with poignant meditations on her own personal growth and trauma in an era of resurgent, reactionary nationalism, Metz illustrates the persistence of old, human evils, and the inspiration we can find for our own battles in the stories of resilient forebears." —George Prochnik, author of The Impossible Exile: Stefan Zweig at the End of the World

"Eva and Eve is a beautiful memoir about all the ways history shapes a family. Metz's meditation on her mother's escape from Nazi Vienna, and the world of her ancestors that was left behind, is an important exploration of the past, but also a warning for the future. This is a devastating and important book, one that should be required reading." —Danielle Trussoni, bestselling author of Angelology and The Ancestor

"Keeping secrets was a virtue for many in the Silent Generation and they died without ever revealing themselves to their puzzled, frustrated children. With a combination of dogged research and emotional archeology, Julie Metz has uncovered a nearly lost world, and in doing so, she has found the Viennese childhood that formed her mother's character." —Mary Doria Russell, author of The Sparrow and A Thread of Grace

"With a historian's scrupulous research and a novelist's inventive power, Julie Metz has delivered a gripping and moving account of her mother's narrow escape from the Nazis. It is an indelible story of both what was gained and what was lost in the exodus from Vienna to New York." —Prof. Samuel G. Freedman, Columbia Journalism School, author of Breaking the Line and Who She Was

"Eva and Eve maps a wide arc, pulling a Jewish family's past in wartime Vienna into the present era with vivid and dramatic detail. The story of political repression, terror and dissolution, then arrival and retrieval in a new country, is full of astonishing and unlikely twists of fate, showing again that individual destiny may be the greatest mystery of all. Metz's journey to recover the past offers a model for connection and self-understanding—as well as a testament to the strengths of an America that is just and fair to all." —Dani Shapiro, author of Inheritance: A Memoir of Genealogy, Paternity, and Love

"Julie Metz's Eva and Eve is a touching homage to her mother who escaped the terror of Nazi Austria as a child, creating herself anew as an American in America. This is a work of startling eloquence and beauty, in its archeological excavation of four generations of a Jewish family and its literary depiction of how the broad sweep of history is threaded into the intricate drama of ordinary human lives." —Lan Cao, author of Family in Six Tones and Monkey Bridge

"Equal parts beautifully-wrought memoir and mystery, Eva and Eve is the spellbinding intergenerational story of what it means to survive the trauma of impending tragedy and to keep it from the people you love most in the world. Julie Metz has pieced together the story of her beloved late mother's childhood in and escape from Nazi-occupied Austria, her own place in the story they shared as mother and daughter, and what it means to go to any length to save one's family in the face of unspeakable xenophobic horror. A masterpiece that I couldn't put down." - Elissa Altman, author of Motherland
Atria Books, 9781982127985, 320pp.
Publication Date: April 6, 2021
About the Author
Julie Metz is the New York Times bestselling author of Perfection. She has written for publications including The New York Times, Salon, Dame, Tablet, Catapult, and Glamour. She has received fellowships at Yaddo, MacDowell, the Virginia Center for the Creative Arts, and the Vermont Studio Center. You can find out more about Julie's writing life on Instagram: @JulieMetzWriter and her website: JulieMetz.com.